MLS 2013 Team Preview: New England Revolution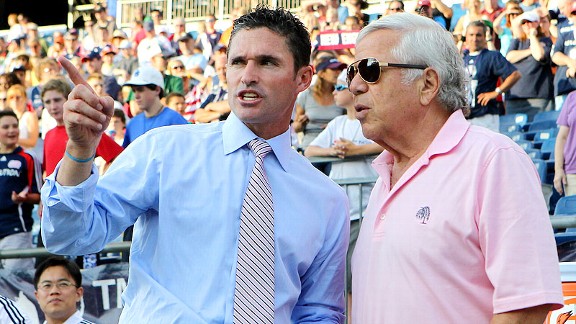 Jim Rogash/Getty ImagesSecond-year Revolution coach Jay Heaps has a high bar to clear with team owner Robert Kraft, a man used to success with the other Gillette Stadium occupants.
2012 record and finish: 9-17-8 (9th place in Eastern Conference)

Additions: D Jose Goncalves, D Andrew Farrell, D Bilal Ducket, M Andy Dorman, M Kalifa Cisse, M Scott Caldwell, F Chad Barrett, F Matt Horth.

Losses: GK Tim Murray, D Flo Lechner, M Alec Purdie, M Michael Roach, M Fernando Cardenas, M Blair Gavin, M Benny Feilhaber, F Blake Brettschneider

Key questions facing this team

1. Who will earn the midfield spots?

Lacking consistent goalscoring forwards and potentially overstocked in midfield, the Revolution definitely have roster balance issues. New defensive midfielder Kalifa Cisse is likely to partner the underrated veteran Clyde Simms in the middle, leaving the two wide spots. Considering Lee Nguyen was one of 2012's bargain pickups, it's realistically between Andy Dorman and Kelyn Rowe for the remaining spot on the right.

Rowe offers skill and exuberance, while Dorman has the ability to make dangerous well-timed runs into the box. From a tactical standpoint, speed and width are somewhat lacking in the midfield, with little diversity in style present despite the swell of numbers. The ambiguity around the fitness of Juan Manuel Toja has done little to solidify his spot in the team, with the Colombian looking somewhat short of his FC Dallas form.

2. Will Andrew Farrell match expectation?

Being the first draft pick inevitably comes with expectation, no matter the sport. Despite topping many mock drafts, reports on Farrell were mixed before draft day. A humble player, Farrell admitted he had a bad habit for sometimes trying to do too much with the ball, a bad quality for a defender.

However, coach Jay Heaps has shown a lot of faith in Farrell. Speaking highly of him during camp, it seems Farrell's decision-making is already improving: "I thought he was a good, calming presence on the ball," Heaps said. "Defensively he made no errors, and when he makes a ball forward, it's a smart ball forward. It's never a ball with three guys up, a guy's back; he's really smart with how he does it."

If Farrell -- whose physicality is compared to Micah Richards -- can hold down the right back spot and grow, he could be another large building block for Heaps' rebuild in New England.

3. Is the forward line prolific enough?

It's been tough for New England since the unfortunate retirement of Taylor Twellman in 2010. Their front line has more than enough weaknesses to discourage an optimist. With Saër Sène still to recover, the burden of goalscoring seems to rest heavy on Jerry Bengtson. The fact he's likely to miss a good portion of the season through international duty with Honduras means those behind him will get a good chance to lead the attack.

That's a big ask for the reserves, with only Matt Horth (formerly of the NASL) providing somewhat consistent goal numbers. That will mean an increased reliance on the midfield for goals, something on paper it doesn't seem overly prepared for.

Biggest X factor: Jerry Bengtson

It's fair to say Bengtson is somewhat enigmatic. An amazing domestic record in Honduras is supplemented by similar feats on international duty. Yet last year he only managed two goals in 13 games, for which Heaps has a solution: "We have to get him chances to score like his team in Honduras does."

If Bengtson can transfer international form to club level, then his status as designated player will be more than justified - as will the necessity to play him alongside a partner due to his poaching style.

Laying so much on one player is somewhat risky, but you sense someone with his striking resume can handle the pressure. His first MLS goal will lift a weight from his shoulders and could be the catalyst to a great campaign after completing a full preseason with the club.

Breakout player to watch: Diego Fagundez

With the aforementioned forward-line issues, Fagundez is likely to get his chance to be an attacking mainstay. He already has been with the club a few seasons, but it's important to note he is still just 18 and being cautiously nurtured.

Arguably operating better out wide to negate his lack of height while maximizing his speed and creativity, expect to see Fagundez start up top for New England. Regardless, if he can escape the potential pressure to provide goals and play with freedom, this could easily be the biggest development year of the young Uruguayan's career.

Outlook

Year 2 of what is likely a three-year project begins. Heaps has made some solid acquisitions in the offseason --- Cisse and Goncalves in particular have major potential. Laying some important foundations last year, Heaps by his own admission knows his core squad far better than he did 12 months ago.

At the peak of their potential, a playoff spot is achievable, but that is somewhat reliant on Sène returning to form post-injury and developing a stronger attack. While Heaps is unlikely to be fired if they miss the playoffs, a notable improvement/evolution is needed to justify his position.

A tough first six fixtures (facing four 2012 playoff teams) means Heaps' side face an early litmus test on both their talent and mental strength. While the playoffs may be a bridge too far, I do expect an improved defense and few more wins in 2013.