MLS 2013 Team Preview: Chivas USA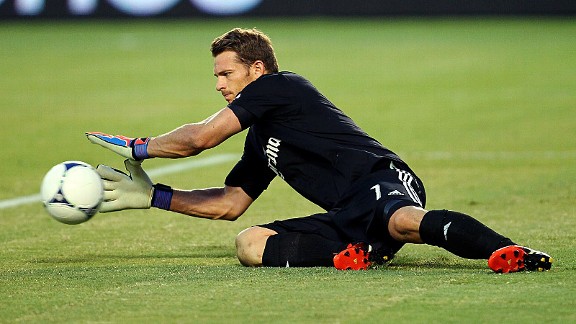 Victor Decolongon/Getty ImagesDan Kennedy has been stellar in net for Chivas USA the last two seasons and his steady presence will be needed more than ever in 2013.
2012 MLS Record: 7-18-9 (9th in Western Conference)

Additions: D Carlos Borja, D Mario de Luna, D Steve Purdy, M Carlos Alvarez, M Eric Avila

Losses: D James Riley, D Danny Califf, D Raushawn McKenzie, D John Valencia, D/M Shalrie Joseph, M Nick LaBrocca, M Ben Zemanski, M Ryan Smith, F Juan Pablo Angel, F Alejandro Moreno

Key questions facing this team

1. How will roster upheaval affect this team?

Needless to say, the offseason at Chivas USA has been nothing short of boring. Chivas de Guadalajara President Jorge Vergara took control of Chivas USA last year, fired head coach Robin Fraser and brought in Mexican coach Jose Luis Sanchez Sola, otherwise known to all as 'Chelis'. The initiative undertaken is to obtain players who are eligible to play both at Chivas USA and Chivas de Guadalajara, the latter being a club that adheres to a strict policy of only using Mexican players. The result has been the offloading of eight players from last year's squad including Colombian forward Juan Pablo Angel and veteran defender James Riley who was traded just last week to DC United for just a 2015 second round draft pick.

2. What is Juan Agudelo's future?

For a team that only scored 24 goals in 2012 and sent one of its main goalscorers packing (Angel), a lot of offensive impetus will fall on the young shoulders of Agudelo, but for how long? An extended winter training stint with Scottish Premier League champions Celtic very nearly resulted in a contract for the 20-year-old striker who has not hidden his desire to make the transition to the European game. Agudelo's departure from Chivas USA is imminent. It's now just a question of whether he will last through the entire campaign with the Goats or pack his bags during the summer when the European suitors come calling.

Key Figure: Dan Kennedy

Amid all the changes in the last few months at the club, one player who Chelis said he was steadfast in keeping was goalkeeper Dan Kennedy. Despite that reassurance, trade rumors continue to swirl about the netminder but for now, it appears Kennedy is slotted to be between the posts on March 2nd versus the Columbus Crew. In order for Chivas to avoid a rocky start, Kennedy will have to be at his best. The durable Kennedy has started every Chivas USA league match the last two seasons and recorded triple-digit save numbers in each. It is no surprise that his consistency on the field has been rewarded as Kennedy will wear the captain's armband this season. An all-star selection last season and runner-up for 2012 MLS Goalkeeper of the Year, Kennedy's presence in the back will be critical in the season's early stages while Chelis continues to mold his young team's attack.

Outlook

Largely overshadowed by their city rivals L.A. Galaxy, the moves at Chivas USA have brought some attention to the club and will assuredly have fans across the league interested in seeing the result of the club's culture change. So far the players appear to be responding to the boundless enthusiasm brought by Chelis. The former Puebla boss is considering using a three man defense which could be bolstered by the possible arrival of U.S. Under-20 left back Juan Pablo Ocegueda who recently signed with Chivas de Guadalajara from Tigres and would be transitioned to Chivas USA.

Two players who Chelis will likely be counting on this season are current trialists Walter Vilchez and Joaquin Velasquez, both of whom he views as "indispensable". The duo played for him at Puebla and each featured in last Friday's preseason katch versus Colorado, a match which Chelis called the team's "most important" in terms of lineup outlook for this season. One player whose stock has risen this preseason is Miller Bolanos. The on-loan midfielder from Liga de Quito has impressed since camp opened and Chelis marvels at how the Ecuadorian is always able to find space. After scoring just three goals in 2012, Bolanos could be poised to drastically increase that total in 2013. The future of holding midfielder Oswaldo Minda is still cloudy but should Minda stay on and shake off some nagging injuries, Chivas USA can only stand to benefit.

Such drastic change has raised eyebrows all around MLS but surprisingly the early returns have been positive with the Goats boasting a 5-0-1 record in the preseason. It will be a struggle for Chivas USA to be competitive in the Western Conference, but Chelis' magic touch should lead to a marked improvement over last year's poor performance.