MLS 2013 Team Preview: Philadelphia Union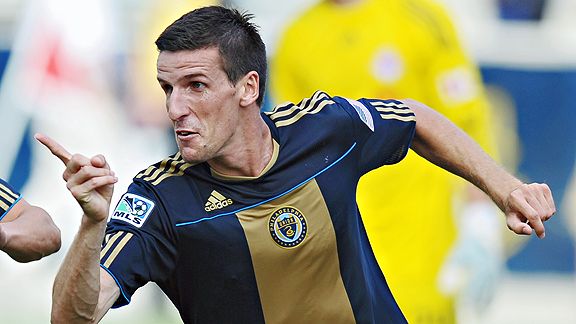 Fan favorite Sebastien Le Toux is back in Philly's fray, but he may not be the player he was in his first stint with the Union.
2012 record and finish: 10-18-6 (8th place in Eastern Conference)

Additions: F/M Sebastien Le Toux, D Jeff Parke, F Conor Casey, F Aaron Wheeler, D Damani Richards, M Alex Mendoza

Losses: M/F Freddy Adu, M Gabriel Gomez, D Porfirio Lopez, F Krystian Witkowski, GK Chase Harrison, M Zach Pfeffer, F Josue Martinez, D Carlos Valdes

Key questions facing this team

1. Can Le Toux return to form?

The feel-good story out of Philadelphia this offseason is the return of original Union star Sebastien Le Toux to the club. Piotr Nowak, the man responsible for Le Toux's departure, has been replaced by John Hackworth, and the new regime was more than happy to welcome Le Toux back into the fold. If Le Toux is the same player who merited MVP consideration during his first stint in Philly, the Union will see a sharp improvement on the offensive end of the field. At his best, Le Toux makes quality runs that stretch defenders and opens up space for others in the final third; both Conor Casey (newly acquired through the re-entry draft) and Jack McInerney will benefit from an effective Le Toux.

Despite less-than-stellar results in Vancouver and New York, there's reason to hope Le Toux will regain his best form back in Philadelphia, where he always wanted to be.

2. Can Hackworth fill the void left by Valdes?

Colombian defender Carlos Valdes was the Union's captain and best player in 2012. Looking to stay in the plans of Colombia national team manager Jose Pekerman, Valdes has left on loan for Independiente Santa Fe, opening a large hole in the center of the Union defense. Among the candidates to step into Valdes's role are Jeff Parke, acquired via trade from Seattle; Bakary Soumare, the former Fire star who returned to MLS with the Union in the second half of 2012 but was not healthy enough to play; Amobi Okugo, the U.S. youth international who has bounced between midfield and defense in his young career; and Chris Albright, MLS journeyman and jack-of-all-trades who won't be expected to start at center-back regularly but could help the cause in spot duty. None of those players are on Valdes' level, but Hackworth will hope some combination will give the Union the defensive strength needed to make a playoff run in 2013.

3. Can Michael Farfan take the next step?



With Freddy Adu in limbo and soon to be jettisoned, the bulk of the creative offensive duties will again fall to midfielder Michael Farfan. Farfan emerged as the future of the Union attack in 2012, starting 32 times and collecting five assists to lead a team that barely managed to score a goal a game on average (Farfan himself only scored once). The Union will need Farfan to be more consistent in 2013, when the North Carolina product will have the keys to the proverbial car in his third MLS season. Farfan will have better weapons ahead of him, however, with the return of Sebastian Le Toux and the addition of Conor Casey, two players who could help the 24-year old continue his upward trajectory as one of Major League Soccer's best young attacking midfielders.

Biggest X factor: Conor Casey

No one is quite sure what the Union are getting with Casey, the 31-year old center-forward who is coming off two seasons marked by injury. When last at his best with the Rapids, Casey was a dangerous physical presence who combined with a speedy partner to help lead Colorado to a championship; in Philadelphia, where he'll be paired with players of a similar type in Le Toux and Jack McInerney, Casey will have a chance to replicate some of that success. If his knees hold up, he'll immediately make the Union more dangerous. But coming off a season in which he was limited to 13 starts, there are real questions as to whether the current version of Conor Casey is anything like the one that scored double-digit goals three straight seasons at Dick's Sporting Goods Park.

Breakout player to watch: Roger Torres

Torres, the 21-year old Colombian midfielder hailed for his skill and creative abilities, has been a model of inconsistency since joining the Union in their inaugural season of 2010. Injury and a lack of fitness have dogged the player, who saw his minutes drop precipitously in 2012. While his exact role in this year's version of the Union is unclear, Torres arrived at Philadelphia's preseason training camp healthy, fit, and apparently ready to contribute on a level equal to his obvious talent. Even a moderate improvement in his form gives head coach Hackworth an additional quality option that can play across the midfield.

Outlook

After a tumultuous 2012 that included the firing of original head coach Nowak, the marginalization of Adu and the frustration of an eighth-place finish a year after making the playoffs, 2013 should -- at the very least -- be something of a palate cleanser for the Philadelphia Union. Hackworth brings a new attitude that is much less confrontational than that of Nowak and plans to play a more proactive attacking style. The Union roster is littered with young, talented players and is bolstered by veterans in key spots. The return of fan favorite Le Toux gives the start of the new year a cheerful aura, and despite the loss of team leader Valdes, there's reason to hope that the defense will hold up with a healthy Bakary Soumare and savvy local product Jeff Parke playing in front of goalkeeper Zac MacMath.

But for all of the positive feelings at PPL Park, plenty of unknowns threaten any significant improvement over 2012. Casey's health is a question mark. Le Toux, on the evidence of events in Vancouver and New York, might not be the player he once was. Farfan could fail to improve on last season, or worse, regress under the burden of his playmaking role. Hackworth himself has something to prove, now that he's had an offseason to make over the roster. The improvement the Union made under Hackworth after Nowak's firing last year bodes well, but isn't necessarily an indicator that the former assistant will lead his team up the standings in 2013. If everything comes together, the Union will probably be in contention for a playoff spot most of the year -- if everything comes together.