MLS 2013 Team Preview: Toronto FC
2012 record and finish: 5-21-8 (10th place in Eastern Conference)

Additions: G Joe Bendik, F Justin Braun, D Danny Califf, D Gale Agbossoumonde, Julio Cesar, M Kyle Bekker, F Emery Welshman

Losses: G Milos Kocic, F Ryan Johnson, D Aaron Maund, D Adrian Cann, D Ty Harden, G Freddy Hall, Eric Avila, F Joao Plata, F Eric Hassli, D Dicoy Williams, F Quincy Amarikwa, M Oscar Cordon, F Keith Makubuya, F Nicholas Lindsey

Key questions facing this team

1.Can Ryan Nelsen reinvigorate the league's worst team?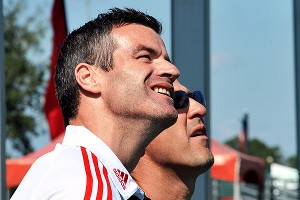 Al Messerschmidt/Getty ImageRyan Nelsen, who took a strange path to become Toronto FC's coach, will be tested early.
It was a somewhat surreal moment watching Ryan Nelsen be unveiled as TFC coach while still on the books of Queens Park Rangers. Described as 'avuncular' in coaching sessions, his leadership skills will be vital as he looks to forge a strong camaraderie among his squad. Part of that cohesion will also rely on Kevin Payne moving in the same direction as those below him.

A D.C. United stalwart, Payne's criticism of players' shape before preseason was not only unprofessional but also put his technical staff in an awkward position. Both were wise to play the diplomacy card and say nothing. Moving forward, Payne needs to allow Nelsen along with O'Leary the space to breathe as a coaching staff and not be so vocal.

While Nelsen is saying a lot of the right things, including his stance about the inclusion of youth players (if you're good enough, you're old enough), the true evaluation begins when points are on the line.

2. Will the club secure some tested striking talent?

I'd imagine it pained Toronto fans to see Ryan Johnson net a hat trick Sunday for new club Portland. Yet look at the current roster and there is an alarming lack of proven striking talent in Toronto. Danny Koevermans sits alone at the experienced table and he is still someway from being close to healthy -- no guarantees being placed on whether he will still perform to his high level after so long out.

Scanning the lists of preseason trialists, you'll note the majority are outside backs. Of course the club need a supplement to young Ashtone Morgan. Unfortunately, that doesn't change the fact that Toronto are currently putting a lot of pressure on young Justin Braun -- a man who didn't net a a single goal in 2012. Injured in the weekend's friendly against Rollins College, TFC are treading a dangerous line with so little in terms of attacking depth.

3. Will there be a big departure?

It's been a big talking point of the offseason. The diplomacy-bereft Payne confirmed the club had discussed the possibility of buying out a player contract. While Eric Hassli was removed from the list after being traded to FC Dallas, it seems the potential of buying out Koevermans or Torsten Frings still seems a possibility.

With Koevermans still injured, his exit might make more sense, as cutthroat a decision as it would be. However with Frings returning to Toronto for 'personal reasons,' the blindfolded maths may just as easily point to him being cut. Cutting either should only be done if a stellar replacement is lined up.

Biggest X factor: Kyle Bekker

There's not a great deal of standouts in this current Toronto squad, to put it bluntly. Much of the positive preseason talk has centered around Bekker. As third overall pick in the draft, he skips the pressure of being No. 1 while also gaining the connotations of being a top pick.

Netting a nice free-kick in the combine, if Bekker is afforded the freedom to grow as a player and Nelsen cultivates him progressively, Toronto could really have a star player on their hands.

Although he'll have to adapt to a faster pace than college, the mental rather than the physical will be the greatest test for young Bekker. Once a trialist with Ajax (a work permit inhibiting his move), he cites Christian Eriksen as a player he admires. Still with developments to make, his confidence could easily see him ride out Toronto's rocky patch and nab rookie of the year.

Breakout player to watch: Gale Agbossoumonde

Nicknamed 'Boss' in his youth, Agbossoumonde's coach at Djurgårdens described him as wise beyond his years after signing him in 2011. Reminding me of Brandon McDonald at D.C. United, he seems incredibly composed and with a more than adequate physical frame. Like many youngsters entering MLS this season, he still remains a raw prospect in need of refinement.

There's been much talk of Agbossoumonde's potential, but as he will be first to admit he simply hasn't played enough competitive first-team soccer. Working with the lack of expectation at Toronto and someone like Nelsen could see his development grow exponentially, with his skills serving as a nice compliment to Danny Califf.

Outlook

It's a tough start for Nelson in his debut campaign. Trips to Vancouver and Montreal are made harder by two home ties against Sporting KC and Los Angeles, meaning it could easily be game six against Philadelphia until he picks up his first victory as Toronto manager.

From a roster standpoint, experienced forwards are required. The youth policy is admirable, but they need to be supplemented by players they know can provide a performance and lead the attack. While talk of 'the project' will likely invoke negative memories of days gone by, the club seem on a stable footing with a concrete direction to move in. Perceive this as a year of transition as Nelsen looks to bring in the players he wants and build towards his own utopian view for the club.

Expectations are low after finishing at the bottom of the table. Ironically, that is often when a team can be at its most dangerous. If the fans can pack BMO field and give a return to the atmosphere generated earlier in the club's brief history, there's no reason that Toronto could not finish respectably in the league, laying the foundations for a playoff push next year. Regardless it will be a tough season for Nelsen and his side, but one that will ultimately answer more questions than it produces.