MLS 2013 Team Preview: Portland Timbers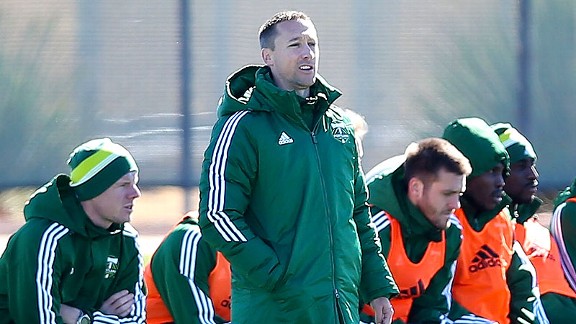 Christian Petersen/Getty ImagesAfter moving up a coaching level, Caleb Porter is tasked with improving an anemic Timbers scoring attack.

2012 record and finish: 8-16-10 (8th place in Western Conference)

Additions: D Michael Harrington, M Will Johnson, F Ryan Johnson, GK Milos Kocic, D/M Mobi Fehr, M Steven Evans, M Diego Valeri, D Ryan Miller, D Dylan Tucker-Gangnes, M Ben Zemanski, M Michael Nanchoff

Losses: M Freddie Braun, M Charles Renken, D Ian Hogg, D Kosuke Kimura, D Eric Brunner, M Lovel Palmer, D Steve Purdy, D Steve Smith, GK Joe Bendik, F Mike Fucito, F Kris Boyd, M Eric Alexander

Key questions facing this team

1. Will Caleb Porter's style take in short order?

Caleb Porter's long-awaited move to the professional game comes with high expectations. The former Akron Zips head coach built a national power in Ohio but benefited from consistently getting the best college players in the country for his possession-based system. It won't be as easy in Portland, and Porter has already downplayed the likelihood that the Timbers will suddenly morph into the MLS version of Barcelona. Porter knows his job is to get the Timbers to the playoffs, no matter what style of play is necessary to get the job done. It's telling though that the Timbers have scooped up former Zip after former Zip this offseason; Porter obviously sees having a team stocked with players familiar with his system as the best chance for immediate success. On the flip side, bringing so many of his former college players increases the pressure to be successful and to play in a manner similar to his Akron best.

2. Who will carry the scoring load?

The Timbers had the second-fewest goals in MLS in 2012, making one of Porter's first tasks increasing Portland's scoring prowess. The club parted ways with leading scorer Kris Boyd, a marriage that never quite worked and was made more unsettled by the dismissal of John Spencer as head coach. Blossoming striker Bright Dike, who led the line down the stretch last season and was expected to be a fixture to start 2013, is out until August with a knee injury. The Timbers acquired an MLS-savvy option in Ryan Johnson from Toronto FC, but most of the focus will be on the potentially dynamic trio of Danny Mwanga, Darlington Nagbe and Jose Valencia. It's not clear yet where Porter intends to use each of his exciting young attackers, but there's little doubt that they represent the future of the Timbers' offensive effort. Porter's job is to quickly find which combination -- playing off of new acquisition Diego Valeri -- will score the goals Portland was missing in 2012.

3. Can Portland find joy on the road?

If any one failing marked the Timbers' 2012 season, it was an utter lack of success on the road. Portland won just once away from Jeld-Wen Field last year, collecting just seven points in total as the visiting team. If the playoffs are going to be in play for 2013, Porter will need to find a way to get results away from the vocal support of the Timbers Army. A shift in style should help, since the Timbers leveraged a narrow home field to their advantage in 2012; that advantage paid off in their home record (seven wins and six draws in 17 matches), but left Portland ill-prepared for more expansive playing surfaces elsewhere. The not-impossible task of doubling that road point tally -- while still taking care of business at home -- will go a long way towards getting the Timbers into the postseason for the first time.

Biggest X factor: Diego Valeri

The Timbers' one big offseason signing from outside of MLS is designation player Valeri, a creative midfielder from Argentina who will be asked to set up the likes of Nagbe, Mwanga, and Valencia. Valeri moves to MLS on loan from Lanus, where he helped the club to their first league championship in the 2006 Apertura. The Timbers leadership expect Valeri to be among the best playmakers in the league almost immediately, high expectations for a player who might require time to adjust to Major League Soccer's athletic, frenetic style. If Valeri is as good as advertised, the Timbers will have a player capable of the pass they were so often lacking in the attacking end last season.

Breakout player to watch: Danny Mwanga

Maybe it's counterintuitive to peg Mwanga as a player with breakout potential considering his status as a former No. 1 overall draft pick and rookie of the year finalist back in 2010. But Mwanga's path to MLS stardom has hit a bump or two since the Philadelphia Union made him their first-ever draft pick and his impact with the Timbers has been minimal since joining Portland via trade in June of last year. Porter could be the best thing to ever happen to Mwanga; the new Timbers coach is much better equipped to help Mwanga realize his potential than Piotr Nowak or Spencer.

Outlook

On paper, the Timbers have an improved attack, something of an improved defense (adding fullbacks Michael Harrington and Ryan Miller in addition to youngsters Mobi Fehr and Dylan Tucker-Gagnes) and an exciting young coach with a reputation for playing attractive soccer. Along with all of that potential and talent, however, comes a lack of MLS experience. Any prolonged adjustment period (with a string of bad results) could ultimately ruin the Timbers' chances to climb the Western Conference ladder. If the Porter program was installed with an eye toward the future, that won't necessarily make Portland's season a lost cause.

New coach, new outlook, a host of new players -- the Timbers overhaul is among the most drastic in the league. With so many moving parts, it's probably unrealistic to expect the Timbers to leapfrog too many of their Western Conference rivals. But many of the West's best teams are going through transitions of their own, a fact that should give Portland hope that they can climb the standings and perhaps nip a playoff spot for the first time. It's worth reiterating: if the Timbers can find more of a balance between their home and away results, they will find themselves playing in November.