Robbie Rogers sets himself free
Now that he has announced that he is gay, Robbie Rogers feels free.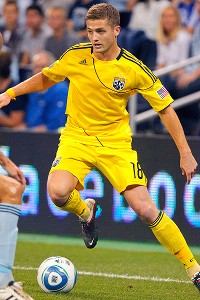 Robbie Rogers' future in soccer is uncertain, but he has the support of the sport's community after announcing he's gay.
Whether that freedom includes a career in professional soccer remains unclear, but regardless, he has gained another gift: acceptance.

The former Leeds United, Columbus Crew and U.S. international midfielder made the announcement on his website earlier Friday and wrote hauntingly of his struggle to decide to come out.

"For the past 25 year [sic] I have been afraid, afraid to show whom I really was because of fear," he wrote. "Fear that judgment and rejection would hold me back from my dreams and aspirations. Fear that my loved ones would be farthest from me if they knew my secret. Fear that my secret would get in the way of my dreams.

"Dreams of going to a World Cup, dreams of The Olympics, dreams of making my family proud. What would life be without these dreams? Could I live a life without them?"

If the reaction from former teammates on social media is any indication, Rogers can have all of those without hiding who he really is. Sporting Kansas City midfielder Benny Feilhaber, Los Angeles Galaxy defender Omar Gonzalez and current national team captain Carlos Bocanegra were among those offering support, as well as countless fans within the U.S. soccer community.

Rogers drew praise from players in Europe, as well, with Marseille midfielder Joey Barton and Norwich City's Robert Snodgrass tweeting their support.

"When you read Robbie's words, your heart goes out to him because it seemed like a real struggle," former New England Revolution forward and current ESPN television analyst Taylor Twellman said. "I think it takes a very brave human being to come out the way he did. It's something that I hope at some point in the sports world, and in our world in general, where announcements like these don't need to happen because it's accepted.

"There was always a respect level there, but when you read his words ... Wow."

Rogers also drew support from Frank Klopas, the coach of the Chicago Fire who acquired Rogers' MLS rights last month in a trade with Columbus.

"Yesterday I thought [Rogers] was a very good player and I still think that today," said Klopas via the team's website. "Should Robbie want to return to the game, we would still be open to him being part of the Fire."

That would be a first of sorts for a male athlete. Former Montreal Impact midfielder David Testo came out back in November 2010, and although he stated that teammates and management had long known of his sexual orientation, his public announcement came after he had been released by the club, and he never played a professional match after that.

Whether that will prove to be Rogers' fate is uncertain, given that he is just 25 years old. The midfielder has battled concussion and ankle injuries in the past year, and, in his blog post, Rogers didn't use the word "retirement". (Emails to Rogers and his agent, Shaun Higgins, were not immediately returned.) But he did write that he intended to explore life outside of soccer and has been undertaking an internship with Men's Health magazine.

"Now is my time to step away," he wrote. "It's time to discover myself away from football. It's 1 A.M. in London as I write this and I could not be happier with my decision. Life is so full of amazing things. I realized I could only truly enjoy my life once I was honest. Honesty is a bitch but makes life so simple and clear."

And, in Rogers' case, liberating.