For Klinsmann, two old names bear consideration
As the post-mortem of Honduras 2, USA 1 continues to evolve in the days since last Wednesday's loss in San Pedro Sula, new (old) names get tossed into the proverbial hat as players who might help solve some of the U.S. team's problems so keenly evident in the opening game of The Hex, which resumes for the U.S. March 22 when the Americans host Costa Rica in Commerce City, Colo.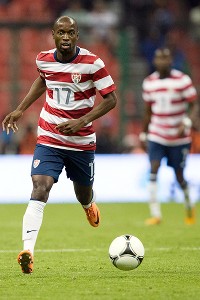 Miguel Tovar/Getty ImagesDaMarcus Beasley's strength on the wing is one reason Jurgen Klinsmann should consider adding him to the U.S. roster.
Top of mind is DaMarcus Beasley, the out-of-favor left winger currently playing for Puebla in Mexico's Liga MX. Whether it's because U.S. manager Jurgen Klinsmann sees younger players better suited for the team than the 30-year old Beasley, or because the former national team stalwart spent too long in the wilderness before regaining his form in Mexico, Beasley has never appeared to figure in the German's plans. Maybe it's time to reconsider that thinking.

Partly because Beasley is playing so well - he scored twice in Puebla's 3-1 win over San Luis, with his right foot no less, a sign of burgeoning confidence for the notoriously left-footed Beasley - but mostly because he represents a viable option in a position of great need for the USMNT. While we should be careful not to overvalue club form with all its vagaries, the debilitating lack of width on display in Honduras calls out for a player like Beasley, a speedy natural winger who can stretch the field and provide service for the American forwards. If he's healthy and playing regularly, the situation dictates an open mind about a one-time fixture whose better days are gone.

Options are currently limited. Landon Donovan's status is a mystery. Brek Shea is out of form and returning from injury (though that could be less of a concern come March). No MLS player, say Nick DeLeon, Chris Pontius, or other, has Klinsmann's trust.

Beasley came on for Donovan in the U.S. friendly win at Azteca last year, playing 45 minutes on what turned out to be a historic day for the Americans. With a pair of qualifiers coming up, Costa Rica in Denver and Mexico at the Azteca, perhaps Klinsmann should consider giving DeMarcus a return engagement.

Klinsmann also faces difficult decisions defensively. Omar Gonzalez and Geoff Cameron displayed their biggest weakness - inexperience - for all the world to see in Honduras. Questions about experience in the back will dog Klinsmann moving forward, particularly because he pushed the team's long-time captain, Carlos Bocanegra, to the bench in lieu of youth. Boca might still get a shot to figure in the team through the long Hex slog, but there's another name worth considering that remains oddly absent from much of the discussion: Jay DeMerit.

DeMerit was one of Major League Soccer's best defenders in 2012. His play was a model of consistency in a team that was quite often beset by distractions. At the All-Star Game in Philadelphia, DeMerit put on a display reminded fans why the former Watford player started every game of the 2010 World Cup - it was a display he repeated more than a handful of times throughout 2012.

What DeMerit lacks in pure athleticism or refined abilities with the ball, he more than makes up for with intense effort and a cagey understanding of angles and leverage.

Experience and composure mark DeMerit's game, two aspects of defending that were in short supply in Honduras. Along with most of the fan base, Klinsmann undoubtedly views Gonzalez and Cameron as the center back pairing of the future. While they likely are, that future might be missing a World Cup appearance if the Americans can't navigate the Hex. Doing so will require stronger defensive performances than what we saw last Wednesday.

For Klinsmann, it may come down to reinserting Bocanegra in light of the problems that arose against Honduras, simply because he won't be cowed by the stage and has an established working relationship with goalkeeper Tim Howard. But if Bocanegra is too rusty, too run down, or simply not good enough anymore, DeMerit is a quality option ready for the call. He checks all of the same boxes.

Neither Beasley nor DeMerit are sexy names with vast potential. But this is the Hex, and despite Klinsmann's clear desire to move on from the last generation of American players, desperate times can sometimes call for (seemingly) desperate measures.