Renken's young career derailed by injuries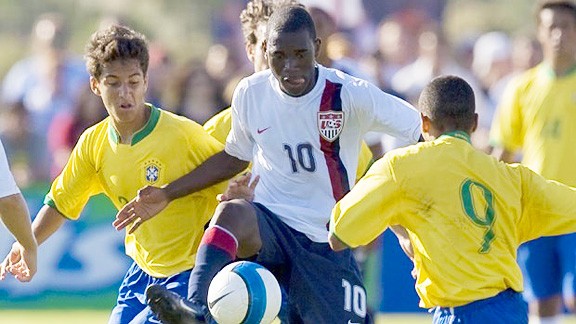 Portlandtimbers.com Charles Renken seemed poised to be the next great U.S. player, but injuries stalled his career. He was cut by the MLS's Philadelphia Union Tuesday.
The Philadelphia Union cut Charles Renken Tuesday. It was news that hardly made a blip on the February preseason MLS radar, a single line of fine print among the headlines of big-name trades and buildup to the U.S. team's World Cup qualifier in Honduras. Renken was trying out with the Union, a young player looking to latch on with a club that might give him a chance after being let go by the team that first brought him to MLS, the Portland Timbers.

But it wasn't that long ago that the idea of Renken scratching (and ultimately failing) for a place in an MLS team would have been shocking.

In the post-Freddy Adu era of American soccer, Charles Renken was supposed to be the next big thing. The hype was of a different sort - no photo ops with Pele, no massive endorsement deals at 14, no professional contract delivered to him during puberty - but the hope invested in him was no less intense within American soccer circles.

In many ways, Renken was the anti-Adu; though the young men were both of African birth and could do exciting things with the ball. But that's where the similarities stopped. Renken idolized Freddy but avoided the mainstream public eye and shied away from burdening himself with too much, too soon.

Renken was going to turn out to be the player Adu should have been, if only Freddy and everyone around him, had known better.

Renken's path made for an uplifting tale, from his childhood as Charles Bimbe living in the mud huts of Zambia to the comfortable home of his adopted family in America where he took the Renken surname. In a 2008 ESPN Soccernet profile, Renken talked about making balls out of plastic bags back in his home country and writer Justin Rodriguez related the frightening story of Charles's older brother Richard, whose experience in America as the victim of a scam run by a crooked preacher paved the way for Charles to become American himself.

He was courted by the biggest clubs on the planet, training at Arsenal and 1860 Munich while also joining the U-17 residency program in Bradenton, fla. Renken was a fixture with U.S. youth teams and looked for all the world like a future American soccer star. In 2013, when we ask "Where's America's Messi?", the mind drifts back to the days when Renken's promise seemed destined to answer that question.

But in January of 2008, Renken suffered the first of the knee injuries that would ultimately rob him of that potential. In 2009, he tore the ACL in his right knee again; despite those injuries, Renken moved to the Vancouver Whitecaps academy (pre-MLS) that same year as a stopover on his way to joining the Bundesliga's TSG Hoffenheim full-time in 2010. Renken made apparent progress and played with Hoffenheim's U-19 team for two years before ending his time in Germany without a senior appearance.

The Timbers acquired him on waivers in early 2012. A move to MLS was a last-gasp of sorts, an attempt to revitalize a stalling career back in his home country. The Timbers said the right things, talking up Renken's natural abilities and expressing belief he could still reach his potential. He was only 18, after all. He made 10 reserve league appearance and had two assists but was cut immediately following the season.

Renken quietly joined the Union's 2013 preseason camp on trial before the club cut him and five others on Tuesday. That decision, and the lack of coverage surrounding it, speaks volumes about just how far Renken's prospects have fallen since he wowed international scouts a few short years ago.

And so, in 2013, the diverging paths of Adu and Renken come together again. Where attitude and apathy took Freddy Adu from can't-miss star to frustrating journeyman, injuries took Charles Renken from next-big-thing to almost nothing at all.

For all his missteps and foibles, Freddy Adu is still capable of playing at a high level. His own star is not nearly as bright as we once believed it could be - whether through his own lack of maturity or because we misjudged him but he nevertheless still possesses sought-after talent. One thing on which almost everyone agrees, is that Adu could have been so much more, if only he had tried, and maybe if so much hadn't been thrust upon him at such a young age.

Meanwhile, Renken - the humble, unassuming, Zambian adoptee who was meant to be Freddy Adu without the damaging hype and petulant attitude - isn't a sought-after talent, not anymore. Whatever the future holds for Renken, the injustice of his career stopping dead in its tracks because of injuries he could not control is all the more painful because he was so unlike Freddy.

Freddy wasted his abilities. Charles Renken's were stolen by fate.