U.S. national team has a tough road ahead
SAN PEDRO SULA, Honduras -- "We did it! We did it!" chanted the delirious Honduran fans as they soaked themselves in beer, confetti and rice at the final whistle. Feeding off their raucous support, Los Catrachos had just outplayed, outmuscled and outclassed a strangely sluggish United States men's national team in the opening game of the Hex, monopolizing both possession and imagination.

The U.S. had not lost the opening game of a Hexagonal round since 1998, and coach Jurgen Klinsmann was damning in his postmatch criticism. The U.S. performance demonstrated "too many mistakes in too many areas. Individual mistakes … collective mistakes," he said. "We gave Honduras too many opportunities."

- Video: Bradley - no need to panic
- Video: Twellman - U.S. must sort defense
- Video: Dempsey - Honduras too hot for U.S.

Klinsmann's team must now pick up the pieces and assess the damage before the Hex continues against Costa Rica in Denver on March 22 and work out how to overhaul its performance. Before the game, Klinsmann had claimed his goal was not just to "maintain the standard but to raise the bar … going beyond where we were before … I have to do it differently." This was a game that proved different is not always better.

The U.S. fielded an experimental side in this 2-1 loss. Yet anchored by a young, inexperienced back line, featuring the raw tandem of Geoff Cameron and Omar Gonzalez, the U.S.'s play was shorn of invention and initiative. Clumsy in possession, Wednesday's performance looked a lot like that of a team desperately holding on.

Klinsmann admitted as much in his postmatch analysis. "We had problems closing down their passing lanes," he said, "but too many of our players made too many mistakes and did not reach their usual potential. It is very hard to win if the team do not play to their limits."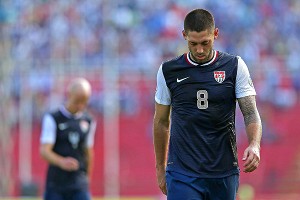 Mike Ehrmann/Getty ImagesClint Dempsey and the U.S. were outplayed, outmuscled, and outclassed.
Whether Klinsmann can change things quickly remains to be seen. The German coach had to sit through the indignity of a Honduran journalist dubbing this U.S. squad "the least competitive American side we have seen," during the postmatch news conference.

On Wednesday morning, U.S. Soccer president Sunil Gulati had met with reporters to describe the enormity of the changes Klinsmann was trying to catalyze on three levels: transforming the U.S. system in the long term, qualifying for the 2014 World Cup in the medium term, and winning games in the present.

Yet in the wake of the San Pedro defeat, Klinsmann appeared at a loss to describe how he will go about changing the mental side of his team's game, preferring to marvel at the athleticism of the Honduran equalizer. Referring to Juan Carlos Garcia's bicycle kick as "probably the goal of the century in Honduras," the coach ignored the sloppy defending that had occurred in the buildup, saying, "nobody expected a goal like this."

Tim Howard was more realistic. "Someone once said three mistakes cost you a goal. We did not get tight to [Carlos]. Costly, then we did not clear the ball. Then we gave the corner away, the corner comes over and we don't close it down. At the end of it there is a world-class goal. But there is a buildup to a goal, we had three or four chances to clear it and we did not do it."

The Everton goalkeeper was also upset that the through ball that led to the winner was "a straight ball that beat the back line," confessing "that is never something you want. It was a sloppy goal in many phases."

Howard was also quick to point to the changes he would like to see before March. "We can get better," he said. "It is a learning experience, but really it was a missed opportunity to get points on the road."

Expressing a desire for the team to summon more energy on the road, Howard concluded by expressing a core truth of the Hex. "This is a frying pan -- there is not time to learn," he said. "But we need to be bold, take the ball and try and find rhythm."

Omar Gonzalez drew a deep breath before analyzing the lessons he took from the defeat. "I did not have the best game," he said. "It was tough for me to clear balls today." Reinforcing Howard's message about energy and team communication, Gonzalez said this was the first time he had played alongside Cameron. The two had trained once before kickoff. "From what I remember," he revealed, "I was originally back there with Carlos [Bocanegra] but then … with Cameron."

Klinsmann concluded on an ominous note, revealing: "We knew it would be difficult today [and] 2013 will be a long stretch."

Michael Bradley was last on the bus, and left reporters with a more optimistic message. "We will have our ups and downs," he said, "but I am optimistic this is going to end in a World Cup."

Roger Bennett is a columnist for ESPN FC and, with Michael Davies, is one of Grantland's "Men In Blazers." Follow him on Twitter @rogbennett.