U.S. ready for tough test against Honduras in the Hex
SAN PEDRO SULA, HONDURAS -- When the U.S. plane landed at Ramon Villeda Morales International Airport, an inferno burned menacingly on the edge of the airfield, singeing the air with a whiff of sulphur. The U.S. men's national team deplaned amid armed guards, boarding a coach that had been strategically parked in front of a pair of antiquated yet fearsome fighter planes. As they headed toward town, a battery of white pickup trucks, each with a bold cameraman teetering on their flatbeds, played chicken behind them, battling for position as if the U.S. soccer coach were a Tour de France peloton.

Welcome to the Hex.

- Klinsmann's world view
- Video: World Cup qualifying time
- Video: U.S.'s mentality away from home
- Soccer USA: Roster reaction
- Insider: Comparing 2009 squad to 2013's team

Welcome to the final round of CONCACAF qualifying for World Cup 2014, which many have deemed the toughest of all time. The U.S. may be among the favorites, but they begin the campaign on the road with one of their toughest tests: a single-game opening-round fixture against Honduras, a team that qualified for the last World Cup and have a squad that fuses pace, physicality and experience. Having had little time to train, the Americans will take the field in the muggy heat of a day that has been declared as a national holiday of beer-soaked frenzy. San Pedro's Estadio Olimpico is guaranteed to be packed with fans who will make Portland's chainsaw-wielding Timber Joey appear genteel in comparison.

Despite the challenge, coach Jurgen Klinsmann and Roma midfielder Michael Bradley were both relaxed as they briefed the press ahead of tomorrow's game, patiently repeating their message like a mantra: They respect the Honduran threat but are "ready" and "excited" for the game to come. Their confidence may stem from an awareness that half of the teams automatically qualify from the Hex. A U.S. failure would be earth-shatteringly shocking. The drama surrounding the next 10 games under Klinsmann is less whether the national team will reach Brazil 2014. Rather, it's the kind of statement they will make in doing so.

Wednesday's game will be the perfect crucible to test the progress of Klinsmann and the extent to which he is working toward his recently stated "big goal ... to break the top ten in the world -- to play England or Germany eye-to-eye.

Klinsmann has been criticized by many for failing to define a chosen style of play and cycling through 68 players in 18 months since he took the job. The Hex is the time for him to define his tactical approach, trusted starters and the ways in which his U.S. team is different than those of Bob Bradley and Bruce Arena, who proceeded him.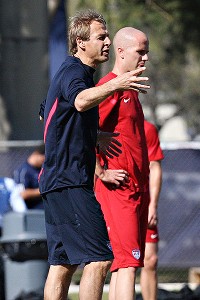 Hector Gabino/Getty Images
The U.S. squad in Honduras lacks Landon Donovan but is bolstered by FC Nuremberg's Timmy Chandler, a German-American whose presence is being celebrated like the capture of a Roman Legion's battle standard. In a recent interview, Klinsmann handicapped the scale of the Honduran challenge. "There are no easy games anymore," he said. "The team will learn through the course of the Hex that it is going to be a fight no matter where you have to go. For the players, this qualifying round will be a new lesson. Coming from Europe, from the Bundesliga and the Premier League, suddenly we meet in Miami and fly to Honduras where they are going to try to beat the s--- out of you. This is what the players will have to understand. That the game will be a battle."


Klinsmann has no doubt. For the U.S. to elevate their game and break the patterns of the past, an upgrade in belief and confidence is required. Back in training camp, Klinsmann said, "To get to the next level is all about inner drive."

As a result, 14 of the 24 squad members are European-based. As the German coach told me, "The thing American players in MLS are still missing -- and it is not their fault -- is the sense of accountability for their actions. The game socially is not on level as it is in Germany, Spain or England, where you are accountable for what you are doing on Saturday. … When I screwed up a game, playing for Inter against AC Milan, I would not go out on the streets for three days."

However, Klinsmann is looking for the Hex to be a growth experience for his charges. "The game is growing all the time in the States and now the that players are seeing how things work in Europe, they will learn very quickly," he said. "American players are very quick learners."

On Tuesday afternoon, Klinsmann illuminated how he'd build the team's mental strength – through tactical development, collective focus and team chemistry. "It is a process every team goes through between World Cup cycles," he said as he described the art of blooding and maturing new players for the medium term while retaining a consistent focus on the game that offers such little margin for error. "On top of that, you seek to build chemistry … as a World Cup is a huge mental challenge you only get through if these guys really get along and fight for each other. If you lose a couple percent, you are done early."

For his part, Michael Bradley expressed the perfect combination of calm-fused menace. "These single fixture dates are always a challenge," he said. "From the moment the plane lands in Miami, [it is important] to be mentally and physically ready."

In Bradley's mind, the U.S. is blessed with everything that they need. "A team-spirit mentality and the determination to succeed and get the job done," he said. "To be committed to do whatever it takes to walk off the field with the right result."

In front of a large Honduran press contingent, he concluded, "When you get to this point in qualifying, where so much is on the line, we don't need a whole lot of motivation. There is a whole lot of excitement we can see the World Cup on the horizon. We will be ready to go."

Roger Bennett is a columnist for ESPN FC and, with Michael Davies, is one of Grantland's "Men In Blazers." Follow him on Twitter @rogbennett.