Market is bullish on MLS players
When it comes to MLS, perceptions can be notoriously slow to change. For years, the league has been derided as a retirement home for aging stars and a place for not-up-to-snuff North Americans. Closer inspection reveals the league deserves more credit for the talent gracing its stadiums, and the transfer and loan activity over the past six months has provided more tangible proof that the quality of play is rising. All good news for MLS.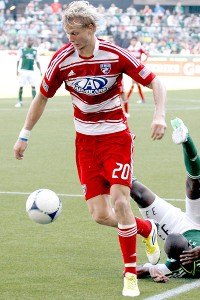 AP Photo/Don RyanBrek Shea's move to Stoke reflects the value overseas teams are seeing in MLS players.
Following in the footsteps of former Houston Dynamo defender Geoff Cameron, FC Dallas midfielder Brek Shea was just sold to EPL side Stoke City. Sporting Kansas City attacker Kei Kamara will be joining up with Norwich City on loan, and D.C. United's Andy Najar has been sold to Belgian side Anderlecht.

In the process, another perception – that of MLS stifling the development of young players by refusing to move them to foreign clubs – also has been eroded. The reality is the decision to transfer or lend a player abroad has more moving parts than the space shuttle and is often situational. Take Cameron's desire to leave Houston this past summer. On the face of it, manager Dominic Kinnear was nuts to shed a U.S. international defender in the middle of the season, especially with the Dynamo striving to stay inside the playoff places. But there were a variety of factors that made him more comfortable with the idea of Cameron's departure.

"One reason was knowing that there was a good possibility that we could get Ricardo Clark back," Kinnear said by phone. "The dynamic of the locker room is also important, and if a player wants to go and everyone knows it, you never know how that might upset the balance in the locker room. But with us, the fact that Boniek Garcia was there helped, and the emergence of Jermaine Taylor made it a little bit easier, too, because I thought he was playing pretty good as a center back."

The same was true in the case of Kamara, whose contract was to expire at the end of the 2013 season. Rather than lose the versatile attacker for nothing, SKC worked out a loan deal that gives Kamara the opportunity to stick with an EPL team while also extending his MLS contract should he return.

"We fully respect that and understand that there are going to be ambitions that those players have, whether it's to make the national team for their country, or maybe it's playing in a different league around the world," said Kansas City manager Peter Vermes in a telephone interview. "Instead of trying to convince them otherwise, or hold them back, if we can work together in concert for them to pursue that, and it makes sense for everybody, we're going to figure out a way to help them achieve it."

The impact a transfer or loan has on a team's finances can be considerable. Since 2007, MLS clubs have been given two-thirds of any transfer fee, with the remainder going to the league. The club's share rises to three-quarters if the player is a homegrown player, as was the case with Najar. In both instances, a maximum of $650,000 can be applied to a team's salary cap, which can be the difference between keeping the remaining members of a team's core together or being forced to jettison players.

But none of these factors helps explain the upsurge in activity, which also included Roger Espinoza moving from Kansas City to Wigan on a free transfer. Rather, it would appear that, as the player quality in MLS has slowly trended upward, so has the respect level from overseas clubs.

"I think one of the biggest advocates for MLS has been Sir Alex Ferguson," Vermes said of the Manchester United manager. "He says nothing but very positive things about his perception of our league, over the years and coming back year after year. I think it's there; I think players realize it. I think the respect of our players is always growing."

Granted, it was Ferguson who brought Tim Howard to United in 2003, but nothing screams respect like a repeat customer. Back in the day, that was Fulham, which once had Brian McBride, Clint Dempsey and Eddie Johnson on its books. Now, with Shea on board, that mantle has been taken over by Stoke. Breadth of interest is an indicator, as well, evident in the Kamara and Espinoza deals.

"I do think that what is happening, and what has happened over the last few years, is that a player's performance in our league is valued in terms of translating to international clubs," said MLS executive vice president Todd Durbin. "I don't think there's any question that the fact that [Cameron] has gone over and has played well for Stoke has given them significantly more interest and more confidence in how Brek is going to perform once he gets there."

Durbin added that this is reflected in the willingness of overseas teams to spend greater amounts on MLS players than in the past.

So how does all this activity reflect on MLS? The sight of Seattle forward Fredy Montero and Philadelphia defender Carlos Valdes both returning to their native Colombia via loan deals should give one pause. To be fair, the opportunity to play in the Copa Libertadores is one MLS can't match. Nor can anything be done about a national team coach, in this case Colombia manager Jose Pekerman, who insists on a player being in closer proximity to him.

But Pekerman wouldn't have made this demand if either player thought he could get to Europe, or if MLS's level was higher. It shows that MLS isn't yet an automatic way station for players who excel in the league and that there remains much work to be done.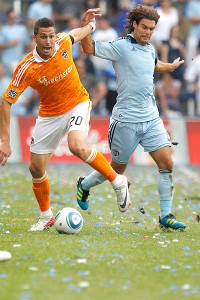 AP PhotoGraham Zusi, right, chose to stay in the U.S. while Geoff Cameron, left, decided to go overseas.
The moves also appear to contradict commissioner Don Garber's stated aim of making MLS one of the world's top leagues by 2022. Opinions vary as to the extent to which that goal is achievable. But there is nothing wrong with the league setting ambitious goals for itself, and the only way to head in that direction is to increase revenues. One way is by developing and selling players.

Will the league's talent level take a hit in the short term? Definitely, and it's now up to the clubs to make the most of their newfound resources. There is also a responsibility for MLS alums to perform, and thus validate the investment made in them by overseas clubs. But the league has also shown an ability to develop players that has slowly accelerated over the years. If the money is reinvested well, MLS will at least begin to hop over other leagues in terms of quality, albeit slowly.

"I remember when we went through [the sales of] Maurice Edu and Jozy Altidore, and at that time Brek Shea wasn't on anybody's radar screen," Durbin said. "You look at Brek and he's performed well, and you look at a guy like Graham Zusi, and he's performed well and he's staying here. So there's going to be a flow, not only of players into MLS and players leaving, but there's also going to be a continued upflow of players who have started here."

Perhaps over time, more of those players will stay. But in the meantime, MLS has shown it can still benefit if they don't.