Klinsmann's influences a worldly brew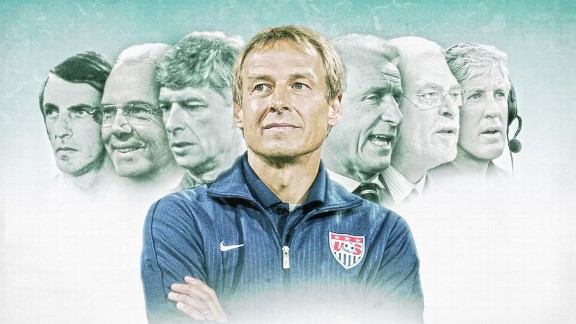 ESPN.com Illustration
Jurgen Klinsmann is buzzing. The multiple double espressos he pounds through the course of our conversation may have had something to do with that. We meet at a hotel coffee shop in Torrance, Calif., and in our hour and a half together, it is never entirely clear whether the trim coach is suffering a perpetual caffeine rush, or thriving from the challenge of infusing U.S. Soccer with his philosophy and experience.

With the U.S. on the cusp of the final round of CONCACAF World Cup qualifying, I traveled to Torrance in search of a deeper understanding of that philosophy. Klinsmann is an enigmatic character. Few ex-professionals who have won both the World Cup and the Euros carry themselves as he does. The striker-turned-coach prefers to exchange freewheeling ideas in the present rather than rely on personal achievements in the past.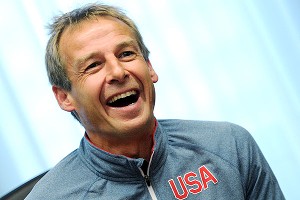 ARNE DEDERT/AFP/Getty ImagesJurgen Klinsmann has embraced his role as U.S. coach, and isn't one to hide his emotions.
Indeed, Klinsmann can be so consumed by the present -- he begins our meeting by expounding on the Boeing Dreamliner debacle -- it is sometimes easy to forget that he was once one of the most feared forwards in football. It is only when the U.S. manager opens up about his playing days that you realize he learned the game from some of the most iconic coaches in modern football -- Arsene Wenger, Giovanni Trapattoni and Cesar Luis Menotti among them. Klinsmann smiles as I mention those names, and admits "I always had supportive coaches I adored and early on, I began to try and be a sponge and learn from them."

As the USMNT players who are his charges buzz around the hotel lobby, Klinsmann, 48, agrees to revisit the experiences he amassed playing for eight clubs over the course of 17 seasons, exploring each coach's philosophy and mining the elements he synthesized into his own.

I begin by throwing Trapattoni's classic quote, "A good manager makes a team 10 percent better and a bad manager makes it 30 percent worse," at Klinsmann. He does not miss a beat before launching into a response. "Look, a manager's role is very simple," he declares. "A good manager helps players understand they have a results-span in their lifetime and their job is to get the most out of that span by fulfilling 100 percent of their potential."

In the 18 months since taking the U.S. job, Klinsmann has fostered a style of perpetual experimentation, tweaking personnel, positions, formations and even nationalities. In the German's mind, the swarming uncertainty this approach has created is unavoidable -- the collateral damage of systemic change. "My goal with the U.S. is not to maintain the standard but to raise the bar and go beyond where we were before," he declares. "If I just keep doing what was done before, we will stay where we are, so I have to do it differently."

Klinsmann remains keenly aware of the pressure of expectation. "Americans are, by their nature, a very ambitious people. They don't want to be No. 2. They want to be the best at whatever they do," he admits. But despite the pressure, nothing is certain. "Do I know the end result if this will work out at the end of the day? No!" he exclaims. "You have no guarantee about the end result when you do something differently so you have to take a little bit of risk, which I just love!"

Klinsmann punctuates his last comment with a laugh -- his signature half-cackle, half-shriek -- that the transcription service that typed up my interview, perhaps under the influence of Christoph Waltz, would later describe as "German Laughter."

Arie Haan: Leaving the comfort zone

To understand Klinsmann's management philosophy means to go back to the beginning. To Goppingen in southern Germany, where he was born in 1964. The area was "Handball Country," and young Jurgen initially excelled with his palms rather than his feet. Once "I experienced my first soccer practice at age 8 1/2, I never looked back," he says with a grin. By the time he was 9, seeds of the phenomenal finisher Klinsmann would ultimately become were already evident as he drilled 106 goals in a season.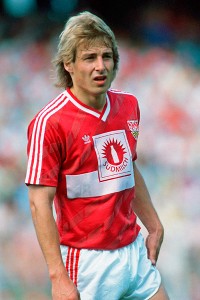 Bongarts/Getty ImagesKlinsmann first emerged as a pro as Stuttgart in the late 1980s, where he played under manager Arie Haan.
Progressing from the youth program at local club Stuttgarter Kickers, on to regional power VfB Stuttgart, Klinsmann learned from a series of coaches he viewed as "paternal figures," including Helmut Benthaus, an old-school coach whose management style was to "reassure everyone at every opportunity." But it took a Dutchman, Arie Haan, to goad Klinsmann to the next level by forcing him outside of his comfort zone.

"We had just played in the UEFA Cup final against Maradona's Napoli when he took me aside," Klinsmann remembers. "He told me 'Jurgen, it is nice here but this world is too small for you.'" Klinsmann still admits to the astonishment he experienced at the time. "I said, 'Coach, don't you want me to stay?' And Haan replied, 'I would love you to. You make my job more secure, but I will tell you the best thing for your career is to leave and give it a shot.'"

The lesson Klinsmann derived was immediate. "Every coach you encounter has a philosophy of life, not just a footballing philosophy," he explains. "Arie Haan had a cosmopolitan personality and he saw in me that I had a similar curiosity to explore the world outside of Germany."

It is hard to listen to this story without hearing an echo of Klinsmann's recent barbed public challenges to Clint Dempsey. As Klinsmann describes it, his approach is confrontational. "When I come in here I tell the players straight to their faces, 'I'm not content with where you are right now. Even if you play in the Premier League, I am here to get you to the next level.' When I get this feeling a player is giving me the sense that he has made it then he will hear from me that he hasn't made s---. That is my approach," he confides. "Not every player will buy into it. It's as simple as that."

Giovanni Trapattoni: Life's stark choice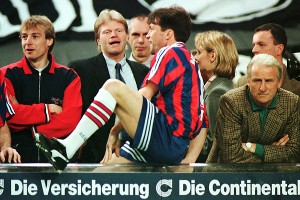 AP Photo/Frank AugsteinKlinsmann, left, and Giovanni Trapattoni, right, were reunited at Bayern Munich in 1996-97, when they both watched a midseason friendly.
Klinsmann landed at Giovanni Trapattoni's Inter Milan in 1989. Even in the serene surroundings of our suburban California cafe, the former player is able to summon the sense of excitement he once felt about the move. "In those days Italy was where the music was played," he confesses. "I desperately wanted to play the music and be part of the band."

The legendary Trapattoni employed a defensively dour approach to win four different titles in four different countries. "The coach made Inter sit back and kill the opponent on the break, but I was still able to work out a way to score my goals," Klinsmann laughed, discussing the UEFA Cup medal he won, and the takeaway he drew from three years in Italy, with equal pride. "Moving through coaches, I realized they all had different personalities and I learned as a player at Inter that what really mattered was your ability to adjust."

Learning to adapt was not always a comfortable experience for the young star. "For me to learn to take people the way they were forced me to go against the German way of thinking -- there they take people the way they are meant to be," Klinsmann says. The footballer remembers the frustration he experienced when a washing machine repairman was three days late for a 2 p.m. appointment. "I initially felt that I could not handle it but then I figured it out: They just look at life differently in Italy. They want to have a coffee first and maybe think about coming over in the afternoon." Klinsmann learned to see life as a stark choice. "If you can take people the way they are and learn to adjust you can have a good time. If you can't, you will go crazy."

Arsene Wenger: Every player must understand his job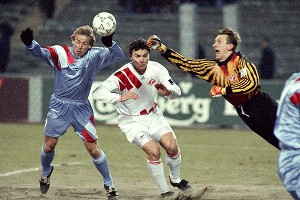 AP Photo/Alexander ZemlianichenkoUnder Arsene Wenger, Klinsmann, left, helped AS Monaco reach the UEFA Champions League semifinals in 1994.
Klinsmann's next mentor was the astute Arsene Wenger, coach of a young, fast-paced AS Monaco team. "I admired Arsene because he was incredibly detailed without ever losing sight of the long-term picture. He understands the path of young players, sees where they could be in two or three years, and has the patience to stand up for them."

Klinsmann arrived in France in 1992, age 28, believing he was a finished product. "I was pretty well-molded," he remembers with a chuckle, "especially in comparison to the rest of the squad, which was mainly young, full of a lot of players who thought they owned the world."

Wenger opened Klinsmann's eyes when he benched talented young bon viveur Youri Djorkaeff. "Because of my seniority, I was the only player who had direct communication with Arsene and I told him that if we wanted to win, we needed this kid as we did not have a deep squad." Wenger replied he had benched the 24-year-old Djorkaeff because he did not understand his job. "He told me Youri needed to learn what it meant to 'become a 24/7 pro.'"

Klinsmann admits he was initially confused by Wenger's approach. "I really liked Djorkaeff, but as the games went by, I watched and saw how he got Arsene's message. It took weeks and weeks, but when he broke through, there was no looking back. Ultimately we made it to the semifinal of the Champions League and Youri ended up winning the World Cup."

The conclusion Klinsmann drew is reminiscent of his recent handling of 23-year-old Jozy Altidore. "Arsene taught me a coach needs to lead these guys. They don't understand it all yet."

Cesar Menotti & Ossie Ardiles: Argentine iconoclasm

Some player-coach interactions were brief yet impactful. Klinsmann encountered the legendary coaching philosopher Cesar Menotti when he moved back to Serie A with Sampdoria. Striker and manager overlapped just three months, but Klinsmann used the time well, talking for hours with the man who led Argentina to 1978 World Cup glory.

"Menotti was able to inspire people to play the elements he loves -- to move off the ball and pass quickly -- even though it has to be 'in your stomach' to play that way." Klinsmann reveled in the Argentine's nonconformity, which fostered a free-flowing style in an era when Serie A was dominated by autocratic technicians. "Menotti was the opposite," he declares. "He encouraged players to find paths, channels, and ways to be inspired, where you didn't know what the team would do next because they confused opponents, and maybe even confused themselves. But it worked."

Menotti was not the only iconoclastic Argentine Klinsmann learned from. Ossie Ardiles managed Tottenham Hotspur at the beginning of the striker's fabled Premier League spell in 1994-95 and Klinsmann responds gleefully when reminded of Ardiles' quixotic attempts to field a top-heavy lineup featuring five forwards. "It almost worked!" he screams as he remembers lashing home 29 goals alongside the likes of Darren Anderton and Teddy Sheringham.

"I had the blast of my life that season," Klinsmann reveals. "I was so full of energy because Ardiles created a really positive environment." Despite the fact the German was named Football Writers' Player of the Year, the driving sense of ambition he harbored compelled him to move on. "I wanted to win the league and understood I could not do it with the team I played for even though I loved the club. So I moved to Bayern and won the title."

Franz Beckenbauer: The cult of personality

"There is Pele, Maradona and Cruyff, but in my mind, there is only one personality in world football like Franz Beckenbauer," Klinsmann enthuses while simultaneously ordering a second double espresso. Der Kaiser, the man who won the World Cup as a player and coach, managed Klinsmann with both the West German national team and Bayern Munich. Admitted Klinsmann: "You grow up in Germany and his achievements mean he is held in higher regard than the chancellor. He only had to turn up at training sessions and stand there because he knew his mere presence would make us run faster."

I ask Klinsmann if he had learned to use his charisma in a similar fashion, but he made a face and rejected the notion. "I don't know a thing about using charisma. I see myself as part of a process to get the game here to another level by getting to Brazil and hopefully surprising some big nations. I don't want to pull my stories out all the time. The players should be defining their own stories now."

Klinsmann knocks back his espresso, using the pause to reflect before returning to the question. "There are times when I use my past but mostly to make sure the [U.S.] players understand they need to step it up. I will tell stories to serve as an example so they know they have a once-in-a-lifetime opportunity. I was lucky to win a World Cup but I also lost two -- especially in 1994 when we were the best team in the tournament. I need the players to know there are reasons why a team loses early. There are always reasons."

Broadening horizons

After retiring in 1998, Klinsmann decamped to his wife Debbie's home state of California. Out of the limelight but far from idle, the curious German used the time to stretch his understanding about management technique. "I wanted to dig my nose into other sporting environments and sponge it up because the environment in American sport is just so different," he gushes. "In American football they take every part of the game and introduce a specialist to drill technique! technique! technique! If you had done that in soccer back then -- introduce a set-piece coach in the same way the NFL has receiving coaches -- they would have said you were crazy."

Klinsmann spent a day with Lakers coach Phil Jackson to observe his work. "I was curious to see how he led the environment with the Kobe Bryants of the world," he says, detailing the impression Jackson made with the way he empowered the specialist coaches around him and ensuring everyone felt important. "Jackson has a God-given charisma. No matter how crazy the game becomes, he always retains his calm."

The basketball guru's cool contrasted to the trademark frenzy of Pete Carroll, whom Klinsmann visited at Southern California. "I spent time with him to see how his scouts work and he was high energy 24/7." Klinsmann was dumbstruck by the array of technological assets the college football coach had at his disposal. "He put up a big screen and asked me which play I wanted to see from any game in the last three years and I just sat there with my jaw wide-open saying 'Holy Moly!' as I realized how far behind football was in terms of systems and technology."

Away at home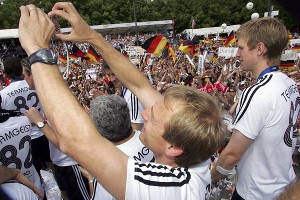 Markus Gilliar/Pool/Bongarts/Getty ImageKlinsmann, left, was again the toast of Germany in 2006 when he coached the country to third place in the World Cup.
These lessons were put to good effect as soon as Klinsmann assumed the coaching mantle with the German national team in 2004. "I came in with the American approach and changed the way the head coach did everything. I came in believing in the empowerment of people. I told my assistant coaches their goal should be to become head coach. I did not just want Jogi Loew to put the cones out on the training field. I told the players I was not there to give them motivation because they should be driven and so full of motivation that I should actually have to slow them down."

Klinsmann drew a breath to pause for thought, before concluding, "I believed a coach should be there to set out different options, and let the players choose between them and define their own paths."

As he struggled to rebuild the German program under conditions of intense pressure and public scrutiny, Klinsmann was aware of the barrage of public criticism, ridicule and doubt that surrounded him. "Everybody made fun of me," he admits about the battery of specialist coaches he brought in, from psychologists to fitness experts. "But now these kinds of coaches are standard across the Bundesliga."

Klinsmann's young, bold German team thrilled a nation as it battled into the semifinals in 2006. "The whole experience proved to me that people will ultimately listen to new ideas," he says, "but I knew the whole time if it did not work out I would just move on and try the next thing."

Klinsmann would have to activate that escape strategy during his doomed 10 months in charge at Bayern Munich, once he was undermined by Bayern's board and rumored to have lost control of the dressing room. "You basically have to pull in the same direction with everyone involved and if that is not the case, attempting to empower and educate the players simply won't work," he declares, leaning back to consider his words carefully before complaining about the "aggressive ending" to his tenure, as he was fired with his team still technically in the title hunt.

"Bayern was a huge lesson," he admits. "When you try to move forward in a specific environment, you need to have a certain chemistry to pull this whole ship forward. If it is not completely that way you can't do it."

Back to the future

Klinsmann has few doubts the "whole ship" that is the U.S. Soccer Federation is open to change. The German was approached after both the 2006 and 2010 World Cups without being able to come to agre

ement. "When we talked again after the 2011 Gold Cup, I told them it is only going to work if you are open for change," he says. "If our big goal is to break the top 10 in the world -- to play England or Germany eye-to-eye -- it is not possible by doing the same thing. We have to train harder, find more effort, more education, more drive, change the youth environment, change coaching education, change everything. But that is what I love to do because only by doing that am I improving myself. I'm in the same learning curve as everyone else."

With that huge burden on his shoulders, I ask Klinsmann what fears keep him awake at night. "I sleep well," he snaps. "I stop drinking my espressos at 4 p.m." With that, he looked at his watch, discovered it was exactly 3:50, and giggling with delight, ordered one more.

twitter: @rogbennett