Jozy Altidore's response to racism
In the eyes of many, Jozy Altidore grew up on Tuesday.

The young American striker, once viewed (probably unfairly) as a petulant player who failed to make the most of his talent for much of his young career, was the target of racist chants during a Dutch Cup quarterfinal match between his AZ Alkmaar team and FC Den Bosch.

Though the referee stopped the match and moved to abandon the game, Altidore convinced him to keep it going. When the chanting continued -- despite Den Bosch pleading with its fans to stop their disgusting behavior -- Altidore kept playing, creating a penalty and scoring the goal himself. It was his 20th strike of the season, a personal best.

More: Den Bosch apologizes to Altidore

When asked in the aftermath about his reaction to the abuse and his outlook on those guilty of it, Altidore was calm, composed and thoughtful, suggesting that the best course of action was to pray that the offending Den Bosch fans become better people. Altidore also talked about his commitment to his team and the responsibility he had to his family not to respond to the abuse.

Altidore's professionalism is laudable, but it's the part about family that is most telling. While playing soccer in a foreign country, where his appearance is much more rare than it is when he's back home in the U.S., Altidore chose to send a message with stoic resolve rather than outward hostility. The fans can do what they like, but they won't keep him from doing the job in front of him, nor will they break him.

Altidore made choices in the best tradition of the Rev. Martin Luther King Jr., whose birth was celebrated last week in the United States. Altidore didn't give the small minority of Den Bosch fans the satisfaction of a response. He didn't allow them to feel as though they'd affected him. He provided a lesson in class; while the anonymous fans hooted from the stands like animals, he remained the better person -- the kind of person he suggested we pray for those fans to be.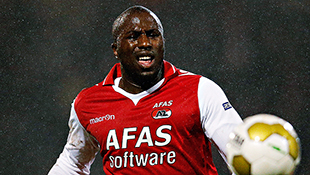 Dean Mouhtaropoulos/Getty ImagesAltidore has been challenged in many ways since moving to Holland yet has consistently handled himself with aplomb.

Earlier this month, Kevin-Prince Boateng chose to lead his AC Milan teammates off the field after suffering similar abuse during a friendly in Italy, his actions lauded as a necessary act of defiance in the face of racist elements. Boateng focused the spotlight on a problem that plagues non-white players across Europe.

The differences between Boateng's response and that of Altidore are stark, and while it might seem odd that both could be the right choice, it wasn't just Altidore's behavior on the field that made his reaction so admirable; it was what he said and how he said it. It was the tone and tenor of his voice and the clear understanding he displayed that while racism is a problem, it's not one that can be defeated by ranting and raving.

It was Altidore's recognition that -- unlike for Boateng, who was playing a friendly where the mere presence of AC Milan was the attraction -- walking off the field would give abhorrent people the victory they craved.

Altidore was once a brash young talent with a host of physical tools but a reputation for immaturity. After the events of Tuesday, at De Vliert stadium in 's-Hertogenbosch, Netherlands, we can finally put any hint of that lingering notion to bed.

Altidore isn't the first black player to suffer racial abuse in Europe, and he unfortunately won't be the last. But perhaps his choices, and the education and understanding for whom he suggests we pray, will serve as a new example for both those who will unfairly suffer abuse, and those who might otherwise be tempted to deliver it.

The juxtaposition of Altidore's experience Tuesday is just how good the Netherlands has been for his development. At 23, the American striker is showing signs of being the player so many thought he could be when he left the New York Red Bulls for Villareal in 2008. Hints from AZ Alkmaar director Earnie Stewart portend a move for the in-demand Altidore this summer, likely to a bigger club with larger aspirations.

Now that Altidore is so clearly grown up -- after the Netherlands has challenged him in so many ways -- there's no doubting he can handle whatever might come next.