U.S. toothless in scoreless draw vs. Canada
The United States' 0-0 draw with Canada was the worst kind of match for U.S. manager Jurgen Klinsmann, not to mention those in attendance. Canada's game plan of defending deep meant his young back line was rarely tested. And his side's inability to break down the visitors' defense meant no attacking player distinguished himself.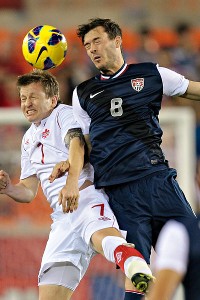 Bob Levey/Getty ImagesThe U.S. topped off a three-week training camp with a lackluster 0-0 draw vs. Canada as World Cup qualifying resumes next week.
In short, it was the weakest performance by a U.S. team in recent memory. Worse, Klinsmann learned practically nothing that will help him going forward.

One might argue that the stock of players Kyle Beckerman and Benny Feilhaber went up, which is correct. Feilhaber, in particular, reminded Klinsmann that he remains one of the best passers in the U.S. player pool.

All of this was overshadowed, however, by a U.S. attack that failed to carve out many openings at all against a Canada side that had been shredded by Denmark 4-0 just three days earlier. It wasn't for a lack of possession either. The U.S. was camped out in Canada's half for much of the match, and on the rare occasions when Canada did threaten to break out of its own half, Beckerman was usually there to win the ball back straight away.

But the Americans had few if any ideas on how to break through what was admittedly a well-organized Canada defense. Width was practically nonexistent in the first half, and Brad Davis and Graham Zusi were unable to play the kind of penetrating passes that would make Canada pay for their defense-first approach.

Tactically, Klinsmann did what he could, although his decision to start Brad Evans as an attacking midfielder remains a head-scratcher. He brought on Feilhaber and Josh Gatt at halftime and went to a 4-3-3. Later, he brought on Juan Agudelo and Alejandro Bedoya, and moved back to a 4-4-2 that utilized pure wingers.

Nothing worked. A rare quick combination in the first half involving Davis and Chris Wondolowski saw the San Jose striker get a look at goal, but his weak shot was easily saved by Canada keeper Simon Thomas. Good work from Brad Evans set the table for Eddie Johnson in the second half, only for the Seattle forward to sky his shot over the bar. Aside from some darting runs by Gatt, and a header from Gonzalez that went just over the bar, that was about all the U.S. attack could muster.

Canada offered little more, but did have the game's best chance when Dwayne De Rosario tracked down a cross and hit a bullet that was well-saved by U.S. keeper Sean Johnson.

All told, this was a game to forget for the Americans. Klinsmann can only hope a result against Honduras will do the trick.

Player ratings: (0-10; 10=highest)
G Sean Johnson, 7 – Delivered a sharp save from De Rosario in the sixth minute, and didn't have much to do thereafter. A good debut overall.

D Justin Morrow, 4.5 – Showed good initiative getting forward, but rarely shook free to deliver a dangerous ball. Coped with Toussaint Ricketts well enough, but lost De Rosario on a second-half free kick.

D Matt Besler, 6.5 – Was rarely tested, which probably didn't reveal much about his ability to play at the international level, but he got the job done.

D Omar Gonzalez, 6.5 – Showed off his usual dominance in the air, and was steady on the ground.

D Tony Beltran, 4.5 – Nearly caught napping on De Rosario's early shot, and didn't offer much going forward.

M Brad Davis, 4 – On a night when Canada was sitting back, Davis was among those needed to provide the killer ball and couldn't, even when he tucked inside, which was often. His set piece deliveries left something to be desired as well.

M Kyle Beckerman, 7 – Clogged the middle and connected his passes well. Probably not enough to displace Danny Williams when the full team convenes, but a very good performance nonetheless.

M Brad Evans, 5 – Didn't do badly in midfield, but the U.S. needed more creativity than he can offer. Contributed more as a right back teeing up Johnson for a great chance.

M Graham Zusi, 4.5 – Saw plenty of the ball, but like Davis, he was unable to cut open the Canada defense.

F Chris Wondolowski, 5.5 – Looked reasonably sharp with his touches, if not with his shooting. His substitution at half-time looked entirely tactical given the Americans' switch to a 4-3-3. That still doesn't bode well for his chances going forward.

F Eddie Johnson, 4.5 – Save for one burst through two defenders in the first half, came out second best in most of his battles, especially against Dejan Jakovic. Had one clear opening in the second half that he skied over the bar.

Subs:
Josh Gatt, 6 – Provided much needed energy, but almost too much, as he seemed intent on dribbling past every Canadian player in sight. Needs to refine his decision making on when to pass. That said, at least he cause some problems for the Canadian defense.

Benny Feilhaber, 6.5 – Was everything Davis was supposed to be; tidy on the ball, and dangerous from set pieces. That said, his decision to play the final U.S. free-kick square amounted to a wasted opportunity.

Juan Agudelo, 5.5 – Worked hard, and won plenty of free kicks, but didn't offer much else.

Alejandro Bedoya, 5.5 – Was marginally effective in attack, but showed a good ability to track back, which is something Klinsmann had emphasized.

Will Bruin, NR – Earned his first cap, in his home stadium no less.

Alfredo Morales, NR – Another player to make his U.S. debut.