On U.S. national team, Bedoya is back up to speed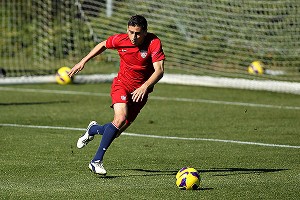 Victor Decolongon/Getty ImagesAlejandro Bedoya is in camp with the U.S. national team for the first time during the Jurgen Klinsmann era.
CARSON, Calif. – When most soccer players think towards the future, they dream of their careers traveling on an upward trajectory, the faster the better. To be sure, Alejandro Bedoya hopes his career takes that kind of path, but at present he's craving a bit of stability as well.

Bedoya is currently in camp with the U.S. national team for the first time during the Jurgen Klinsmann era, and as such he's eager to impress. But there are other pressures being brought to bear. Bedoya is also currently out of contract, and he knows a good showing in Tuesday's friendly with Canada (9 p.m. ET, ESPN2), no matter his role, will help his situation for both club and country.

-Video: U.S. v. Canada preview

Yet as Bedoya chatted following a training session last week, he displayed little tension as it related to his current predicament. In terms of his club situation, he knows it's better to make the right decision rather than a hasty one.

"I'm being patient with it," he said about his next move at club level. "I really want to make sure my next team shoots me [forward] in the future, a club that's stable and I can get a few years in [one place]."

Given how tumultuous the last 18 months have been for the U.S. international midfielder, his approach is understandable. In August 2011, Bedoya appeared to be flying high. He was firmly in the plans of then-U.S. manager Bob Bradley, and he thought he had just taken the next logical step in his career, signing for Scottish side Rangers. But nagging injuries stunted his progress. Bradley was fired, and suddenly Bedoya was on the outside of the U.S. team. And when Rangers endured crippling debts that resulted in bankruptcy, he soon found himself in professional limbo, with the club ridding itself of players in an attempt to balance the books.

"I probably signed at the worst time you could sign for Rangers; it was tough," he said. "At the beginning, people didn't know what their jobs were going to be like. Then there's talk of wage cuts and other stuff, and what the future was going to hold. It was tough because there were situations where players were trying to look for other clubs to go to. Every day there were new talks about what was going to happen to the club and what was going to happen to players. It was tough to get going, really. It was a good club with a lot of good players. It was just unfortunate, really."

Bedoya managed to make a soft landing at Swedish club Helsingborgs, which signed him to a short-term contract in August. There he managed to rebuild his game and get some consistent playing time. Given that the Swedish season ended in December, it proved enough for Klinsmann to bring him in.

"Bedoya has a fine technique," said Klinsmann. "He can take people on, and we want him to play his cards. But we also want him to learn to become more an overall better player defensively that can chase back the ball and become an all-around player. There is still a lot of improvement, and he knows that."

Whether that assessment will see Bedoya get playing time Tuesday remains to be seen. This being his first camp under Klinsmann, it's taken some time for him to get up to speed. But on the positive side, better wing play is one area where the U.S. could stand to improve heading into World Cup qualifying, and Bedoya is more than capable of helping the U.S. in this regard.

Either way, it's an opportunity he's grateful to have. He recalled how he was originally on the roster for the Aug. 10, 2011, friendly against Mexico, only to be taken off it when Klinsmann was hired. This is the closest Bedoya has come to wearing a U.S. jersey since then.

"I respect Klinsmann's decision, you've got to," he said. "But I'm here now, and so hopefully I can impress in training and in the game."

Perhaps then Bedoya will find a club situation that will provide him with the stability he seeks.