Besler, Gonzalez could fill hole in U.S. defense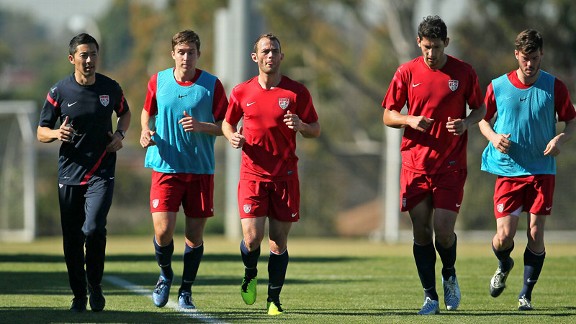 Victor Decolongon/Getty ImagesMatt Besler, second from left, and Omar Gonzalez, second from right, are among the U.S. players going through their paces as this month's national team camp in California begins to wind down.
In many respects, Matt Besler and Omar Gonzalez are polar opposites. Besler, fresh off a Defender of the Year season with Sporting Kansas City, conveys an eagerness that is impossible to ignore while Gonzalez, a defensive mainstay with MLS champion Los Angeles, seems more wary.

The two are different on the field as well, with Gonzalez more physically imposing, while Besler is more about positioning and timing. But there is one area where they are identical. Both are aiming to fill the gap that exists in the center of the U.S. defense.

Carlos Bocanegra and Geoff Cameron are currently the preferred central pairing in the back when the full team is gathered, but there is a distinct lack of depth in that part of the field, with other candidates struggling with injury or suspect form. And even Bocanegra had injury problems of his own during the latter part of 2012.

It's a scenario that has stretched into its third year, and spread to the lower levels of the U.S. player pipeline. The failure of the U.S. U-23 team to qualify for last summer's Olympics was due in part to a lack of options in the back. The U.S. U-20 team, which next month will aim to qualify for this summer's FIFA U-20 World Cup, is similarly shorthanded, especially after the horrific broken leg suffered by Birmingham City's Will Packwood. It's a development that seems curious given how center back has historically been one of the team's stronger areas.

"I don't know if I can put my finger on it," said former U.S. defender and current ESPN analyst Alexi Lalas. "I think there is a logical ebb and flow. I think when the team was in its infancy, there was certainly a more defensive posture that was accepted, and at times championed, and that lends itself to a more defensive type of player. As that has opened up and the requirements have started to increase, maybe that has something to do with it, and the defenders just haven't kept pace with the evolution of the team."

Granted, at least at youth level, part of the problem is down to European clubs refusing to release players. But at senior level, the fact remains that after Bocanegra and Cameron – the latter a converted midfielder – U.S. depth at the position is not what it was. Which is why plenty of eyes – especially those of U.S. manager Jurgen Klinsmann – have been on Gonzalez and Besler during the team's camp in Southern California.

"Sometimes it's not always about being the best player," said Lalas. "It's about being the player with the best timing. For [Gonzalez and Besler], they should be grabbing hold of this moment with both hands, because it doesn't come around too often."

Early this month, Klinsmann was intent on pairing his defenders with different partners. But lately the U.S. manager has played Gonzalez and Besler together more often, and likes what he has seen.

"The whole group has exceptional chemistry and energy," Klinsmann said following a training session earlier this week. "We've seen in training and little scrimmages where Omar worked with [Besler], they're looking good. You see that they have experience already, that they are comfortable with this type of environment."

That's welcome news given their lack of international appearances. Gonzalez has just two caps, while Besler has yet to feature with the senior side, and has only been called up once previously. But both are about to enter their fifth professional seasons, and are coming off memorable campaigns. That has provided both with a platform to adapt quickly to the rhythm of the camp and make a good early impression.

"I think a lot of that is confidence," said Besler. "If you come in not confident, the ball is going to be flying around and your head is going to be spinning, and you're not going to be sure where to play it. But if you come in with confidence, things are going to slow down for you. That's how I've tried to come in, I've tried to be very sure of myself."

Klinsmann is on record as saying how he's looking for leaders in the back, and that has provided both players with a common area for improvement. Neither is overly demonstrative on the field, but the ability to communicate accurately is one that becomes especially important in the hostile environments of World Cup qualifying.

"Being vocal is key," Gonzalez said. "I find myself sometimes getting a little silent during games, so I have to get myself back into the game and start talking even more. I definitely have been trying to work on that."

Said Besler: "I've always been a guy who does my job, and is a leader by example. But I'm trying to find that role, especially with the position I play in the back, the center defender is typically the guy that's more vocal."

The question of whether Gonzalez or Besler – or perhaps even Jeff Parke – can step into a more prominent role will begin to be answered during Tuesday's friendly against Canada in Houston. The neighbors to the north are bringing an understrength side, but the match remains a huge opportunity.

Last year it was Cameron who used the January camp to become a fixture in Klinsmann's lineup, and there's every reason to think that both players can jump up a few places on the manager's depth chart. In fact, the aforementioned differences in style mean that Gonzalez and Besler complement each other, which could enable them to catch Klinsmann's eye.

Gonzalez, for his part, refuses to look too far ahead, especially after tearing his ACL while on trial with Nuremburg this time last year.

"I don't want to get too excited over anything really," he said. "I was at a point last year where I thought I was going to be playing in Europe. I was on the field in Nuremburg thinking, 'Man, I'm going to do good here. I'm feeling good.' Five minutes later, I'm out for six months. Things can change that fast."

If Gonzalez and Besler can step up, that's a change that Klinsmann will gladly accept.