In Petke, Red Bulls hope for the Olsen effect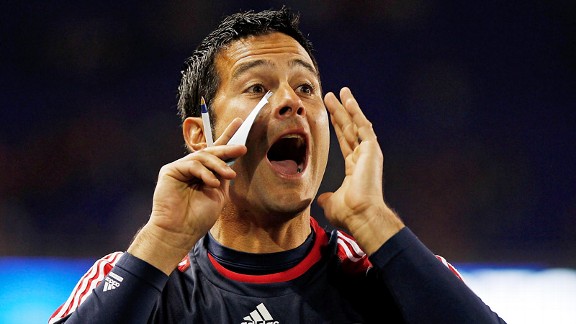 Mike Stobe/Getty Images for New York Red BullsCan Mike Petke galvanize the Red Bulls much like Ben Olsen did for D.C. United?
If you evaluate the resurgence of D.C. United, much of the praise will be attributed to Ben Olsen, a fan favorite and a member of the club's hall of tradition. Olsen's success culminated in the club's first playoff berth in five years and a heroic victory against their biggest rivals, the New York Red Bulls. As Olsen's project continues to evolve this winter, New York remains at an awkward stage.

Why? Because the Red Bulls have been involved in the most protracted storyline of the MLS offseason: Who will fill the chair kept warm by apparent fill-in manager Mike Petke? For weeks, the prime candidates appeared to be Gary McAllister and Paulo Sousa -- while the talk of the former died down quickly, the latter candidate quite publicly declined the opportunity after leaving Hungary's Videoton on Jan. 7.

News: No more 'interim' for RBNY's Petke
Blog: MLS SuperDraft winners, losers

"We didn't reach a final agreement," the 42-year-old Sousa told the Associated Press. "This sometimes happens in football and we need to turn a page and focus on the future. This will be a fantastic opportunity for another manager."

Contrast Sousa's indifference with the passion Petke has shown sporting director Andy Roxburgh and the decision to remove "interim" from his title becomes clearer. Describing his opportunity as "once in a lifetime" might appear desperate to cynics, but to optimistic fans the confirmation of Petke may be the move that will finally turn the Red Bulls around.

"If they decided to go with someone else, I never would have had a problem," Petke, who turns 37 on Jan. 30, said Thursday after the Red Bulls announced his appointment as head coach. "But I believed that I was always more than ready. I'm more than capable. I always put this club ahead of me in everything I do."

Those who know Petke can attest that his selfless attitude about the club is legitimate, not something that could readily be associated with some of the recently departed Red Bulls employees. Still in the formative stages of his coaching career, he will arrive in the job with a far greater understanding of MLS than Sousa would have had. As a former defender, Petke will also be expected to shore up a porous backline, the league's third worst in 2012.

In the meantime, every reaction he gives and situation he is involved in is intensely scrutinized as we try to evaluate one of the youngest coaches in Major League Soccer, right down to what he chooses to wear on the sidelines: "First and foremost, I'm going to have to ask my wife. She dresses me," he joked Thursday.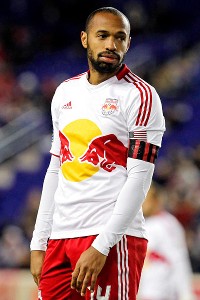 Mike Stobe/Getty Images for New York Red BullsGiven the age similarity, Petke will need to win over senior players like Thierry Henry; how he handles these relationships might well define his tenure.

Along with Ryan Nelsen and Olsen, Petke will be the third member of the 2004 MLS Cup-winning D.C. United team to coach in MLS in 2013. Petke's situation bears a striking resemblance to the one Olsen found himself in when taking the job in D.C. And New York is no doubt hoping for a similar result.

Olsen, too, was an interim boss, in 2010. Although Petke was never openly dismissed as a candidate the way Olsen was, he was also never afforded a formal interview. "I think my interview process began when they turned to me and asked me to take the reins in November," a humble Petke said.

In the same way Kevin Payne said he understated Olsen's chances at securing the head coach position, Roxburgh issued a similar admission, saying, "Mike has been in on the selection process since the first few weeks." Petke is overt in his partisan support of the club he represented nearly 200 times, and much of what he claims he will bring to the club is what has been lacking at Red Bull Arena in recent years.

Passion may give you a burst of adrenaline for part of a 90-minute fixture, but it's hard work that defines winners and losers in soccer. And that's what an industrious character like Petke founded his career on -- whether on the pitch or in the club's front office.

With the global reach of Red Bull and the collection of international names on the roster, New York will concede that it has done little to nurture young local talent in recent times; former coach Hans Backe and ex-general manager Erik Soler often lamented their Scandinavian-tinted approach.

"We're based in New York and New Jersey, and the club needs to have its own roots," Roxburgh said. "The aim is to make sure the heart and soul is American-based people who know the sport here, who know the league. It's another element to this jigsaw puzzle."

Olsen has nurtured U.S.-born players like Bill Hamid and Perry Kitchen, who are all under 23. What better way for the Red Bulls to rectify such an issue than to hire a man from Bohemia, N.Y.?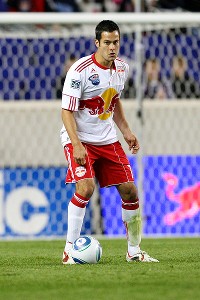 Mike Stobe/Getty ImagesAs the Red Bulls' most-capped player, Petke brings the passion and understanding of the club that will be useful in trying to overturn a 17-year existence without trophies.

Youth may be one item on the agenda, but so is solid player management. Petke finds himself in the same quandary Andre Vilas-Boas had at Chelsea. Younger than Juninho and not much older than Thierry Henry, Petke regaled the press with stories of the pingpong matches he has enjoyed against Henry, but his handling of experienced and potentially temperamental stars will likely define Petke as a coach early on. Much like his time spent at the table with Henry, he will be hoping the striker hits the net often.

Of course Petke could have been appointed far sooner than the 67 days it eventually took the Red Bulls hierarchy, but hindsight always provides clarity. When Petke rejoined the club as a player in 2009, his beloved MetroStars had been renamed the Red Bulls, though his passion and love for the team had not waned. When he scored during the grand opening of the club's new stadium, he still kissed the badge.

"That was to show the fans who came out here today, you know, remind me how much I feel about this organization and the players as well," he said afterward.

If Petke can condense that desire and impart it to his players, then the Red Bulls may finally have the balance of talent and effort to end their 17-year trophy drought. And who better to herald the new dawn than the club's biggest fan?

Kris Heneage is a writer and podcaster specializing in MLS and European soccer. He has worked with ESPN, the Guardian and The New York Times, among others. He can be found on Twitter at @KHeneage or via email at Kheneage@gmail.com