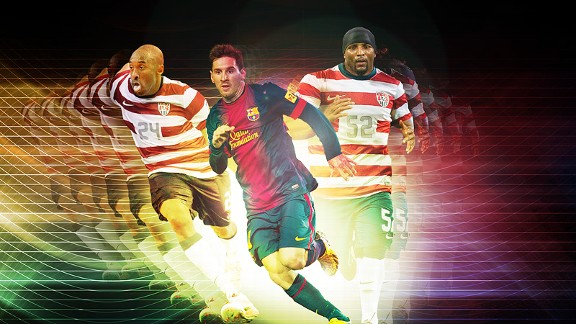 ESPN.com IllustrationIs U.S. soccer doing everything it can to develop the best players in the country, or is there still a concern that the best players end up in different sports?
Part 1: Whither Lionel?
A cruel accusation is often lobbed at America's soccer powers that be: How can a nation blessed with a diverse population of over 315 million have failed to produce a single Lionel Messi? Or, for that matter, a few more Clint Dempseys and Landon Donovans?

Taylor Twellman bristles at the question. "The people who ask about the development of world-class talent are often the same ones wondering why the national team is not in the top 10 in the rankings," the ESPN analyst and former player said by phone from Fort Lauderdale, Fla., while attending MLS's annual player combine. "Bruce Arena nailed the problem back in 2006 when he wondered aloud what U.S. football would be like if the States was as big as a European country. If America was that small, we, too, could build a system that would leave no stone unturned. [Our nation's] vastness means we don't have that capacity yet."

Twellman points to the combine as proof. "There are so many talented players appearing here that none of us have heard of," he said. "It's just too easy for talent to fall through the cracks right now."



"There are so many talented players appearing here that none of us have heard of. It's just too easy for talent to fall through the cracks right now." -- ESPN's Taylor Twellman



Jimmy Obleda, director of coaching at Fullerton Rangers, the California club that has won back-to-back national youth championships, is more forthright. "The state of youth soccer is just a crazy quagmire right now," he said. "Development is a buzzword. Some clubs do it seriously but others are just playing at it. I often ask myself whether Messi would have made it in the United States, and the honest truth is, he would most probably have been dismissed for being too small and then fallen out of the system."

-Is Junior Flores the best hope for the U.S.?
-Top 10 players under 21
-How to turn pro
-SN Vote: Will the U.S. win a World Cup?
-ESPN Insider World Cup 2014 Board
-England's view of the U.S.

With the U.S. national team poised to slog through the final round of CONCACAF World Cup qualification, the state of the country's youth development program is once more in the spotlight. The squad remains overly reliant on the creative contributions of a veteran duo who served during the past two campaigns – the often absent Donovan and Dempsey. The pipeline designed to replenish their talent has been bruised by a series of high-profile embarrassments: the under-23 squad's dramatic collapse against El Salvador eliminated it from Olympic contention; the under-20s failed to qualify for the 2011 World Cup; and a vaunted under-17 squad was eliminated at the round of 16 stage of the U-17 World Cup.

Jurgen Klinsmann raised expectations on the day he became national team coach in August 2011. When asked to define his most critical priorities, the new coach said, "There are a lot of different challenges ahead of us ... the foundation is youth -- how they should be trained, how often they should train, how much time they should spend with the ball, how they should develop their talent."

In truth, efforts to build that strategic foundation began in 2007, when a United States Soccer Federation task force triggered the creation of a Development Academy system of 63 clubs nationwide (since expanded to 80) with the 19 MLS teams playing a key role. The men charged with injecting order into chaos are Tony Lepore, U.S. Soccer's development academy director of scouting, and Alfonso Mondelo and Jeff Agoos, technical directors at MLS. Despite the modest resources they have at their disposal -- the national program has an annual budget of just $2.65 million -- a conversation with the trio reveals they remain strategically focused and ambition rich.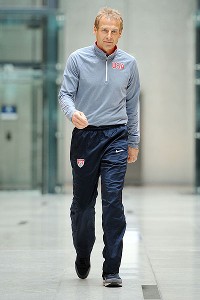 ARNE DEDERT/AFP/Getty ImagesU.S. men's national team coach Jurgen Klinsmann said youth development is a critical priority. "The foundation [of the program] is youth."
Mondelo and Agoos are the Starsky and Hutch responsible for overseeing MLS's youth system. The two work so closely together, they make a habit of finishing off each other's ideas. "Our model was inverted to the rest of the world's," the Bilbao-born Mondelo explained, describing the traditional U.S. system that had grown haphazardly since the 1970s as an abandoned garden overrun by weeds. "Pay-to-play youth soccer became a vast money-making industry, but once the NASL disappeared, we were left with no professional ranks for the players to aspire towards. A system emerged in which lots of clubs focused their efforts on average players so they could make more money and anyone with an English accent passed themselves off as a coach."

"Our youth system became one that emphasized winning games," said Agoos, a five-time MLS Cup winner, "because that was the way you caught the college scouts' eyes in order to gain a scholarship. This need to win meant our clubs favored a really defensive style that helped win games without ever truly developing the players."

"The Academy strategy was launched because we could no longer accept that way of thinking," Lepore said. "We needed a program that was centered on building up elite players' technique."

The new model was designed to dismantle the anarchic reality of old norms, or as Agoos describes it, "to build an environment where our coaches felt comfortable leaving the little runts on the field when their team was 1-0 down with 10 minutes to play." Most coaches had felt compelled to put on their bigger, more physical players to salvage the game. "We wanted our little guys on the field so they could learn from the challenge," Agoos said, "because it's better to lose the game and gain the experience."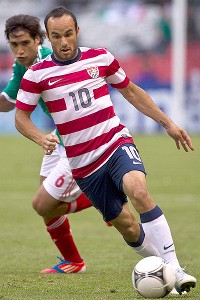 Misael Montaño/Getty ImagesWith Landon Donovan's interest in soccer waning, U.S. supporters are understandably concerned about who'll lead the next generation.
As Mondelo explains, the Academy's development was timed perfectly from MLS's perspective. "When our league kicked off in 1996, youth development was not something we could focus on as we just wanted to get MLS up and running." With the league entering its 18th season, improving the quality of play has become a top priority, a self-interest Agoos freely admits. "Our goal now is to build a system targeted at producing pro players instead of college talent and there is a world of difference between the two. We focus on the individual not the team -- the one or two players in every squad who we can push to the pro level. Having MLS as an aspirational destination for these kids is game-changing.

"The key now is to build an environment where everything from the infrastructure, facilities, coaching and training are done right," Agoos continued. "We are still a distance from where we want to go."

Part 2: A revolution of details
All three men articulated the values which underpin the academy system in well-drilled fashion, yet the passion they share could not help but bubble up, especially as they described the ways in which the transformative impact has been felt.

"The first thing we realized was the 4,000 prospects we consider our elite were playing way too many games," Lepore said. A survey revealed the average under-15 player took to the field over 100 times a year, suiting up for high school, club, district, regional and national teams.

Mondelo had witnessed the impact of these old habits firsthand. "Our kids were playing two or three games a week, then packing six matches at a weekend tournament," he said. "They became phenomenal athletes who could single-handedly win games, but by the time they were suddenly matched against international opposition at 18 years old, they were exposed for what they were -- which was average."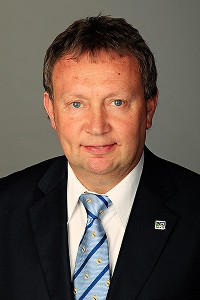 Major League Soccer Alfonso Mondelo, a technical director at MLS, says a key shift in player development has been an emphasis in creating pro players instead of collegiate ones.
Agoos outlined the new approach. "We wanted to move to a schedule of four to five days training, one game a week and one day of complete rest. We were looking to hit a ratio of at least four days training for every game, whereas before it was the other way around."

Lepore eagerly reeled off the numbers. "The average American club used to offer just 12 hours of training a month. With our new emphasis on training, we are aiming for eight hours a week which, over the newly extended 10-month season, computes to 350 hours a year."

This number still lags behind Ajax's 576 hours, Barcelona's 768 hours and Sao Paulo's colossal 1,040 hours, but the coach points out with glee how close it is to Italy's total, where the elite practice 432 hours. "Until we eliminate the gap, our players will be technically deficient as they lack the repetition," Lepore said.

A subtle but seismic change occurred once the academies adopted the complete international rules of play in 2007. "For most of our kids, it was the first time they had played 90 minutes with proper substitutions and no re-entry -- even in the college game they can sub in and out," Lepore said. "People don't understand the magnitude of this decision. Games with re-entry create a frantic style of soccer and our kids were not learning how to pace themselves within the flow of the game."

Part 3: "You can't grow a redwood yesterday"

The trio comes at the player development challenge from different perspectives. Lepore was formerly a middle school guidance counselor; Mondelo, an assistant coach on the USMNT; and Agoos, a long-serving U.S. international. Yet all three share a single quality: They consider their project a work in progress. None appeared defensive about the system's fallibilities.

Those eager for reasons to be optimistic about the future of football in the United States may find them in the candor with which the coaches frame the six major challenges that lie ahead:

1. Coaching: Who watches the watchmen?
"In other countries being known as a developmental coach who passes players on from the under-14 level is a mark of pride," Mondelo said. "Here, the best coaches all gravitate to U-17 and U-18, and between the ages of 5 and 13, parents coaching soccer out of a book still predominate."

Agoos believes a solution may be on the horizon. "Unlike other nations, most of our coaches never played the game at a high level, but we are starting to target the first generation of MLS players who have retired from the league. If we can engage and educate them, we will have a steady supply of intelligent individuals with experience."

2. Retention: What would Kobe do?
"Our footballing system is designed so young, talented athletes remain attracted to NFL and NBA," Mondelo said with a sigh. "Look how many NBA stars played soccer at an early age. If the right soccer environment had existed, they could have seen their future as paid professionals in our league. Cultural change is needed before young athletes can see the pot of gold at the end of the rainbow."

Lepore takes a more optimistic stance. "Talent is not born, it is developed, so I don't focus on the ones we don't get because we have millions of players aged 6 to 10. Soccer may be the No. 1 sport in Germany in a way it is not in America, but the sport's profile is climbing here as more kids follow it on broadcast television and can now become true fans."

3. Geography: From sea to shining sea
"Smaller countries like Holland can excel as they can easily maintain complete control over their system," Lepore said. "We do not have the resources to cover the whole country, so we are developing hot spots to focus on based on the last 10 years of development, which point towards New York, California, Dallas, Chicago and Philadelphia. We won't be starting an academy in Boise anytime soon."

4. Scouting and Recruitment: Beyond the suburbs
Is the academy system doing a good job of recruiting talent from urban areas?
"Part of good development is having an effective scouting network," Mondelo said. "In Spain, Barcelona scouts know every kid in Catalonia. Here we don't know what is going on in Brooklyn or in the Haitian community in the Bronx. That will change, but right now, even if we find a talented kid in upstate New York we have no club to plug him into."

"Scouts from the Mexican Federation, Pachuca and Manchester City visit us far more than the U.S. national team scouts," said Fullerton Rangers coach Obleda.

Lepore, who oversees a national scouting network consisting of nine technical advisers, disagrees. "We spend more time than people imagine at every age group in key markets. For proof, you only need to look at our under-14 national team squad. It is a true reflection of a diverse American society."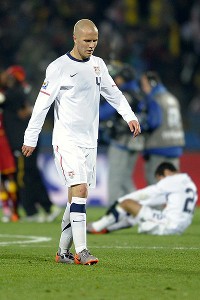 TIMOTHY A. CLARY/AFP/Getty ImagesMichael Bradley and the U.S. had a dream draw at the 2010 World Cup, but ended up losing to Ghana in the round of 16. Bradley, though, should feature again in 2014.
5. Lack of Incentive: The profit motive
"Because it is centrally run, MLS clubs don't have the incentive of a cash windfall for successfully developing young players," Agoos said. The situation is exacerbated by U.S. labor laws that prevent the prospects from signing contracts. "The players can move anywhere until they are 18, which is an additional deterrent to serious development," Lepore said. "Profit is inherent in South American systems like Brazil or Argentina and so their clubs scout aggressively. In MLS that process is just beginning."

6. Lowering the age group: Putting the youth back into development
The academy system is poised to drop down to the under-14 level in August 2013. Lepore described the change as a "huge step." Mondelo shares the excitement but admitted that "the key formative years begin at 8 years of age. What players don't learn by that time is very hard to give them. If you watch recreational football the way it is played at those ages right now, the biggest kids dominate -- a trait which can actually hurt development, but like everything else, this is a process."

Part 4: If not now, when?
A burning question remains. If these are the real barriers facing United States football, how long will it take to overcome them?

"There are a lot of reasons to be excited about the future as we are feeling the changes right now," Lepore said. "We have five academy graduates currently training with the national team squad including Will Bruin, Juan Agudelo and Josh Gatt. We have eight under-14 players moving to international academies including 12-year-old Ben Lederman [from Calabasas, Calif.] who is at Barcelona. But this is a long process. Just look at Spain as a model. When people talked about their national team in the '80s they only did so with disappointment. It took 20 years for their investment in youth coaching to pay off. That is now our timeline."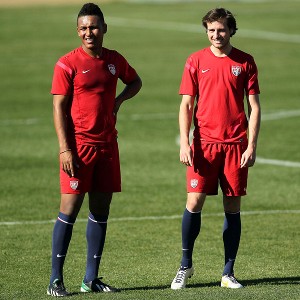 Victor Decolongon/Getty ImagesThe future: Two of America's up-and-coming players, Juan Agudelo and Mix Diskerud, attended the U.S. men's camp this January.
"It is only a matter of time before the United States develops a true world star," Mondelo said. "Messi is a once-in-a-generation talent but the club resources we are investing coupled with our new focus of developing professional players will allow us to train a true world-class talent and this could be a real turning point for the American game."

The coach paused to catch his breath before offering up a note of caution. "We have to be patient. Every time we have a kid who can kick the ball straight three times like Jozy [Altidore], [Freddy] Adu or Juan Agudelo -- we make them the world's best, blow them up, then kill them."

Not for the first time, Agoos leaned in to finish his partner's point. "The quality is getting better every year. Just look at the Under-17 Cup. That game used to be a demolition derby and now it is increasingly competitive, but you can't grow a redwood yesterday," he said with a smile before shaking his head. "Americans want everything yesterday."