Freddy Adu exits Philadelphia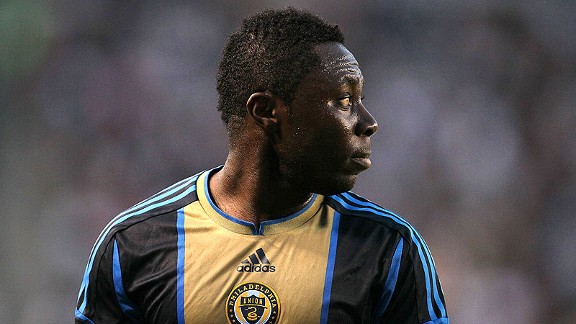 Victor Decolongon/Getty ImagesAfter parting ways with Philadelphia, Freddy Adu is on the hunt for his ninth club in nine years.
First, forget everything you know about Freddy Adu. Forget the Sierra Mist commercials and the Pele photo-ops and the "savior of American soccer" stigma. Forget that Adu signed with MLS at 14, that he was traded by D.C. United at 18 when it didn't work out, that he was sold by MLS to Benfica a year later with some measure of hope that Portugal would be where Adu would blossom in the best American soccer player ever. And forget that he didn't.

Second, think of Adu as a 23-year-old soccer player and nothing more. Imagine he's one of the many American kids who left the U.S. for the dream (and higher pay) of Europe, only to find the going a little more difficult than he imagined or the resulting opportunities less attractive than he'd hoped. Think of Adu as that American who came back to MLS after a stint abroad -- like Chris Rolfe or Bobby Convey, for example -- mostly because he had to but not exactly because he couldn't hack it.

Stripped of his "failed soccer messiah" albatross, Adu is pretty typical for a naturally gifted soccer player of his particular age. Many more fail than succeed, many more drift down through leagues and clubs until they find their appropriate level or comfortable niche (or don't and quit) than rise meteorically to the heights of the world's game. Adu is not unique in his failure -- if you're in fact ready to label his career to this point as such.

This isn't an attempt to absolve Adu of his sins, nor is it meant to sugarcoat his latest exit from yet another team.

Adu won't be a Philadelphia Union player this season, in part because he's paid a lot of money that the club thinks might be useful elsewhere. But Adu's done his fair share of alienating in Philly, so it's easier to just assume that this is his entire fault, again.

Viewed from afar, Adu is too often the easiest target for American frustration in our player development efforts rather than a young soccer player judged by his merits on the field. At times in 2012, Adu dazzled with this passing and vision. Consistency was his issue, not ability. Consistency is the overriding issue for most 23-year old players in MLS, even top draft picks and highly-rated academy graduates. Yet they get a fair bit of slack while they work to attain it, while Adu gets another notice that he services are no longer needed.

The difference between most 23-year-olds and Adu starts with salary. His salary is inflated because of his name, but his name is inflated because MLS imbued so much hope in him when he was just a 14-year-old kid with clever ball skills and a winning smile. The predominant cautionary tale represented by Adu isn't one of avarice or ego -- those things are playing a role in Adu's post-phenom career -- but of American soccer's inability to get over its mistakes. No matter how you view Adu's boomerang arc through Europe, he did enough to merit the salary MLS offered him to return in 2011. Two years, a dramatic coaching change, and an entirely new Union approach later, Adu is on his way out because he chooses not to take a pay cut.

American soccer doesn't deal well with players who step out of line or make a habit of youthful errors in judgment. It's not built for it. College soccer has long spit out earnest, mature young men who make a coach's life easy with their lack of fame and happy-to-be-here mentality. Young players like Adu -- prone to be the prima donna, disproportionately confident in their own abilities, disrespectful of authority -- get no breaks. Don't make exactly the contribution deemed commensurate with your salary and occasional disruption, and you'll quickly be on your way to the next stop.

If we can convince ourselves that Adu is just another in a long line of immature 23-year-old players who didn't meet expectations, this whole thing will be much less painful.

Because there's a truth here that American soccer has long refused to accept when it comes to the ex-next-Pele, who will no doubt land on his feet with another club willing to give him yet another chance.

Despite our failing him, Adu is a pretty decent soccer player.