Junior Flores is ready for this
John Dorton/ISI PhotosJunior Flores, 16, is one of the hottest prospects in the U.S. who should play a prominent role for the U-17s this year as they attempt to qualify for the FIFA U-17 World Cup.
The just-concluded Christmas holiday doubled as a rare spell at home for Junior Flores. As a member of the U.S. under-17 national team, Flores has spent much of the past 16 months in full residency at the team's Bradenton, Fla. training facility. As such, Flores' father, Oscar, was hoping his son would spend the evenings hanging out with the family, watching television and enjoying some down time.

Not a chance.

Every evening, the younger Flores would head to an indoor soccer facility near the family's home in Manassas Park, Va. and play with his friends. "I have to come and get him around one in the morning," Oscar said via telephone. "I tell him he needs to relax, stay home. He says, 'I can't. I have to play!' He's got the passion for soccer."

-America's next top Messi
-Top 10 players under 21
-How to turn pro
-SN Vote: Will the U.S. win a World Cup?
-ESPN Insider World Cup 2014 Board
-England's view of the U.S.

That love for the game, coupled with some considerable talent, explains why Flores is one of the hottest youth prospects in the U.S. and figures to play a prominent role for the U-17s this year as they attempt to qualify for the FIFA U-17 World Cup. There isn't a coach in the U.S. system who doesn't rave about the 16-year-old's close control and one-on-one ability.

"Wow. That's my impression," said U.S. under-20 head coach Tab Ramos in reference to Flores. "That's an amazing player. That's the kind of guy we need to push up and move forward."

Ramos isn't being parochial, either. Last October, Flores was signed to a pre-contract by German powerhouse Borussia Dortmund. Rules set down by UEFA, the governing body of European soccer, stipulate that Flores can't join the two-time defending Bundesliga champion until he turns 18 in March 2014, but such is Dortmund's assessment that it was more than willing to wait. Equally eager to lock up a player on the rise, Nike signed the attacking midfielder to a two-year endorsement contract.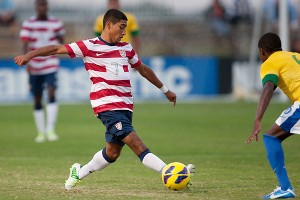 John Dorton/ISI PhotosFlores was signed to a pre-contract by German powerhouse Borussia Dortmund, and will be eligible to join the club when he turns 18 in March 2014.
This is heady stuff for any player, never mind a 16-year-old, yet Flores insists that signing such deals hasn't changed him and he doesn't feel any pressure from his early successes. But Flores is perceptive enough to recognize that while he hasn't changed, the expectations surrounding him have.

"It's good that everyone knows who you are," he said shortly after returning to Bradenton from his holiday break. "If you're going overseas, everyone wants to see how you play. When I step on the field, I want to show people what I've got, and why I've gone this far. That's what matters to me. It's hard to explain. The signing [with Dortmund] and Nike, I don't want to put that pressure on myself. But after all of that, people expect you to play a great game all the time. Everybody has a bad game. When I have a bad game, I just tell myself, 'Next game, improve, do better.' "

Given how his career has hit light speed in the past year, perhaps it's no surprise that Flores has encountered a few speed bumps of late. A mainstay in the lineup earlier in the year, he has found playing time harder to come by lately. Part of this is U.S. U-17 manager Richie Williams experimenting with Flores' position, using the nominal attacking midfielder out wide at times. But Williams also stated that Flores' decision-making in the final third and ability to make the final pass is something the player has grappled with of late.

The inclination, then, is to think the early success has had an effect on Flores. But Williams doesn't see anything unusual in what Flores is going through. Rather, it's simply part of the normal ebb and flow that occurs in a young player's development, especially in the environment that is residency.

"The mentality of players in terms of being away from home, away from the parents, living on their own and the pretty demanding environment that we have here of training and going to school, it's not always easy for these guys," Williams said. "They're developing as soccer players but they're also developing as people too. Obviously, at the age of 15 or 16, that can affect their soccer."

But make no mistake -- there is plenty to admire about Flores' game. Williams lauded the player's competitive and positive attitude, regardless of how things might be going on the field. And his skill on the ball remains top-notch.

"Flores is very quick, very technically good, good on the dribble and can get by players," Williams said. "And he's tough and feisty also. He's tough to defend. He's strong, he's aggressive and he's not easy to push off the ball."

The son of Salvadoran immigrants, Flores was born in Los Angeles, but his family moved to Virginia when he was just four months old. Oscar noticed that even at age 2, his son was already enamored with the ball. When Junior became old enough to start playing youth soccer he was quickly moved into higher age groups, such was his domination of kids his age.

"Probably when I was like U-9 or U-10, that's when I started realizing I could be something," the younger Flores said.

"He was so quick on his feet to create," added his father. "Every coach in the Virginia area would come over to say, 'This kid has something going on.' "

Junior was soon working his way up the U.S. player development pyramid, making Virginia's team in the Olympic Development Program, then the ODP Region I team and eventually the U.S. U-15 national team. During a training camp for the U-15s, Flores caught the eye of then-U.S. U-17 head coach Wilmer Cabrera, who soon invited Flores to be part of the team's residency program.

"Flores accepted quickly, he didn't hesitate," recalled Cabrera, who is now an assistant coach with the Colorado Rapids. "And it was positive with him from the beginning. He was very focused on learning, very serious, very talented and he was a very disciplined kid. It was easy to work with him during that time in the residency."

But leaving home at age 15 was by no means easy for Flores or his family. Oscar spoke of how he felt Junior's absence the most when he came home from work every day and Junior was no longer waiting, backpack at the ready, to be driven to practice.

"It was hard to see his room," Oscar said.

For Junior, the transition was also difficult, but made easier with the knowledge that his dream was coming into focus.

"In some ways it's hard waking up every morning and playing soccer every day, but it's a thing I like to do, so I had to get used to it," he said. "It was tough in the beginning, but throughout the process it got easier. I have all my friends and my teammates here now.

"My touch is a lot better, and so is my passing, I'm able to move the ball a lot faster. My speed of play is a lot quicker, one and two-touch. Being here every day helps a lot. You want to improve every day in everything you do. You have a goal for every day in life; in practice you want to accomplish something."

The same is true for games, and it didn't take long for Junior to make an impact in that area. In the 2011 Nike Friendlies, a four-team tournament involving France, Turkey and Brazil, Flores was widely hailed as the event's best player, recording a goal and three assists. That led to a veritable free-for-all for his signature with MLS, Liverpool and Paris St. Germain among those chasing him. But it was Dortmund that eventually secured his signature thanks to Neven Subotic, a defender for the club and a former U.S. U-17 international. The two players share the same agent, and a series of phone calls to Flores helped seal the deal.

"I talked to Neven all the time, and he told me how great the people are, how the facilities are nice and how everybody will take care of you," said Flores. "I'm excited. I just felt like it would be a good spot for me to go there."

Given how Subotic ultimately cast his international lot with Serbia instead of the U.S., this news will be viewed with a jaundiced eye by certain segments of the U.S. fan base, especially when combined with the fact that Flores is eligible to represent El Salvador. But everyone connected with Flores -- and most importantly, Flores himself -- states that he'll remain committed to the U.S. cause, starting with the CONCACAF U-17 Championships in April and hopefully leading the team to the U-17 World Cup this October.

To get there, Flores must stay focused on the present. Williams reported that the player, back in his familiar attacking midfield spot, has looked sharp during the first days of practice. And Flores sounded ready for everything that the coming year might throw his way.

"I'm happy, I feel like we have a strong group," he said. "We've got to just keep working together. This semester is just starting so it's exciting and nervous at the same time because we'll have some big days for us this year, especially with the World Cup, and we still have to qualify. I'm ready, I'm excited and I know everybody is excited for this."

And for those eager to see one of the country's top young talents, the feeling is mutual.