The odd timing of Brek Shea's trip to Stoke City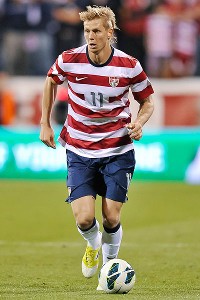 Jamie Sabau/Getty ImagesBrek Shea is off to Stoke for a fitness test, despite being unable to practice with the U.S. men's team.
American winger Brek Shea has always been an obvious candidate to make the leap to Europe. Dynamic and creative when at his best, Shea possesses flair not usually seen in American players. For a time, Shea was one of Major League Soccer's best players, and his youth and talent naturally attracted attention from outside of MLS. A move from Dallas to a higher profile club in England or elsewhere wasn't an 'if' as much as 'when'. If Shea can impress on a week-long trial, confirmed by Stoke City manager Tony Pulis, the 'when' might be now.

The timing of the news that Stoke City is in the market for Shea is a little curious, however. Shea is coming off surgery for a broken bone in his foot, and has yet to return to ball training. If Stoke are looking to put Shea through the paces with an eye toward buying him from FC Dallas, they might find him more than a little rusty. At the same time, it's curious that Shea and his representatives would push for a move abroad with Shea's powers at a relative nadir and his health questionable at best.

Is this more about Shea's unsettled place in Schellas Hyndman's fiefdom at FC Dallas Park than it is about the winger being ready to make the leap?

And there's the issue of FC Dallas' reported rejection of an initial offer, a subsequent rise in the number quoted in the some press, and the odd situation of a transfer fee having been widely disseminated before Shea makes his first training appearance in Stoke. The reported £2 million price tag, just over $3 million at current exchange rates, represents something approaching fair value for Shea even as it prompts the obvious question whether MLS and FC Dallas missed their chance to sell high on one of the league's most visible young players.

A soft transfer market and Shea's own struggles over the last year drove down the price. But Shea is just 22, making it curious that the league - typically the final decision-maker in these situations - appears ready to sell now.
More curious might be why Shea is apparently ready to exhibit his abilities to Tony Pulis now after not being ready to take part in the U.S. team camp last week. USMNT coach Jurgen Klinsmann left Shea off of his MLS-heavy January camp roster because the FC Dallas attacker's foot hadn't fully healed. Now Shea is off to Stoke-on-Trent to give it his all in a bid to complete a dream move to the Premier League? What could possibly have changed (again noting Shea's lack of ball work since the surgery) that prompted a trial at literally the worst possible time?

There's a shotgun element to all of this, as though the potential move to Stoke was thrown together at the last minute at the behest of someone close to Shea. Whether the driving force behind the trial-cum-transfer was FC Dallas, MLS, Shea (and by extension, his agent) or Klinsmann - possible considering recent the coach's recent efforts to get more Americans experience in Europe - a change of scenery would probably do one of the more exciting American talents some good.

In contrast to Geoff Cameron's move to the Potters (which wasn't entirely smooth and indicated some internal dissent on the part of MLS over whether to sell a quality American player), Shea's situation is as much about "getting out" as it is "taking the next step." In fact, based on his play over the last year, one could say that Shea might not be ready for the next step at all.

Shea's value has ebbed and his fitness is poor, but Stoke is interested. If rumors of a falling out with Hyndman and staff are true, this move is probably as much about cutting bait as it is about cashing in.

Shea was always due for a move, based on his talent alone. If Stoke's interest in completing this one is incumbent upon the trial, it remains to be seen if now is the time, even if the "when" of it doesn't seem exactly right.