U.S. Notebook: Carlos Bocanegra's late loan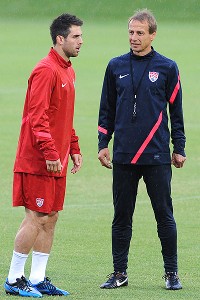 no_source / Al Messerschmidt/Getty ImagesDespite his late loan from cash-strapped Rangers to struggling Racing Santander, Carlos Bocanegra should still have enough minutes under his belt to marshal Jurgen Klinsmann's defense vs. Jamaica.
KINGSTON, Jamaica -- Carlos Bocanegra's loan from Rangers to Spanish club Racing Santander wasn't completed at the last minute, but it was close.

The U.S. captain indicated that he would have been content to stay with Rangers given his strong affinity for the club and the city of Glasgow but Rangers' financial woes -- plus his desire to continue his international career forced his hand -- ultimately resulting in last Friday's move with just an hour-and-a-half left in until the transfer window closed.

"Ten-thirty at night, I was signing off through a fax," Bocanegra said prior to Thursday's training session with the U.S. men's national team. "Everything was pretty much agreed upon in the afternoon around 4 pm or 5 pm. Then they had to add all of the clauses to make sure I was protected, and the translations on the contract, and everything just took forever."

There's a temptation to think that Bocanegra is simply leaving one bad financial situation for another. Rangers was relegated to the Scottish Third Division, which translates to the fourth tier of Scottish soccer, thanks to terrible financial difficulties that resulted in the team filing for administration. Meanwhile, Santander isn't much better off. The club filed for voluntary bankruptcy last year, was relegated from the top flight for the first time in a decade and is still tens of millions of Euros in debt. But Bocanegra insists he's insulated.

"All of Spain has financial difficulties," he said. "You always kind of take that risk but we worked a few things where I'm protected with Rangers and protected with Santander. I was comfortable before I did something like that."

Such arrangements have left Bocanegra free to focus on the present, namely Friday's World Cup qualifier with Jamaica. Given his importance in the center of the U.S. defense, the concern over his physical state runs a close second to that of international teammate Clint Dempsey. But unlike Dempsey, at least Bocanegra had been getting games with Rangers -- seven to be exact -- even if most of them took place in the Third Division. And he insists it will be enough for him to take up his usual role in the U.S. back line.

"It's definitely not the highest level, but you're still getting game fitness in, running around in game-like situations," he said. "That's definitely helped out."

The U.S. has never lost to Jamaica in 18 matches but it has also never won a World Cup qualifier at Independence Park, home to the National Stadium, before. Having been one of the few players to have experienced "The Office" firsthand, Bocanegra recalls it as being a "fun environment" but knows that the speakers and dancing fans will have to be put out of their minds once the game starts. And taking a page out of its Gold Cup playbook, one where the U.S. cruised to a 2-0 quarterfinal victory, is a good place to start.

"Obviously we need to get up in their faces, not let them have time and space to play," he said. "We know they're fast and athletic, so we need to worry about them getting behind us. But saying that, when we played them in the Gold Cup a few summers back, I thought we did very well against them. We were very well organized. We won our individual battles and put the game on our terms. That's what we need to do [Friday] night to come out of here with a good result."

No love for Jol: Ever since completing his transfer from Fulham to Tottenham late Friday, Clint Dempsey has thanked just about everyone at his former club. He paid homage to the fans and thanked the chairman, Mohamed Al-Fayed, for taking a chance on him from MLS. Conspicuous by its absence was any mention of manager Martin Jol, who reportedly fined Dempsey for allegedly refusing to play for Fulham while his transfer saga dragged on.

Dempsey insisted at the time that there were two sides to the story, but as he spoke with reporters on Thursday, he was still taking the high road as it relates to his former manager.

"Everybody has the right to their own opinion," said Dempsey. "But I put in some good work there, a good five-and-a-half years, and I'm happy with the job that I did there. You can't really question my heart. I put everything into every game and that's the way I've always done [it] my whole career. I look back on that time with no regrets."

Altidore finds stability at last: Jozy Altidore admitted that returning to the Netherlands for preseason training with AZ Alkmaar was strange in some respects, if only because for the first time since heading overseas, his future was set. His years with Villareal were always filled with uncertainty. Would he be loaned out? Where would he be loaned out? And for how long? None of that is the case this time.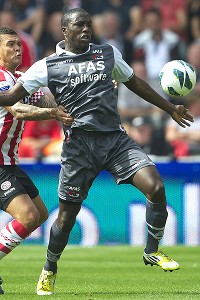 no_source / VI Images/Getty ImagesReturning to a stable club environment has really helped Jozy Altidore find his form. The striker has four goals in three league games so far for AZ Alkmaar.
"It's huge," he said at the U.S. team hotel. "I'm just coming into an environment I already know. I know what to expect. It's the little things. I already have my house and stuff like that. I'm coming back kind of into my comfort zone. That was great for me. I didn't have anything I had to learn or any new things I had to try. I just kind of tried to get back into the things I was doing last season, and pick up where I left off."

The settled nature of Altidore's career has seen him get off to a scintillating start in the Eredivisie, where he's scored four goals in three league matches this season.

"It may sound so little, but it's really important," said Altidore. "You don't have to worry about anything off the field. All you have to worry about is playing. It shows in a lot of players when they're just worried about focusing on how they're going to do on a Sunday."

Parkhurst finally enjoying move to the outside: Michael Parkhurst spent his formative years in MLS as one of the more composed and effective center backs the league had ever seen. But he has since moved over to right back with Danish club Nordsjaelland. The club's style is to play the ball out of the back and with Jurgen Klinsmann's greater emphasis on ball possession, that switch should benefit Parkhurst's international prospects.

That said, the move required some convincing.

"Initially, I think I was against moving to right back, but over time, I see that it's a good change for me," he said. "And I think moving forward, it gives me the best chance with the national team and make another step ahead at European club level. It's been good. The way we play, sometimes I attack more than I defend, which is a lot of fun, and I've got a lot of freedom to go forward."

At first glance, the most challenging aspect of the switch would be getting used to the type of passes that an outside back is forced to hit, and while Parkhurst admitted that was one facet of the change, there were even bigger challenges.

"The biggest adjustment was just getting myself into the shape for outside back," he said with a laugh. "There's a lot more running than at center back. And just little differences in when to track back and when to stay high... Now when I watch games, I'm watching what right backs are doing instead of center backs. I'm learning all the time and I'm still learning the position, but it's going well so far."