U.S. soccer's Top 10 Under-21
When Mexico claimed the men's soccer gold medal at last summer's Olympics, it proved to be just the latest instance of youth program envy for the United States. Not only has El Tri claimed two U-17 titles in its history, but it enjoyed a run to the semifinals at the 2011 U-20 World Cup. Meanwhile, the U.S. has been struggling to even qualify for important youth tournaments, with the U-20s and the Olympic team failing to emerge out of the CONCACAF region in 2011 and 2012, respectively.

-America's next top Messi
-Is Junior Flores the best hope for the U.S.?
-How to turn pro
-SN Vote: Will the U.S. win a World Cup?
-ESPN Insider World Cup 2014 Board
-England's view of the U.S.

The impulse is to think that when it comes to youth prospects, the U.S. cupboard is bare, but that is far from the case. More and more young players are beginning to make their mark in the professional ranks, be it in Mexico, Europe, or in MLS, and the U.S. program will be the better for it. With that in mind, here is the 2013 edition of the Top 10 U.S. players under the age of 21. Keep in mind that for dual nationals, only those players who have donned a U.S. jersey at any level are considered, which is why players such as Blackburn Rovers defender Adam Henley and Mainz winger Shawn Parker are not considered.

1. John Anthony Brooks, D, Hertha Berlin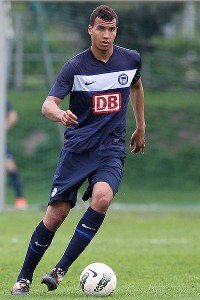 Boris Streubel/Bongarts/Getty Images)John Anthony Brooks: Growth spurt in Germany
A year ago, numerous U.S. coaches connected to the country's youth programs were raving about Brooks, who then was a raw but technically adept 6-foot-3 center back. Over the last year, Brooks hasn't stopped growing, in more ways than one.

Some reports now list him at 6-7, and his development on the field has continued at a similar pace. Brooks spent most of last season with Hertha's reserve team, his first as a professional. But when the club was relegated from the Bundesliga and a few of the team's first-choice center backs went down injured, it provided an opening for Brooks. He used his experience with the reserves to make 15 very effective starts this season for Hertha in the 2. Bundesliga and the club is well positioned to be promoted straight back to the top flight.

"I had some difficulties with small injuries because of the difference between youth and adult soccer," said Brooks through his agent about his first year as a pro. "As I started this season I was completely fit and with the experiences of the first year it was a better step to make."

This counts as good news for U.S. U-20 head coach Tab Ramos. The American player pipeline lacks depth at the center back position, and while Ramos doesn't expect Brooks to be released for the February's CONCACAF qualifying tournament in Puebla, Mexico, he's optimistic that if the U.S. can safely qualify Brooks will be available during the U-20 World Cup this summer.

"Brooks is a very good player, and has got good feet for a big man," Ramos said. "Obviously he's good in the air. With that body, being a young player, he needs to improve his one-on-one defending, his turning, that kind of thing. But in terms of having that experienced player in the back that can lead the defense, he would be one of those guys."

Given that Brooks is the son of a U.S. serviceman and German mother, he's eligible to represent either country. And Germany has made a late push to bring him into the fold, inviting him to a camp for the U-20 team. Brooks recently told the New York Times that the U.S. was "still my first choice. Playing for the German team was OK but America was a lot better."

This caused something of a stir in Germany. When asked about his international plans by ESPNFC.com, Brooks was more guarded. "I wanted to experience the German camps in Germany, because I think such an experience will make me a better player," he said. "It's not easy for me to come over to the U.S. for a training camp, because most of the time, we are in official match schedules from Hertha and as a starter it's difficult to leave the team then. I still have a very close connection to the U.S. but at the moment I want to keep all options open."

Ramos, not to mention national team manager Jurgen Klinsmann, can only hope Brooks will commit to the U.S. cause. He's the kind of defensive cornerstone the team can be built around for years to come.

2. Luis Gil, M, Real Salt Lake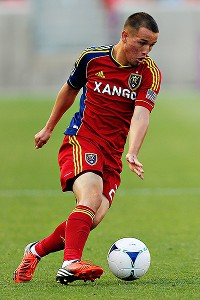 George Frey/Getty ImagesLuis Gil: Heady midfielder
Gil arrived in MLS in 2010 as a 16-year-old with plenty of fanfare, and has slowly lived up to the hype. He has managed to break into a talented RSL side, and keep his place, all while showing plenty of composure on the ball. Now that Will Johnson has been traded to Portland, look for Gil to have an even bigger impact this season.

"Gil is one of these kids who has a very good feel for the game, understands what to do when," said former Chivas USA coach Robin Fraser, an assistant with RSL when Gil broke in. "At the higher level, soccer is so much about thinking and he was he was always a thinker. Watching him progress over the last year, I feel like he's gotten even better."

Gil is widely expected to play a huge role in U-20 qualifying in the center of the midfield, and it's hoped his stellar technical ability will help the U.S. reach the U-20 World Cup. "Gil is just smooth, silky, a good passer of the ball and can score the occasional goal," added former U-20 manager and current Toronto FC academy director Thomas Rongen.

3. Perry Kitchen, M, D.C. United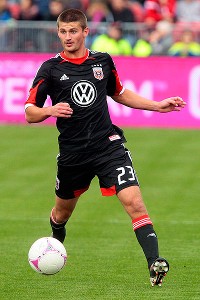 Abelimages/Getty ImagesPerry Kitchen: Maturity a big plus
Every year in MLS, first-year players hit the dreaded rookie wall, when legs and the mind get heavy thanks to the increased workload of games and travel. According to D.C. United coach Ben Olsen, there has been one exception.

"The guy who really didn't go through it was Perry Kitchen," Olsen said during last year's playoffs. "He went through it for like an hour one day."

When Olsen made that statement, Kitchen was well into his second season with the black and red, but the comment is telling. While the midfielder's skill on the ball, heading ability, and tackling are all excellent, Kitchen's consistency, presence, and leadership are what coaches around MLS talk about most often. It's what allowed him to make the holding midfield spot his own last season, one that looks to remain in his hands for the foreseeable future. Not bad for a guy who is still only 20.

"For me, he's been fantastic," Philadelphia Union coach John Hackworth. "As a young player, establishing himself, he's so mature for his age. He's always been that way."

4. Juan Agudelo, F, Chivas USA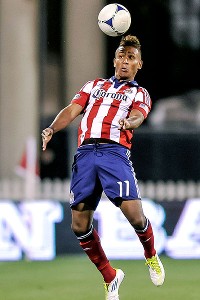 Jamie Sabau/Getty ImagesJuan Agudelo: Leading U.S. U-20 forward
Agudelo remains the most talented young forward in the U.S. player pool given his finishing and ability to improvise, but his 2012 campaign was something of a mixed bag. On one hand, the New York Red Bulls essentially gave up on the U.S. international. A knee injury sustained during Olympic qualifying slowed his progress, but there were whispers his work habits weren't what they should be. A midseason trade to the Goats saw Agudelo get more playing time, and Fraser insisted that a few pointed conversations with the youngster had the desired effect. His performance level in training began to improve, and that was reflected on the field.

"The best thing about Agudelo is that he really wants to learn and he really wants to improve," Fraser said. "There are a lot of young kids who think they're already there. He's got a good attitude about learning and knows there are things the needs to work at. I felt like Juan progressed a lot last year. His decision-making got better in terms of when to dribble and when to pass. He started looking at the game a little more globally."

A move to Scottish club Celtic is rumored to be in the works, and he's among those participating in the January camp for the full national team. If Agudelo continues to make progress, this could be the year where he establishes himself at club level.

5. Sebastian Lletget, M, West Ham United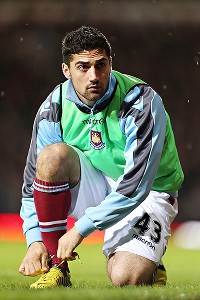 AP PhotoSebastian Lletget: Prem debut near?
Lletget is another player for whom big things were predicted and he appears to be on the cusp of making a breakthrough at West Ham. He has made the gameday roster several times this season, and his EPL debut doesn't appear to be far off.

Lletget was first thought to be a player who would play just underneath the forwards, but now he appears slated to operate deeper in midfield, the better to show off his ability to keep possession.

"He's one of those middle guys who can do everything well, but some coaches will overlook him because he's not the hard ball-winner, and he's also not the guy who finishes the play," Ramos said. "But Sebastian is a very good player. He rarely loses the ball; he's a good teammate, a good worker. He has all the tools to do well."

6. Joe Gyau, M/F, St. Pauli (on loan from Hoffenheim)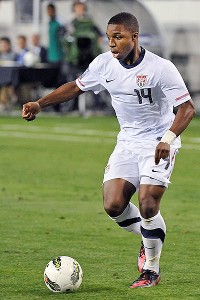 Frederick Breedon/Getty ImagesJoe Gyau: Developing in Germany
Gyau has long been touted as one of the biggest prospects in the U.S. pool, and while expectations remain high, patience has been his biggest virtue over the last year. The Tampa native made the matchday squad early in 2012, and even appeared in a German Cup match, but a change in manager saw him fall in the pecking order. Gyau was loaned to 2.Bundesliga side St. Pauli where he has made eight appearances in all competitions.

But hope remains that Gyau will get even more playing time, and thanks to his speed and dribbling ability, he is definitely on the radar of the full national team, as he was called in for the friendly against Russia in November.

"He's one of the quickest, most athletic kids in the past five or six years," said former U-17 national team coach Wilmer Cabrera, now an assistant with the Colorado Rapids. "He's in Germany now because he's keeping a good level."

7. Benji Joya, M, Santos Laguna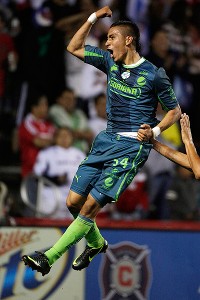 Tasos Katopodis/Getty ImagesBenji Joya has made steady progress with Santos Laguna.
This year marks a huge opportunity for players on the U.S. U-20 team, and Joya is among those poised to take his chance. Joya has made steady progress with Santos, making several first-team appearances during the just-concluded 2012 Apertura, and where current U.S. international Herculez Gomez has taken him under his wing. Joya is versatile enough to play either wing, and Ramos remains hopeful he'll be available to aid the U-20s during qualifying.

"Every camp Joya has attended has been better than the past," Ramos said. "He's very good possession-wise. He holds the ball very well, and he's one of those guys who has a great engine. He can run all day long. That's certainly something that going into qualifiers at altitude that we're going to need."

8. Jose Villarreal, M, Los Angeles Galaxy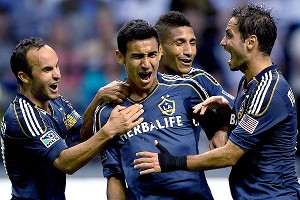 AP Photo/THE Canadian Press/Darryl DyckJose Villarreal: Galaxy experience
Villarreal served notice of his ability last July, when he struck for a long-range equalizer on the road against Vancouver that helped the Galaxy earn a 2-2 draw. He went on to make 10 appearances overall for L.A., and looks set to be a significant contributor to the U-20 cause this summer, where he'll be expected to offer more than just the occasional goal.

"Villarreal is crafty, skillful, and a hard worker, which I didn't know until I had him a couple of times with us," Ramos said. "I think he has good upside and will continue to get better."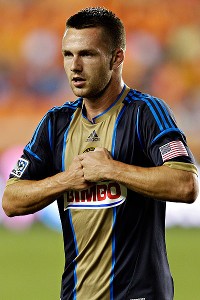 Bob Levey/Getty ImagesJack McInerney: A true No. 9?
9. Jack McInerney, F, Philadelphia Union

The 2012 MLS season started out poorly for McInerney, as he struggled to get on the field. But when the Union replaced Peter Nowak with Hackworth, McInerney was reborn, scoring eight goals with three assists while often playing as a lone striker.

McInerney's nose for goal was best illustrated when scored off an audacious backheel in a 2-1 win against L.A. July 4, yet concern remains in some corners he is little more than a poacher. Now that the Union has target man Conor Casey on board, it looks as if McInerney will have a chance to dispel those doubts.

"I'm interested to see if McInerney can play off of a true No. 9," Hackworth said. "That's where I like him the best."

10. Marc Pelosi, D/M, Liverpool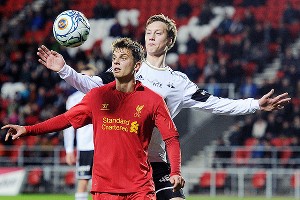 Andrew Powell/Liverpool FC/Getty ImagesMarc Pelosi: In Reds pipeline
After some standout performances with the U-17 national team, Pelosi made the jump overseas with Liverpool. He's reportedly making steady progress with the club's U-21 team, highlighted by a two-goal effort against Manchester City's U-21 back in September. One of Pelosi's biggest strengths is his versatility, although the fact that he's left-footed means that he tends to occupy positions on that side of the field. And while he's one of the younger players in the U-20 pool, he's expected to play a significant role in qualifying given his tough tackling and ability to strike at goal.

"Pelosi is a very complete player," said Cabrera, who coached Pelosi when both were with the U-17s. "His mentality, especially for his age, is one of the best. He's mature, and he's focused."