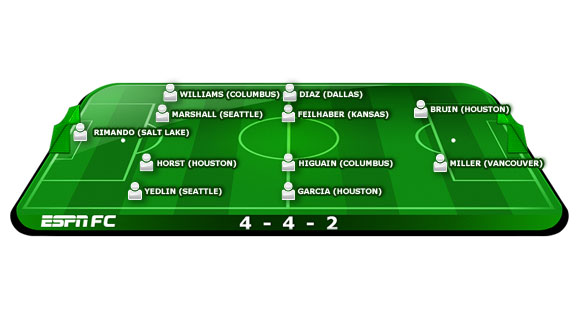 Other / ESPN FCJason Davis' Team of the Week (4-4-2): Rimando (RSL); Williams (Columbus), Horst (Houston), Marshall (Seattle), Yedlin (Seattle); Diaz (Dallas), Higuain (Columbus), Feilhaber (Kansas City), Garcia (Houston); Bruin (Houston), Miller (Vancouver).
Finally, there is soccer to consider, after a long, dark winter filled with ... well, filled with exciting news at every turn if we're being honest. But the business of Major League Soccer is the business of games and with a round of contests in the books for 16 of the 19 clubs, it's time to start analyzing, dissecting and reacting.

Rookie we noticed (for many reasons)

The Chivas vs. Chicago thriller featured goals from two youngsters amid a whirlwind second half that gave us the first indications The Goats might have gotten a little better over the offseason. Continue Reading...