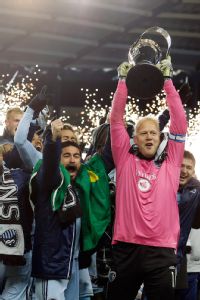 Ed Zurga/Getty Images
KANSAS CITY, Kan. –- One by one, the Sporting Kansas City players and staff walked up behind goalkeeper Jimmy Nielsen and drenched him with champagne, beer or whatever liquid they happened to have handy.

On a day in which the official match temperature for the MLS Cup final against Real Salt Lake was 20 degrees, that was about the last thing he needed.

"The first champagne I had was pretty warm. This is ice-cold," he said Saturday with a smile and a shake of the head. Continue Reading...