Neymar rising to the occasion


FORTALEZA, Brazil -- Ahead of a game that took place on a day of widespread social unrest, that brash blur of velocity and daring known as Neymar used Instagram to make a vow to a fractious Brazilian nation: "I also want a fairer, safer & more honest Brazil. I'll walk onto the pitch vs Mexico inspired by this movement." With two moments of daring technical beauty, he made good on that promise to help the Selecao fend off Mexico, long their bogey team, 2-0.

Yet the game was closer than the score line suggests, forcing Brazilian coach Felipe Scolari to admit, even as his team is winning, it remains a work in progress -- albeit a thrilling one -- searching for a consistent dominant performance. "We were not as good as we were [in the opening game] against Japan," the combative coach said. "We were lost for 15-20 minutes. We had problems down one flank we will need to resolve."

The Selecao opened with 20 minutes of thunder. Marcelo and Oscar sliced the Mexican defenders apart at will. After 9 minutes, a poorly cleared cross fell to the newly crowned No. 10, Neymar, who lashed it home with an intuitive wonderstrike which was part goal, and after the tumult of the day, part national release.

Scolari suggested his players were inspired to "their best 25 minutes so far" by the fervent Fortaleza crowd's rendering of the national anthem, which it belted out with emotion, pride and gusto. "I spoke to referee Howard Webb after the game in the changing room," the Brazilian coach recounted, "and he told me himself he has, in all of his career, never heard anything like that ... and he is an Englishman! Mexico were scared and we need that."

Yet, 1-0 down, the Mexicans soon overcame their nerves and found a way back into the game, mining both flanks, and feasting on the space behind Dani Alves. Though El Tri enjoyed plenty of possession in dangerous areas, they could not get the ball to Chicharito's feet. The waifish Manchester United striker touched the ball just four times in the second half as Thiago Silva and David Luiz took turns to play last-gasp heroes.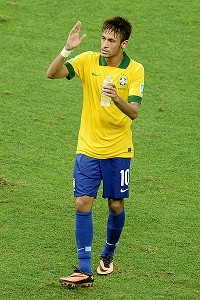 Vanderlei Almeida/Getty ImagesNeymar is growing into his role for the national team
Brazil remained prone to emotional mood swings. After its buccaneering opening, the team did not muster a touch in the attacking third from the 32nd minute until halftime. Scolari attributed the change to the temporary loss of David Luiz with a bloodied nose. "We had huge problems when he went off as we lost our balance and the second half became very even as Mexico had to take chances."

Mexico's under-fire coach, Jose Manuel "Chepo" de la Torre, cut a dour, tired figure after the game, admitting he believed his side had the Brazilians on the ropes in the second half. "We just needed a last 10 cents to complete things and score. That small difference is what has been missing and we did not find it in this match," he said with a shrug. "That is the way football is. Sometimes you are lucky, sometimes not." Yet the coach became rambunctious when asked if the loss will impact his team's efforts to qualify for Brazil 2014. "The reward is same if you finish first, second or third in the Hex," he said. "This is not failure. Failure is when you stop fighting." The difference between the two teams was clear to the beleaguered Mexican coach. "There were two individual moments which changed the score," he said, referring again to Neymar.

The young Brazilian superstar was giddily limping around with a huge ice pack over his knee after the game but that could not dull his delight. "What happened?" he was asked. "Nothing. Just a little bump," he jokingly replied. When asked what pleased him most about a performance crowned by his exquisite cut-back stolen from the Cirque du Soleil playbook to set up Jo for his ritual game-closing goal, the Barcelona recruit admitted, "We are growing more and more as a team. "

Scolari suggested in turn that the 21-year-old has much to learn. "With one player marking him he always has the possibility of beating a man," he explained. "In Brazil, we all know he might become one of the three best players in the world at just 21 years of age," he said. "But in Europe and at the World Cup he must now show all the qualities he has shown at Santos. He is adding and will continue to add to his game." A scary thought: Like Brazil, Neymar is still a work in progress.