Brazil hands Mexico their second straight loss
FORTALEZA, Brazil -- Here are three quick thoughts from Brazil's 2-0 Confederations Cup victory over Mexico at the Estadio Castelao in Fortaleza.

1. And now, back to the football ...
After an uncertain morning when thousands of demonstrators clashed with police 3 kilometers from the stadium, it was back to the football. The juxtaposition between scenes of stadium exuberance and tear-gassed demonstrators was surreal. Yet the moment the teams came out onto the field, the yellow-clad crowd went wild. The Brazilian national anthem was chill-inducing. Even in this time of social distress, the Brazilian fans belted out the Hino Nacional Brasileiro with pride, making the kind of noise only previously heard by a stadium full of Dothraki.

2. Brazil a team of emotional and tactical peaks and troughs
For the second consecutive game, Brazil's start was overpowering. Oscar and Marcello charged at a terrified Mexican defense, tearing them apart at will. The opening goal came in the 9th minute. Dani Alves rolled down the right flank. His cross was half cleared, looping to the foot of Neymar, who volleyed it home first time with ruthless technique -- a strike that was part goal, part national release.

Yet Brazil are a team that runs off emotional swings. Though they opened with 20 minutes of thunder, the Selecao could not muster a touch in the attacking third after the 32nd minute. They struggled to work the ball out of the back, stopped pressing their opponents and allowed Mexico to mine space on the flanks behind Alves.

Compare Brazil's buccaneering bravado with Spain's clinical technique for a minute, and ask yourself which is more enjoyable to watch. Then ask yourself: Which is more likely to win a World Cup?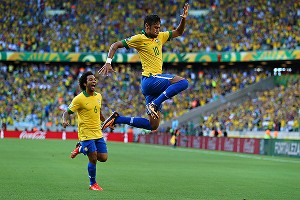 Clive Rose/Getty ImagesAnother game, another stellar goal from Neymar.
3. Neymar: Like his team, a work in progress
Neymar is a brash blur of velocity and daring, yet as great as his talent is, it is still matched by his potential. His spectacular goal was his 22nd in 36 appearances for Brazil and he showed signs of discipline early on, demonstrating a willingness to track back. The first-half missile he launched at Jose Corona was superlative. What's more, the young Brazilian chested the ball away from two despairing defenders before dispatching a rocket just over the bar. And Jo's now ritual closing goal was all down to the cut-and-thrust of his No. 10's wicked flank play. Yet the longer the game progressed, and the energy sapped out of the Mexican midfield, Neymar led four counterattacks, only to be caught in possession, shoot wide or misplace a pass. For all of the sizzle he brings to the Selecao, his decision-making remains a work in progress.