Second up for grabs between La Celeste and Super Eagles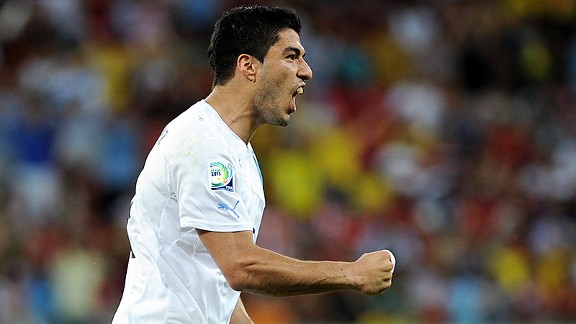 Shaun Botterill/Getty ImagesLuis Suarez's late goal against Spain gave Uruguay something to build on heading into their pivotal clash versus Nigeria.
In a four-team group that includes the impregnable Spain and the charmingly shambolic Tahiti, both Uruguay and Nigeria would have known long before they arrived in Brazil that Thursday night's game is a must-win. A place in the semifinals awaits whichever team gains the upper hand.

The two teams have never met before this clash at the Estadio de Pituacu in Salvador. The North Eastern metropolis is Brazil's third largest city, and one which has been called "the black capital of South America." Eighty per cent of its inhabitants are of African descent, and the crowd is expected to be solidly behind the Super Eagles.

- Protesters block stadium access

Although the young Nigerian side arrived under the shadow of controversy, they are in the midst of a team-best 18-game unbeaten run, and technically top Group B after handing out a 6-1 pummeling to amateur underdogs Tahiti in their opening game. Yet the Super Eagles remain difficult to gauge, and despite the blowout, they were derided for the remarkable number of chances they combined to squander.

Though they netted half a dozen goals, the sharpness of a front line depleted by the absence of Victor Moses remains a concern for a team that attempt to impose a fluid, attacking style. Although Nnamdi Oduamadi grabbed a hat trick, both Anthony Ujah and Ahmed Musa appeared powerless, so Dynamo Kiev's Brown Ideye is expected to start.

Uruguay will present a more exacting challenge in a game that appears delicately balanced between the defensively brittle counterattacking Africans and the slow-footed, reactive South Americans. Veteran talisman Diego Forlan was one of many Uruguayans who attempted to shrug off their 2-1 opening-round defeat. "Losing to Spain is something normal," he told the media. "Now we must forget that match and prepare ourselves to play against Nigeria."

Whether that act of footballing denial will work remains to be seen. The Uruguayans have been on the decline since clinching the 2011 Copa America, experiencing a dismal run of form, savoring just three wins in their past eleven games. Against Spain, their football was shapeless and headless for the first 80 minutes, in which they were rarely able to maintain control of the ball. They rallied after the belated introduction of Forlan, mustering a desperate last 10 minutes that coach Oscar Tabarez suggested was motivated by the fight for "shame and dignity." The Uruguayan coach will have to work out how to gain more from his big three -- Forlan, Edinson Cavani and Luis Suarez, while bolstering the midfield, where Gaston Ramirez suffered.

La Celeste's one true moment of wonder came when the unpredictable Suarez netted a late free kick. Suarez, a player who thrives off adversity, remained calm ahead of Thursday's clash, telling the media "Us Uruguayans are used to having it tough. For that reason, we're really not worried."