FORTALEZA, Brazil -- Paulo Vinicius Coelho has one of the sharpest minds in Brazilian football, which is just as well. I arrive to seek his counsel on a morning in which just about everything in Brazil appears to be in flux: the forward progress of the national football team, the nation's ability to host a successful World Cup, and after a spiraling night of protests, the future direction of the country itself.

The 43-year-old broadcaster and journalist, who is a commentator for ESPN Brazil and a contributor to ESPN FC, is a man who melds passion and precision. His intelligence and the oracular depth of his football knowledge have combined to make him a national institution known to all simply as PVC.

Wiry and intense, with a face that could enable him to pass as Luis Suarez's older, more intelligent brother, Coelho's thinking is held in such high esteem, coaches solicit his analysis, and once, domestic powerhouse Flamengo even tried to lure him away from journalism.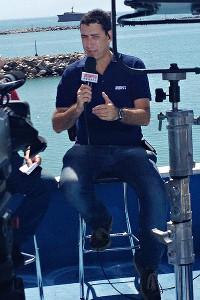 Roger Bennett Paulo Vinicius Coelho is one of the most sought-after experts of Brazilian football.
Our conversation comes at a difficult time for the nation. Brazilians have been blindsided by scenes of tear gas, tire burning and rubber bullets that have stained the front pages of the morning newspapers after a night of nationwide demonstrations, the largest the country has seen in 20 years. "It has been a shock for everyone," he says softly. "Everyone is on the streets, which is great. We Brazilians never go on streets. That has simply not been our tradition.

"The problem is," he adds, "we all know we have many social problems in Brazil, but unlike the Arab Spring where they went to the streets to depose the president, it is not exactly clear what the people want here. Is it about a rise in bus prices? Better education? Health care? Corruption? The end of high taxation? It is honestly a difficult moment to have an analysis because everyone –- even political and economic experts -– don't know exactly what is happening in this country right now."

I wonder whether he believes the country will be tournament-ready in time for June 2014 and PVC's response is mixed. "The stadia problems will be solved," he says, "but the infrastructure of the cities -- the transport and the hotel are going to be full of the traditional problems Brazil has always had."

I ask Coelho to describe the level of confidence he has in the Brazilian national team, challenging him to pinpoint the emotion somewhere between optimism and fear. The broadcaster attacks the question obliquely. "I spent yesterday analyzing the Spanish team's performance during the tiki-taka era," he says. "I broke down the 54 games played under [former coach Luis] Aragones and the 73 under [current coach Vicente] Del Bosque and it struck me that the best team in the world has played 127 games in the same style." Coelho smiles for effect, then makes his point with a jutting finger for added emphasis. "Brazil have played just eight times under [current coach Luiz] Scolari's system so, of course, we are not ready. We are in transition but the good news is we have one more year to develop the team. I would say the challenge is not easy, but it is not impossible."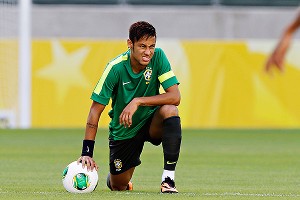 AP Photo/Fernando LlanoOne of Brazil's challenges is finding the right partner for Neymar. "He is brilliant and talented but he is not yet ready to lead the team," ESPN Brazil's Paulo Coelho says.
What are the key problems Coelho believes Scolari must quickly grapple with? His retort is instant. "Neymar is brilliant and talented but he is not yet ready to lead the team," he says. "Zico was not playing in the national team at 21 years of age. Pele was 21 in his second World Cup but he had Didi and Nilton Santos besides him. Ronaldo was 21 in 1998 but similarly, he had Dunga to play with."

Who then should be Neymar's Dunga or Didi? "Thiago Silva," Coelho declares. "His experience is key, and Kaka should be here, not to play but to lend his experience and deflect some of the attention from Neymar. Kaka's presence carries a symbolic power."

I challenge Coelho to articulate the size of the gap he sees between Brazil and the likes of Spain and Germany. He throws his arms apart as wide as they will go. "They are 60 percent better right now but if we can close that gap to 30 percent over the next 12 months we can win the World Cup. The format of the tournament means anything can happen. All you need to do is win seven games. The climate alone will be hard for European teams as they have to play one game in summer climate and the next in winter." He pauses, visibly grows in confidence and adds, "Scolari will make us stronger over the course of a year. He will have us conditioned to win -- not sure to win, but the team will be ready."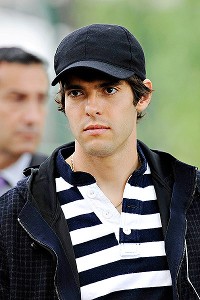 Getty ImagesShould Kaka be in the Brazilian side, even as a mentor?
Coelho was quick to identify the improvements he spied in Brazil's emphatic 3-0 opening-game win over Japan. "I saw progress in Oscar, Neymar and Hulk's attacking movement. We used to debate who should be in the middle and who should play free, but when this team is really ready, they will move naturally and interchangeably."

Yet, fundamental challenges remain. "There is still a problem building the ball up from the back when the opponents mark the middle. Defenders were forced to play it -- Bam! -- up the field," he says, making a fist. "It is not bad to play a long ball sometimes but it is bad if it is the only way you have of progressing."

PVC is about to go on air, so I wrap up our meeting with a rapid round of hypothetical questions. Would he, I wonder, prefer Brazil play beautifully and lose in the semifinals like Germany in 2006, or play ugly football but win. He sighs and shakes his head as if to remind me how little I know about football before answering, "Beautiful football or ugly football is not what matters. The most important thing is playing well -- being strong and consistent enough to make your way of playing better than the opposition's. In Brazil, we always ask whether it is better to lose [beautifully] like 1982 or win [with force] in 1994. The truth it is better to play like 2002 when you win all seven World Cup matches and display the strongest attack that scores the most goals. That is what I want to see!"


---
More coverage from Brazil
- Brewin: Mexico vs. Brazil preview
- Trailblazer Mirandinha
- Fernando Duarte on Brazil protests
---
As a grand finale, I ask Coelho to choose between two scenarios. One in which Brazil win a World Cup in which the organization is a hot mess; another in which Brazil are not victorious yet the tournament is considered a national triumph. The broadcaster grimaces, sighs, then slumps, placing his chin into his hand. Finally, I have asked a question which has stumped the oracle. "That is such a good question," he says. "I am honestly worried about my profession if Brazil loses the World Cup. When we failed to win the last time we hosted in 1950, Brazilian soccer experienced a depression in which fans stopped going to stadiums and no one wanted to talk about football. Our game is at such a transitional point right now where we have money and could really become one of the top four most important leagues in the world, but if we lose, attendances will slump and the game will spiral."

Coelho takes a moment to reflect before making his decision. "The best thing is a well-organized World Cup. I am a Brazilian. I want you to go home having seen the diversity of this great country." He has snapped out of his brief funk. Straightening his shoulders, he mentions a song, "The one that won the Carnival in 1961, 'Aquarela Brasileira.'" Before I know what is going on, he starts serenading me in Portuguese:

"Look at this marvel of a setting
It's a sacred episode
Which the artist, in a brilliant dream
Chose for this carnival
And the asphalt as a catwalk
Will be the canvas for Brazil in watercolor form."

"That is what I want the World Cup to be remembered for," he states with absolute conviction, "that Brazil is a great country, with many problems, yes, but that it is full of good." Proof that even for a man like PVC, some things in life are more important than football.