Trailblazer Mirandinha relives Newcastle adventure
FORTALEZA, BRAZIL -- I am seated across the table from a slender, middle-aged Brazilian man who smiles, takes a deep breath, then bursts into a football chant.

"We've got Mirandinha, he's not from Argentina, he's from Brazil, he's f---ing skill!"

"The Newcastle United fans wrote that song for me," he explains with a proud smile. "The British don't like Argentina too much," he added while chuckling. "I always thought the song was a little bit about me, and a lot about their anger at Maradona for his 'hand of God' goal."

I am in Fortaleza, northeastern Brazil, visiting footballing pioneer Francisco Ernani Lima da Silva, a slight 53-year-old better known by his nickname, Mirandinha. The man who became the first Brazilian to play in English football, in August 1987. A sensational $903,200 move secured his transfer from Sao Paulo's Palmeiras to the robust Northern clime of Newcastle United, where he arrived like a creature from another slightly more glamorous planet.

Back then, English football was a savage, parochial game, a full generation removed from today's slick, globally marketed Premier League product savored by the likes of David Luiz, Oscar, Rafael and Philippe Coutinho. Liverpool dominated a domestic game that was still a grubby, working-class pursuit. Stadiums were plagued by hooligan elements who had earned English clubs a blanket ban from European competition.

The man who grew up the son of a salt miner in Fortaleza confessed, "When I was young, no Brazilian thought about playing in England. My dream was to play first for the national team then to move to the tactically flexible leagues of Italy or Spain.

"English football seemed closed to foreigners and it had a reputation for hard football," he said with a sneer. "The long ball dumped into penalty area."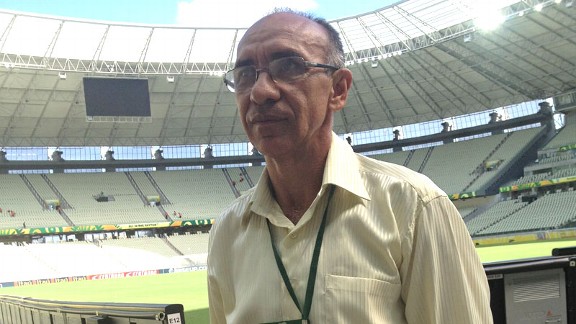 Courtesy Roger BennettMirandinha has fond memories of his time in England, blazing a trail that would eventually be followed by the likes of David Luiz and Oscar.

Mirandinha changed that, yet he became a pioneer in the most accidental of ways -- a fact that will not surprise many, seeing as the ever-impulsive Newcastle were the club involved. A random Palmeiras fan studying abroad happened to board with a family on Tyneside who were connected to the club. Mirandinha was in the midst of a barnstorming 52-goal season, and when the fan showed his hosts a magazine clipping about the striker, the unorthodox move was set into motion.

"The family were friendly with [former Newcastle icon] Malcolm MacDonald and he took an interest brokering a deal," Mirandinha explains. The timing could not have been more perfect. The Brazil national team to which the striker had just been called up headed to Britain to compete in the short-lived Stanley Rous Cup against England and Scotland, gifting Newcastle the chance to run the rule over their unlikely transfer target.

"Knowing Newcastle were watching filled me with so much power that day," he remembers. "The game ended 1-1 and I scored the equalizer, but when we played against Scotland I was truly brilliant [savor the outside-of-the-foot through ball that sets up the second goal at 53 seconds] and had one of the best games of my life, which I think sealed the deal."

"Things were very different back then," Mirandinha explained. "I negotiated without any agent. The student who had introduced me to the club did the deal and because he was not a football person, the Brazil media had no hint the move was about to occur. When it did, they realized the country suddenly had a player moving to England and I was an instant hero!"

Mirandinha certainly appeared the part. He arrived for his first day of training in a tailored suit with jacket sleeves rolled up, a look that could only be described as heavily influenced by "Miami Vice." Though he understood no English, Malcolm MacDonald was willing to speak on his behalf. When asked if the Brazilian had what it took to cope with English football's physicality, the club legend boasted that "center halves won't be able to catch him to kick him."

The Brazilian admitted to experiencing a severe case of culture shock upon his arrival. "I had never heard of Newcastle before I signed for them and I signed in London so I had not actually been to the city before my arrival," he said with a head shake. "It was certainly difficult in the beginning."

"I did not speak a word of English, and even English people can't understand a Geordie accent. The language barrier was very tough." The club found him a Portuguese speaker at a local university and Mirandinha studied three times a week until he mastered English with no hint of a Newcastle brogue.

The weather was also punishing. "I came from Sao Paulo and had never experienced such freezing cold; never mind tried to play in it." The Brazilian experimented with wearing gloves. "I fell over inside the first five minutes and the gloves became soaked through which made the winter feel even colder so I ripped them off and just got on with it."

English culture did have its benefits. Mirandinha's Newcastle team was built around the maverick talent of Paul Gascoigne, and the Brazilian quickly learned to appreciate the town's pub culture. "Back then the players would go to the pub after training. That behavior was familiar to me from Brazil, but whereas it would be one beer in Sao Paulo, in Newcastle it was Guinness and lots of it," he said, while miming the act of shotgunning a pint.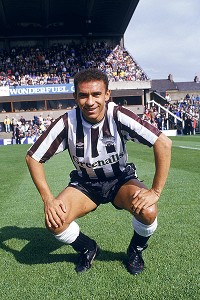 Pascal Rondeau/Getty ImagesMirandinha braved a sizable language barrier, dramatic climate change and punishing style of soccer to become a cult hero to Newcastle fans.

"I learned to love England through the pubs," he said, drawing out the syllables as he pronounced "York-shire pood-eeng ... roast beeeeef. I lo-o-ove it." His appreciation of things English quickly spread to his family life. When his daughter was born soon after, he decided to give her an English name, Sarah. "Princess Sarah Ferguson was very famous then so we named our daughter after her."

Mirandinha also had to adapt to life on the football field. "English football was brutal. A game that was all about 'Smash!'" he said, pounding one fist into another. "But I was a hard player who loved a 50-50 ball and never backed out of a challenge so I felt comfortable."

The diminutive 5-foot-8 man inadvertently accentuates his slender build by pushing up the spectacles perched precariously on the edge of his nose before continuing. "I was afraid before my first game against Norwich City [a team he actually pronounced 'Norwich Ceech.']. The game was so fast and the players marked so tight it was hard to find time and space to control the ball."

Once he netted his first strike during his third game against Portsmouth, the goals came thick and fast. "I scored twice against Middlesbrough, twice at Old Trafford ... one with a free kick and another from outside the area," he remembers shaking his own head as if in awe at his own achievement. "In those days the fans were violent. There were a lot of ooo-lee-guns [hooligans]," he admitted. "Yet unlike Brazil where fans only came to see games if the team was doing well, in England they would come even when you were near the bottom of the table. I realized in England, the team gives people purpose -- and in Newcastle that bordered on religion."

Though the club were struggling through the pains of transition, Mirandinha admits to being pleasantly surprised at the talent he encountered there. "Newcastle tried to play a passing game with players like Dave McCreery and Paul Goddard." He also found Irish manager Willie McFaul supportive. "He just kept telling me to do whatever I had done in Brazil, which was very freeing."

Paul Gascoigne was the undisputed leader in the changing room and on the field. "Paul was, how do you say it ... a funny boy," Mirandinha remembers. "Everything in life was funny to him, apart from when he stepped onto the field. That was the one place he was serious. He would even fight with you on the field, he cared so much. He was a brilliant person who supported me," he said, pausing for a beat before adding in a whisper, "He was only very bad to himself."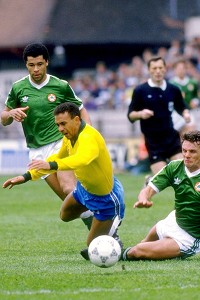 Getty ImagesMirandinha in action for Brazil versus the Republic of Ireland, one of his four caps for the Selecao.

Mirandinha quickly developed a cult persona of his own, one grounded in his habit of shooting any time he had the ball, irrespective of where he was on the field. He laughs when I ask what beef he had with passing. "Every year in Brazil I scored between 40 and 45 goals a season. I had power and speed and learned to make goals by myself with no support from my teammates," he explained. "The English press would laugh when I would reach the byline and shoot. For years after me they would compare any Brazilian who likes to shoot to me! But the truth is, in Brazil, when I had no attacking players supporting me, I scored a lot of goals by shooting from the byline."

The Brazilian's time on Tyneside began to sour during his sophomore season as the squad shed players and coaches. New manager Jim Smith was a no-nonsense manager who had little time for Mirandinha's luxury touches and persistent injuries. "I had a very bad Achilles tendon," he explains, grimacing while grabbing his right leg. Newcastle were experiencing a meltdown of a season which ultimately ended in relegation and they sent their fallen star back to Brazil to recuperate, with Smith declaring "As far as I'm concerned he can rot on his pig farm in Sao Paulo."

"Palmeiras swooped to take me back on loan, I started scoring again, and they told me if I stayed it would help me get back into the Brazil team for the 1990 World Cup." Mirandhina is silent for a minute, choosing his words carefully before continuing. "Staying in Brazil was one of the worst decisions I have ever made in my life. Not only because I did not make the World Cup but because of how much I missed Newcastle -- both the place and my friends -- and the chance to return had gone. I feel very upset even now when I look back at it."

Mirandinha made 54 appearances for Newcastle, finding the net 20 times. He still follows the club's games avidly on television from Fortaleza where he works as a manager at the impressive, newly opened World Cup Stadium, Arena Castelao. When I ask for the moment that gives him most pride from his English experience, the old striker answers with no hesitation. "The first Christmas I was there, I had only been in Newcastle for three months but they picked me to turn on the city's christmas tree lights with the mayor," he said, with a pride still palpable. "I was there with my kids, ready to sign autographs for the fans but when they came, they mobbed me -- there was such a crush we had to be evacuated from the frenzy," he laughs.

"The experience was better than any goal I have ever scored ... it made me feel both so good and so loved."