Tahiti a triumph for football's everyman
If you are partial to "Cool Runnings," "Seabiscuit" or Ewoks and are itching to define a rooting interest in the fast-approaching Confederations Cup, allow us to introduce you to your new favorite team: Tahiti. An obscure squad hailing from the most populous island in French Polynesia, an area whose population of just 277,000 people is outstripped by Toledo, Ohio (pop: 286,000).

You may be familiar with this region courtesy of its black pearl production or as the area French impressionist Paul Gauguin moved to seeking artistic inspiration. However, until the Toa Aito (Iron Warriors) qualified as one of the eight teams competing for the 2013 Confederations Cup, it was not an area well known for its football. Tahiti is currently ranked 138th in the world, sandwiched snugly between Syria and Afghanistan, and although every tournament has its rank outsiders -- think Equatorial Guinea at the 2011 Women's World Cup -- the islanders' challenge appears inordinately daunting.

They have been drawn in Group B alongside Africa Cup of Nations champions Nigeria, World Cup and Euro winners Spain, and Copa America holders Uruguay. Head coach Eddy Etaeta had few illusions as to what is possible. I asked him to outline his best scenario for the team in tournament play and he admitted, "Our realistic ambition is to go through a single half without conceding a goal."

For the 43-year-old Etaeta and his team, the act of qualifying counts as a triumph in its own right. Tahiti represents the Oceania Football Confederation, the football world's smallest and weakest organizing body, incorporating such remote outfits as American Samoa, Cook Islands, New Caledonia, Tonga and Vanuatu. Teams so tiny that Australia up and left in 2006 in search of a greater competitive challenge in Asia.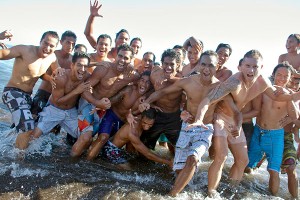 GREGORY BOISSY/AFP/Getty ImagesTahiti's national team took a break from pre-Confederations Cup training in Chile to enjoy a day in the surf.
The Tahitians qualified for Brazil last June, hitting a rich vein of form at the right time to win the Oceania Football Confederation Nations Cup. Local bully New Zealand failed to emerge from group play, undone by both the choking humidity experienced by hosts Solomon Islands and its own profligate finishing. The Tahitians took full advantage. Etaeta's team demolished Samoa 10-1, unfurling a five-game unbeaten streak to victory culminating in a hard-fought 1-0 final win on a grubby field against a technically proficient New Caledonia which made the Iron Warriors the first team other than Australia or New Zealand to represent the region. (Full highlights here worth watching if only to savor the joy of the final whistle and Coach Etaeta's tears.)

The OFC Cup victory was a remarkable achievement for a squad that was exclusively amateur, drawing its talent from the 146 clubs and 11,201 registered players on the island, many of whom specialize in beach football. The core of the squad serves as defenders, midfielders and strikers only part-time, spending the rest of their professional life as office workers, laborers, school teachers and salesmen.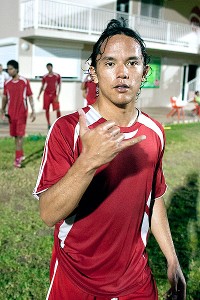 GREGORY BOISSY/AFP/Getty Images33-year-old striker Marama Vahirua spent last season with Panthrakikos in the Greek Super League.
Since qualification, one professional, Marama Vahirua, a 33-year-old striker who spent last season with Panthrakikos has joined the squad. The journeyman is beloved on account of his signature goal celebration, in which he mimics a Tahitian canoer, dropping to one knee while miming two oar strokes. Vahirua strengthens a squad which features four members of one family -- the Tehaus -- a potent quartet of three brothers and one cousin responsible for nine of the 10 goals knocked past the Samoans back in June. Goalkeeper Mickael Roche, who played for Monaco's reserve team back in 2000-01, should be the busiest man on the field, and will hope to do more than just pick the ball out of the back of the net.

While Etaeta admits "the difference between [our opponents] and us is too big for us to win a game," he hopes the Confederations Cup will be a showcase to draw attention to the talents of individual players, especially the Tehau brothers, and allow them to make the leap into the professional ranks. However, his team has experienced a slump in form since winning the trophy, experiencing the sting of defeat to New Caledonia and New Zealand in World Cup qualifying.

The coach is conscious his players may experience culture shock in Brazil, matching up against world-class stars from La Liga and the Premier League whom they have seen before only on television. "The players will have to give their maximum," he told me. "I'll tell them to stay focused for 90 minutes in these big stadia but they must also have fun and enjoy themselves."

I ask Etaeta what his dream scenario is as his players arrive in Brazil.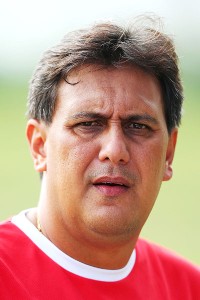 Brendon Thorne/Getty ImagesTahiti head coach Eddy Etaeta hopes a solid performance from his team will lead to club opportunities for some of his players.
"Our wildest dream as a team is to score a goal," he responds. "If it is against Spain, it would be even more incredible!" His candor is as refreshing as his team's approach is old-school, a throwback to the 1930s when semiprofessionals were a common presence at global football tournaments.

As the squad prepares to line up against millionaire superstars like Xavi and Iniesta in sold-out Maracana stadium packed with 77,000 delirious fans, I asked the coach what message he would like to offer American soccer lovers.

"We're here to represent the millions of amateur soccer players and fans," he said. "I hope we'll give a good image of amateur football." One thing is for sure. Every angled pass the Iron Warriors manage to tuck behind their opponents' defence will feel like a triumph for the everyman.