Gene Olaff: An American soccer treasure
I am at the screen door of a neat bungalow in Florence, N.J. My knock goads an angry canine to charge repeatedly at a shaded window. A thumping, unnerving welcome that lasts an age until a white-haired old man cracks the door. Though he walks with difficulty, the pensioner still cuts an imposing figure. He chastises the dog, a sinewy pit bull, and ushers me toward a compact living room in which a small television is blasting the Weather Channel. A booming computerized voice repeatedly informs us, "Today, it is 82 and cloudy."

Clad comfortably in a pair of khaki shorts, the elderly man lumbers toward his favored armchair and proceeds to flop into it gingerly. Propping his spectacles up onto his forehead, he places his huge hands upon his bony kneecaps, turns to me and says, "Ask me anything you want, but say it loud, I only have one ear open."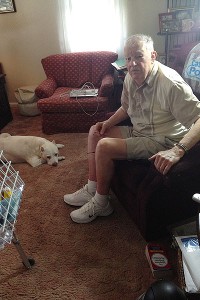 Courtesy of Roger BennettGene Olaff relaxes at home with pit bull Donovan, in Florence, N.J. At 92, Olaff is among the oldest U.S. internationals still alive.
The man is Hall of Fame goalkeeper, Gene Olaff, aged 92, the oldest sentient former United States international alive today. Long before Tony Meola, Kasey Keller, Tim Howard and even Brad Friedel were born, the New Jersey State Trooper flung himself fearlessly around goalmouths in the semi-professional American Soccer League in which he starred for the mighty Brooklyn Hispano team. With the U.S. Soccer Federation celebrating its centennial, I had asked the organization to introduce me to its senior veteran. As Olaff tells me his story, its narrative offers a long view on American soccer's winding road to relevance.

I ask Olaff to take me back to the first time he kicked a ball. He puffs out his cheeks and mentally prepares to return to 1920s Bayonne, N.J.

"Soccer was not very popular in America when I was born," he begins, "but Bayonne was an immigrant town -- every kid's parents were from somewhere else."

Olaff was the son of a Swedish postal worker and Scottish mother. "It was the Irish kids who first found a soccer ball," he remembers. "A Scottish Realtor gave them one in exchange for their promising not to hang around the windows of his office."

Olaff was 11 when he began to play. "I was always a tall kid. … Six-foot by the time I was 14. So they stuck me in goal. I never chose the position, but once I got started I grew to love how much the team depended on me."

Olaff had been a talented third baseman, and the lessons learned on the baseball diamond quickly became his greatest asset. "My game was all about 'quick, alert, fast, move,'" he says stretching out his impressive wingspan as if he was suddenly back in goal. "I simply translated the skills through from one sport to another."

Back then, soccer was not a game for the faint-hearted. "We used a big leather ball with a bladder and lace. When it got wet it felt heavier than a cannonball," he said with a grimace. It was also within the laws of the game for players to attack the goalkeepers who had no protection inside the 18 yard-line. "If you had the ball in your hands, [opposing] strikers would give chase. You had to be able to punt it with either foot to prevent people kicking or hitting you as you ran around your area dodging everyone."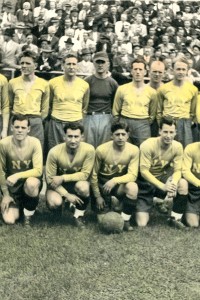 Courtesy of Roger BennettA colorized image of the American Soccer League All-Stars team. Billy "Babe Ruth of Soccer" Gonsalves is back row left. "Frenchy" Boulos is front row on the right. Olaff is at center in the baseball cap.
Olaff shakes his head as he remembers. "Red and yellow cards were the greatest thing to happen to soccer," he reflects. "Referees had absolutely no control before they were invented."

With his combination of strength and reflexes, Olaff was soon coveted by contending teams in the maze of New York's highly competitive ethnic semi-pro leagues. A Jewish club, Hatikvah, was among the first to approach him. "I did not care what religion they were as long as we played soccer," Olaff snorted. Yet in Depression-era America, the sport was more than a pastime. "These were difficult times to grow up in," Olaff recalls. "We were all desperate to get by financially, so the $9 a game they gave me was pretty good for a man like me who was earning $14 a week as a janitor and then as shipping clerk."

By 1941, Olaff's ability had developed to such an extent he was able to establish himself as the starting goalkeeper on regional power Brooklyn Hispano, which the New York Times described as a club of "Spanish American origin." Olaff laughs as I read him the description. "That's not true!" he declares. "We had Irish, we had English, we had whoever was the best and we won a lot of games."

On the Hispano team, Olaff lined up alongside the legendary Billy Gonsalves, a center known as "The Babe Ruth of Soccer."

"When Billy took a shot that ball moved like no other I have ever seen," Olaff remembers, shutting his eyes as if still traumatized by the experience. "We had 'Frenchy' Boulos, who was a bull up front alongside Fabri Salcedo, the league's top scorer for three straight years even though he only loved to use his head." Olaff won his first U.S. Open Cup on the eve of the Second World War, in front of a large crowd at the New York Giants' Polo Grounds. "With the lineup we had, we just looked at each other before kickoff and know we would win."

Life in the ASL was far from glamorous. "Our locker room for home games was a cellar under a local bar," Olaff explained. "We never trained … we all had jobs. The fields were cinders and, as a goalkeeper, you could get injured just by diving," he said. "We were a champion team but at the same time, it all felt like a level of opportunity just a step higher than doin' nuthin'."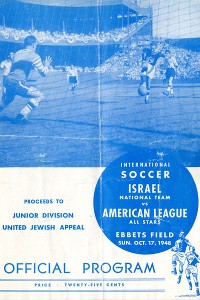 Courtesy of Roger BennettThe program from American Soccer League All-Stars 1948 game against Israel at Brooklyn's Ebbets Field, a match Olaff recalls fondly.
Despite that, Olaff's passion was such that even the Second World War could not keep him from the game. Having been drafted in October 1943, the goalkeeper ended up in deep sea diving school in Washington, D.C. "I had the weekends off and would charge up to Brooklyn to join the team. I was playing against New York Americans when Pearl Harbor happened," he said, "and I was in goal during the U.S. Open on June 6, 1944, when D-Day began."

A footballing colleague suggested Olaff apply to become a state trooper because the New Jersey Police were looking to recruit elite athletes. The goalkeeper found he enjoyed policing the highways and farmlands of New Jersey. "When I look at my life, fate tells me that was pre-arranged by the man upstairs," he says with a chuckle.

Despite the distraction of a new profession, Olaff's reputation continued to build. The goalkeeper was called up to play for the American Soccer League All-Stars, a talented side starring Cuban international Pito Villalon and the iconic Joe Gaetjens (whom Olaff described as "just a diswasher"). The team matched up against such barnstorming visitors as Liverpool, Inter Milan, Hapoel Tel Aviv and a Manchester United team that included internationals Charlie Mitten and Jack Rowley. The New York Times gushed over Olaff's presence ahead of a 1949 game against Italian all-stars Milano, "Gene Olaff, generally regarded as one of the foremost goalies in the East, will be in the cage for the Americans, and his presence there promises to offer a stern test of the invaders offensive ability."

Olaff remembers a 1946 3-1 loss against Liverpool at Randall's Island most fondly. The English side fielded Albert Stubbins, Billy Liddell and Bill Fagan. "It was the greatest game I played even though we lost," he said. "There was a huge crowd and in the first half we held them to one goal and that was an own goal." Olaff left the field to a standing ovation which gave him a moment of clarity about his own capability. "This was just a weekend job for us and we had played so well against an English professional team. I realized soccer was just part of our lives and that game gave me a sense then of just how good I could have been if I played full-time."

I shuffle through a manilla file stuffed with mementoes from Olaff's career and pull out a program from an ASL All-Stars game against Israel, which hails Olaff in laudatory terms. "The standout against Liverpool was offered a big contract to sign up for the famous English team." When I read that out to Olaff, he guffaws. "I don't know where they got that," he says. "No one from Liverpool approached me!" I ask Olaff if he ever felt envious of the full-time foreign professionals he played against. "I never felt jealousy," he said softly, "and I never felt fear."

A U.S. international call-up soon followed to a squad that included both Walter Bahr and John Souza. "Manager Erno Schwarz selected me, which was not a surprise because the team was pretty much the same as the ASL All Stars at the time. It felt good because I recognized it was an achievement that was not open to everyone. But the soccer world was small in those days because the game was only played east of the Mississippi River, so you weren't really talking about representing the whole country."

Some 17,000 fans watched Scotland field five players named Willie or Billy and pummel the U.S. 4-0. "It was a tough game, but I was not really nervous even though they gave us a good beating." Olaff remembers. Coach Erno Schwarz seemed most interested in skimming money from the box office and making sure the players held onto their jerseys. "Now when I see a player on television giving another their shirt, I marvel," he laughed. "We would never have dreamed of doing that because money was such a problem."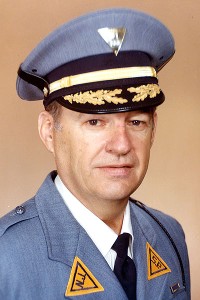 Courtesy of Roger BennettOlaff in his alternate guise as a New Jersey State Trooper. He rose to the rank of superintendent in a distinguished career as a public servant -- one he chose over the 1950 World Cup.
Despite the scoreline, Schwarz liked what he had seen of the goalkeeper. With the 1950 World Cup in Brazil fast approaching, the coach instructed his player to request a leave of absence for the tournament only for Olaff's police superiors to deny the request. "I had only two and a half years as a trooper on patrol," he said matter of factly. "They made me choose between soccer and the police, and I chose the police."

The game against Scotland turned out to be Olaff's one and only international cap. I ask if the experience of missing out on the World Cup still pained him, only to receive a stoic response. "I learned that in life you cannot control your destiny. You have your ups and you have your downs," he says with a shrug, gripping the side of the couch with his hand and looking out of the window.

Olaff followed the United States' untelevised underdog 1950 World Cup exploits via the newspaper. "When they beat that England team 1-0 and Gaetjens got the goal, it made me feel great that the players I had lined up with could stand up to the best of them." The one-time U.S. goalkeeper proceeded to enjoy a distinguished record as a law official, founding the nation's first state police Underwater Recovery Unit, and running operations for the New Jersey Police during the Newark riots.

Eventually rising to the rank of superintendent, he proudly walks me through an envelope stuffed with citations. "I have no regrets about how things turned out," he claims. "My only sadness is about how few of my teammates have been remembered or honored."

The pit bull wanders menacingly back into the room, choosing to sit at my feet and lick the suede of my shoes. "This is Donovan," Olaff says with affection, "the tamest dog I have ever owned." I ask whether my host has followed the development of his dog's namesake's league. "It has been so exciting to savor MLS's growth," he exclaimed with enthusiasm. "When I watch television and see that packed stadium in Portland, I cannot believe it is in America. I could never have dreamed of a scene like that when I grew up in the 1920s and soccer was strictly for immigrants," he admitted. "But when you look at my life, you see, it has taken a good long time for it to get to where it is today."