Bayern and Dortmund bring Bundesliga battle royale to Wembley
Saturday's Champions League final between German powers Bayern Munich and Borussia Dortmund could be the greatest clash between good and evil since the Book of Mormon.

Bayern are Germany's superclub, a possession-hungry, passing, pressing powerhouse that are loved or loathed, but always feared. Dortmund, the resurgent underdogs, prefer to thrill with movement and speed -- a fearless young team that run hard and attempt to overwhelm opponents with a vicious transition game.

The Bundesliga duo can confidently claim to be the top two clubs in Europe after they sensationally combined to defang the Spanish challenge in the Champions League semifinals. Bayern made a humiliated Barcelona appear shockingly pedestrian during a 7-0 aggregate victory, while bold Dortmund staved off Jose Mourinho's Real Madrid.

Yet, despite their European dominance, the two teams could not be perceived more differently within their own country. Bayern are a glamorous, dynastic bully that arrogantly delight in plucking the most talented players from their rivals, while Dortmund are a team that promotes the motto "Echte Liebe" (Real Love) and whose official Twitter feed promotes the hashtag #fairytale.

Dortmund won the Bundesliga in 2010-11 and 2011-12, provoking Munich to aggresively re-arm and run away with this season's title by a chasmic 25 points. That dominance could be attributed to the fact that their revenue is more than double that of their rival. It is a formidable financial advantage the resourceful Dortmund have fought to nullify by developing a tactical discipline, vibrant youth academy and one of the most joyous supporter cultures in the sporting world.

As the prizes have become bigger, the rivalry between the teams has become a foul-tempered feud. During their previous duel, a 1-1 draw in the Bundesliga on May 4, Dortmund's intense coach, Jurgen Klopp, squared up to Bayern general manager Matthias Sammer on the sideline.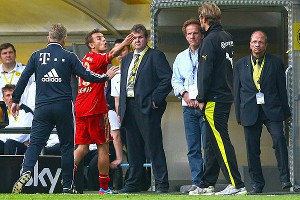 Christof Koepsel/Bongarts/Getty ImagesTempers flared during the Dortmund-Bayern showdown on May 4, as Bayern's Rafinha gives Klopp a piece of his mind after being sent off in the 64th minute.
After the match, Bayern goalkeeper Manuel Neuer admitted that "a game against Dortmund, regardless of where it is, is never a friendly game." This final is expected to be particularly feisty as Bayern recently undermined their opponent by acquiring the services of Dortmund's coveted playmaker, Mario Goetze, for next season. The news caused Dortmund fans to burn the jerseys of their fallen idol and Goetze to pull out of the final with a perhaps all-too-convenient "hamstring injury." The Champions League final promises to be a culture clash of organizations, personalities and brands, as much as it will be a tactical battle.

Dortmund is an industrial city in the working-class Ruhr valley. The club's story is one of recovery and resurgence from near-bankruptcy in 2005, after an ill-considered floatation, a financial disaster that would have been punished by immediate demotion into Germany's amateur league hinterland. To rebound, the club invested heavily in their scouting network, building a youth system designed to mass-produce aggressive, attacking, high-performance prospects. Their squad is now young, skill-soaked and the envy of the elite. Traditional European powers constantly salivate over their players, including Polish marksman Robert Lewandowski, attacking midfield brain Marco Reus, and cerebral center back Mats Hummels. Yet when stars have decamped in the past -- Tomas Rosicky to Arsenal, Shinji Kagawa to Manchester United and now Goetze to Munich -- the club have proven resilient, instantly unearthing new talent to fill the void.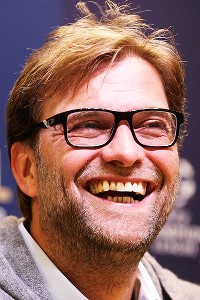 Joern Pollex/Bongarts/Getty ImagesHaving a laugh: Dortmund coach Jurgen Klopp has goaded his opponents by comparing them to "James Bond -- except they are the other guy [the villain.]"
The zest of the squad is reflected in the frenzy of Dortmund's fan base. More than 500,000 supporters applied for the 24,042 tickets the club was allocated for the final. The club's home stadium, the Westfalenstadion, is a throbbing hub of energy in an otherwise unremarkable town. The sight of the "Yellow Wall," the single-tier south stand that alone can hold 25,000 fans, is one of the most fantastic sights in modern football. When Goetze, who had been with the club since he was 9, announced his intention to leave, they made their disgust known by unfurling a banner declaring "Striving for money shows how big your heart really is. P--- off Goetze."

Yet Dortmund's true star is manager Jurgen Klopp, a master motivator who bounds up and down the sideline displaying the kinetic energy of a Yo Gabba Gabba! character with a hair transplant. Klopp revels in his team's underdog status. Even after Dortmund emerged unscathed from an opening-round Group of Death that included Real Madrid, Manchester City and Ajax, he compared the unlikely victory against Real to "Robin Hood taking from the rich." In the run-up to the final, he has continuously goaded his opponents by comparing them to "James Bond -- except they are the other guy [the villain.]"

Villain or not, Bayern are the club of choice among Germany's conservative power elite, counting Chancellor Angela Merkel and Bavarian prime minister Horst Seehofer among their fans. The team are a symbol and product of Germany's continental economic dominance, their potency built on the $260 million the club receives in commercial income alone. It is a staggering number grounded in the marketing reality that in Europe's largest television market of $82 million, the country's sole superclub is one of the most effective platforms for brands to communicate with the entire nation.

The Bavarian club have won the Bundesliga 23 times. This season, their football was so superior, the title was locked up with a record six games still to play, causing some pundits to suggest this is Bayern's best team of all time.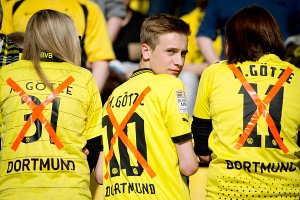 ODD ANDERSEN/AFP/Getty ImagesDortmund fans let Mario Goetze know just how they feel after the playmaker agreed to join Bayern after this season.
The side's relentless, imperious, ruthlessly potent style is personified by midfielder Bastian Schweinsteiger, a direct, technically intelligent, ball-winning midfielder who is also a goal threat. Javi Martinez, the Spanish holding midfielder who signed for more than $50 million, has the ability to smother opponents single-handedly. Brazilian defender Dante quickly has become a cult figure for his swashbuckling forays forward, and veteran coach Jupp Heynckes has talked of retiring after the game, ceding his job to the suave Pep Guardiola. For the 68-year-old Heynckes, winning the Champions League as his final act would be like dropping the mike.

Bookmakers dazzled by Bayern's domestic dominance are offering odds as long as 15-to-4 on a Dortmund victory. However, Klopp's team will draw courage from the knowledge that Bayern's performance in Champions League finals has been their glass jaw. For all of the Bavarians' success, they have been champions of Europe only once in the past 37 years and are haunted by the trauma of last year's defeat on penalties in their own stadium to an underwhelming Chelsea side, on the heels of a 2-0 defeat to Inter Milan in the 2010 final.

Whichever team wins, the bigger story behind the game is that of the rise of the Bundesliga and the sense of renewed confidence flowing through German football as it closes the gap with the English Premier League and Spain's Primera Division. That this game will occur at Wembley Stadium, the symbolic home of hype-heavy English football, will only make things all the sweeter from a German perspective.

The Bundesliga, with its supporter-owned clubs, emphasis on youth development, low ticket prices, and ebullient fan bases, has become Europe's darling. Whatever the score on Saturday, English pundit Gary Lineker's legendary quip that "football is a simple game; 22 men chase a ball for 90 minutes and at the end, the Germans always win" will never ring truer.