Landon Donovan's post-sabbatical world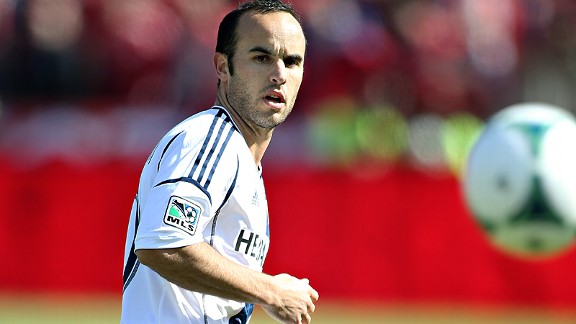 Claus Andersen/Getty ImagesAfter a 144-day break from soccer, Landon Donovan is enjoying playing again.

NEW YORK -- Landon Donovan is buzzing. I meet American soccer's most celebrated player the morning after he'd used his quick feet and accelerated vision to deliver a goal and two assists in the second half of a comprehensive 4-1 dismantling of the Philadelphia Union. The relaxed energy and easy confidence Donovan exudes as he strolls in off Seventh Avenue to meet me are in stark contrast to the clutter of tourists and street vendors who choke Times Square behind us.

The Los Angeles Galaxy forward is in town for Sunday's MLS showdown against the New York Red Bulls (1 p.m. ET, ESPN2) but is using the time before the game to launch a public service announcement for The Skin Cancer Foundation. The campaign features Donovan stripped down in a way only the most confident athlete would feel comfortable with, no matter how good the cause.

Thankfully, as far as I am concerned, today Donovan is fully dressed. Clad innocuously in jeans and with dress shirt untucked, his tone and demeanor are a world away from those of the gent I spoke to on a dark winter night in October. A man who sounded as burned-out and disillusioned as Ron Livingston's Peter Gibbons character in "Office Space." (Bob Porter: "Looks like you've been missing a lot of work lately." Peter Gibbons: "I wouldn't say I've been missing it, Bob.")

I remind Donovan of our last conversation that ran late into the night, remarking that he was one of the most self-aware athletes I had ever spoken to. "That's probably not saying much, to be honest," he says with a smile.

Since we spoke, Donovan has benefited from a widely documented and controversial 144-day break from the game that finally ended March 30th against Toronto FC. I begin by asking him whether he refers to it as a sabbatical, self-imposed exile or leave of absence. "I don't really care, to be honest," he says while rolling his eyes. "It was time away that I needed. That is how I describe it. I feel blessed that I had the self-awareness to say, 'Something is not working here.' I was a little overwhelmed at the time, and I knew if I did not stop it would not be good for anybody."

We meet on the same day that United States coach Jurgen Klinsmann was poised to announce the latest U.S. men's national team squad (which ultimately did not include Donovan). His man-of-the-match performance Wednesday night provided a well-timed reminder that Donovan at his best offers the American team the kind of individual skill sets that are in short supply. I ask if it is difficult to hear many of those who have recently criticized him calling now for his return to the national team and lathering him with praise. Donovan shakes his head.

"The reality of sports is just a reflection of where our world is right now," he says, referring to the Twitter-influenced, compressed news cycle. "One minute someone is a goat, the next they are a hero. Just look at Tiger Woods and how he was written off. Now he's back winning again, he is seen as a better person. I realize if I don't play well on Sunday, everyone will revert to saying it's good he was not called back onto the national team."

- Carlisle: Klinsmann right to keep Donovan off
- Donovan out of U.S. side for three qualifiers
- Carlisle: Four questions on Klinsmann's nominations

When I ask Donovan to grade his own performance since returning, the question causes him to grimace. "The last four or five games I feel like I have played pretty well, but in sports you are judged on results, and not only have our results been a little bit subpar, but I have missed a couple of penalty kicks which factored into the equation," he says without ever breaking eye contact. "I feel I have done OK, and now I am close to being 100 percent back -- not just to what I was before the break but to a couple of years ago when I was truly at my best."

I encourage Donovan to describe how he felt at the end of last season, reminding him of the scenes in the aftermath of the Galaxy's MLS Cup triumph in December, when the American sat sullenly beside a glowing David Beckham on the press conference podium. As Beckham basked in glory, Donovan's demeanor was that of a man who had shut down inside, wanting to be anywhere but there. "I was equally as relieved that the season was over as I was excited that we had won -- in retrospect, I realize that is very unhealthy, so that sort of tells you the place I was in," he admits. "I knew I had to get back to a place where I could enjoy playing again."

Donovan used the break to travel to Cambodia but admitted the most recuperative moments were those that appeared the most mundane. "I spent more time with my family in three months than I have in over 15 years combined," he revealed with a quiet pride. "That was the most important: to wake up every morning and have nothing to do but see my family, make food, go swimming or take a walk, and that for me was bliss."

I resurrect something Donovan had uttered to me back in October -- that his goal during this break was to "determine whether he wanted to play, and if the answer is yes, to work out where and how long." I inquired whether this had occurred in a sudden moment of clarity or if the answer had just bubbled up over time. "There was no 'aha moment,'" Donovan confessed. "I just realized that I am in control of whatever I am feeling and that allows me to be better-equipped to deal if what happened at the end of last year occurs again, because now I understand a lot of the struggle is coming internally from myself." The player pauses, then succinctly explains, "I did not want to feel like I was playing out of obligation. I wanted to feel like I was playing because I still enjoyed it."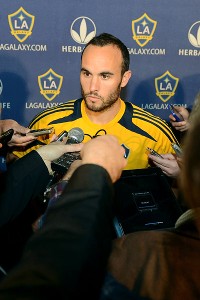 Harry How/Getty ImagesPrior to last year's MLS Cup, Donovan was noticeably withdrawn and exhausted.
Donovan also spends a lot of time reading. "I draw on pieces that are self-reflective and self-aware ... I am a big fan of Rilke." This comes as no surprise. So much of Donovan's analysis relates to the mental side of the game, and I wonder aloud whether he believes football has learned from the tragic depression-related deaths of goalkeeper Robert Enke and midfielder/manager Gary Speed. "This is not just a football problem," he suggests, "It is a societal one. We live in a world where we want everything to be happy to such an extent we are willing to ignore sadness and pretend all is good ... which is what I was doing at the end of last year even though I was not in a happy place mentally. I think it is important to understand that maybe someone has something going on we are not aware of."

I ask Donovan to describe some of the changes he has made in his life to achieve the kind of balance he craves. "It is hard because an athlete's life is 24/7 and when I go home I used to have to think about everything, being mindful of how it would affect me in training," he explains. "I am more interested now in making sure the rest of my life is fulfilled and happy. Maybe I will be a little more tired in training the next day because I decided to go to and enjoy myself on the beach for an hour, but in the grand scheme of things it will be better for me."

For Donovan, his break was an example of that new approach -- of doing what he wanted and needed as opposed to what was expected of him. "In this sport, you are told what to do, when to do it, where to go and when to go," he says. Stepping aside was his way of figuring out what he wanted for himself. "I know they wanted me back in January, but that was not right for me. A lot of people did not like it. My coaches did not like it. There were probably some of my teammates who did not like it. But I had to do what was right for me," he says. "Conventional wisdom would say, 'No, you have a contract, you show up January 20th for training camp' -- but I realized that was not right for me and I had to be in control of my life." He paused for a moment before adding, "If you forget that, you can get lost forever."

Donovan's lengthy career has included three World Cups and 144 international caps, and I ask him how he continues to challenge himself amid the unforgiving grind of training grounds, team flights and hotel rooms. "I am motivated by trying to be better. That does not mean scoring more or running 10 more yards a game, that means being completely present when I play, enjoying when I play and enjoying my teammates. That is me being better."

I ask whether the national team plays into this definition and whether he expected to be in Klinsmann's plans for three World Cup qualifiers next month. "I do not expect to be in [the squad] based on what I have heard," he says, "but I am keeping my fingers crossed that something could change in the next hour." He picks up my tape recorder, then puts it down. "I will be disappointed, but that disappointment will wane pretty quickly because it is not something I can control. I will just keep going. If and when I get the chance, I will be ready."

This is the first time in ages that Landon Donovan has had to think about playing himself back into the U.S. men's national team, and I ask if being snubbed would be a motivator. The veteran does not shirk the question. "My ego would say that is crap, but the reality is you need to earn your way back in, and I have been given the benefit of the doubt many times in my career where I have played three or four very poor games in a row and still had a chance to play. It should not be that way," he declares. "Conversely, if I continue to play well, I should be called in. I just want it to be fair. I just have to keep producing."

I wonder aloud whether the prospect of playing Gold Cup games against Belize on artificial turf in Portland excites Donovan, and he leans forward, locking his eyes on mine to emphasize his response. "I want to be back with the national team, whether it is playing five minutes in qualifiers or the Gold Cup," he says. "I want to be back there, and if at the end of the day I give everything I have and don't get back there, so be it. But if I do and I earn it back and deserve it, it will feel really, really good."

I attempt to lighten the mood by joking that Donovan's old Galaxy teammate David Beckham had announced his retirement that morning because he could not hack playing without the American by his side, which causes the veteran to laugh for the first time. I ask whether Donovan has an image of the end of his own career. He admits he does not and expresses the hope he can play for a "couple more years," suggesting the determinant will be his ability to keep enjoying himself.

"For the past few seasons, football has just felt like a job," he says with a sigh, "and that does not work for me."