The fans' choices for EPL MVP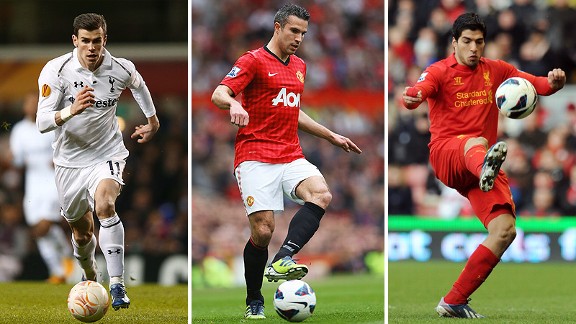 Getty ImagesNow it's your turn to select if Gareth Bale, Robin van Persie or maybe Luis Suarez was the Premier League player of the year for the 2012-13 season.
The Premier League enters the home straight this weekend, making this the perfect moment to laud the player who has excelled most consistently across the course of the season. Though the official baubles have long been distributed, they were voted on while there was still a lot of football left to play.

Staunch believers in democracy that we are, we humbly present this short list and also encourage SportsNation viewers to vote early and often in crowning their own Premier League MVP.

GARETH BALE (Tottenham Hotspur)

This was the season in which Gareth Bale lived up to the hype. The vision of the Welshman thundering toward goal, a buccaneering blur of hairline and sideburns, was one of 2012-13's most reliable and rewarding sights.

When Bale received the ball, games seemed to speed up like car chases in a blaxpoitation movie. More often than not, the moment would end with the Spurs star wheeling away in triumph, fingers curved in trademarked heart-shaped celebration.

A champion sprinter as a youth, Bale always had velocity, yet this season he grafted a positional sense onto his game. When smothered on the flanks, the Welshman ghosted into the center of the field to mine pockets of space. Always an aerial threat, few players displayed the ability to hurt their opponents in so many ways. Eight of his 20 league goals were launched from outside the box and after a February run of six goals in five league games, bookmakers began to take bets on when Bale would next fail to score.

As Tottenham fans are all too painfully aware, the trophies Bale won this season -- the Football Writers' Association footballer of the year award and the PFA player and young player of the year awards -- were all individual markers. It remains to be seen if that will satisfy his ambition or whether an oft-whispered move to a Champions League caliber club may soon come.

ROBIN VAN PERSIE (Manchester United)

Witnessing the former Arsenal star charge around the field in a Manchester United jersey was one of the season's most jarring sights, but it was one to which Premier League goalkeepers quickly became accustomed. The shirt appeared to gift van Persie emotions he rarely experienced during his Arsenal tenure: joy and glory.

Those who expressed doubts when United paid $36 million to prise the 29-year-old from their traditional rival's clutches were quickly silenced as the Dutchman's league-leading 25 goals broke the record for a United striker in a debut season.

Better yet, 17 of the long-faced thoroughbred's goals either tied the score or put United in front, the kind of statistic that left behind a season-long festering wound at Arsenal. When the two sides met in November, RvP pounced on a defensive mistake to score within 150 seconds. It was a goal every bit as ruthless as Michael Corleone kissing his fickle brother Fredo full on the mouth before dispatching him in "The Godfather: Part II."

A 10-game barren spell that was not snapped until April was one blight on van Persie's season. Within a week though, the Dutchman was able to summon the kind of imposing form that had encouraged his opponents to beg for his jersey at halftime. The title was fittingly sealed courtesy of a van Persie first-half hat trick. The striker's sumptuous volley may have been marginally offside, yet it was still sufficiently breathtaking to be deemed "goal of the century" by Sir Alex Ferguson.

Van Persie's hair may have noticeably grayed -- a fact the player attributed to the trophy-less nature of his eight years at Arsenal. If he maintains this season's performance, who is to say the brunette days won't soon return?

LEIGHTON BAINES (Everton)

Few defenders struck a more unassuming figure than Everton's left back. Though Baines may resemble a Dickensian scamp, his only weakness is a crushingly shy demeanor that undermines a statistical truth: His left foot provided the Premier League's most menacing threat this season, creating 113 chances, 11 more than any other player.

Buzzing up and down the left flank like an angry wasp, Baines crafted kaleidoscopic passing patterns in tandem with Steven Pienaar. The duo reveled as they displayed the movement, work rate and invention that defined Everton's season. With his trademark shag, the English international became the Indie Kids choice, a fact reinforced by his willingness to blog about music on the club's website and the everyman willingness he displayed while delivering a season ticket to a bereaved fan (a video that offers one of the season's most poignant lines, "A man-hug... are you all right with that?")

Baines also proved an exceptional dead ball threat, able to caress or crush the ball at will during a season of achievement perhaps best captured by the reaction to a piercing 35-yard wonder-strike against Newcastle. After lashing the ball home with sufficient curl and dip to confuse Tim Krul, the defender jogged nonchalantly toward the exultant Everton faithful. A display of supreme modesty, or a reflection that to him, superlative feats were simply no big deal.

JUAN MATA (Chelsea)

Chelsea's season has been one of qualified success snatched from the jaws of ongoing turmoil. And for that, the team have the quality and consistency of this 5-foot-7 Spaniard to thank. The midfield schemer's ability to control games and score big goals at crucial junctures meant that in just his second Premier League season, he is already being compared to Gianfranco Zola -- the loftiest of accolades at Stamford Bridge.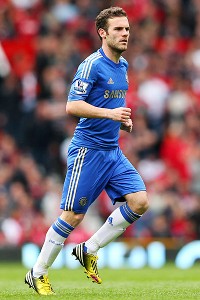 Alex Livesey/Getty ImagesJuan Mata has shown steady brilliance all throughout the campaign.
Though Chelsea have often appeared imbalanced, Mata was habitually able to swamp opponents alongside Ramires, Eden Hazard and Oscar. A sense of imperiousness has begun to elevate his game. One minute he's tiptoeing toward goal, the next he's boldly lacerating opponents through the gut of even the most congested midfield, slipping passes that ensure defenders can only chase shadows.

Though he leads the league with 12 assists, Mata's threat is not confined to passing. The 11 goals he tallied included strikes against Manchester United, Arsenal and Tottenham. Fittingly, it was a late deflected shot from the Spaniard that guaranteed Chelsea Champions League football, stealing all three points at Old Trafford and proving, once again, Mata can be as deadly as he appears amiable.

LUIS SUAREZ (Liverpool)

All season long, the Uruguayan has displayed the ruthlessness of a fiendish silent movie villain. Instead of tying maidens to train tracks and twirling his mustache, the Liverpool striker preferred to torment defenders, displaying a hunger so voracious, he was not averse to taking a bite out of them.

Chaos and a perpetual sense of injustice fuel Suarez's game. The more he goads opponents and grates on referees, the more superhuman he becomes. How Liverpool leaned on those abilities. The striker led their line almost single-handedly until reinforcements arrived in January.

It is a testament to Suarez that in a season cluttered with histrionics -- handball-assisted goals, admissions of diving and that Shark Week-esque moment of madness -- his world-class potency still shone through. The striker is no mere pest. He is an athletic architect, blessed with vision, motion, control and daring that allows him to conjure breathtaking goals other strikers could never imagine, let alone score. Though he only played 33 games, the 187 shots he summoned are 31 more than any other player -- a number that proves why few Premier League players have ever been hated and feared in such equal measure.