The Cup final that means everything and nothing
For a historically unsuccessful Northern club unaccustomed to winning silverware, victory in this weekend's FA Cup final could offer a much needed dose of glory. But enough about Manchester City. Its preseason dreams surely were oriented toward the twin peaks of Premier League and Champions League. Perhaps this should be Wigan's day. The gutsy, unfashionable outfit has never won a major trophy, yet the sting of a midweek Premier League defeat against Swansea means the team staggers into Wembley preoccupied by the all-too-real prospect of relegation.

- Wigan out to upset odds
- David taking on Goliath in FA Cup final

Despite the FA Cup's decline, rare is the final that has meant everything and nothing to both teams and their fans. It is a game that will amount to an unusually complex test of ambition and motivation.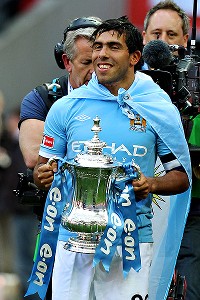 Alex Livesey/Getty ImagesCarlos Tevez and Manchester City tasted FA Cup success two years ago when they defeated Stoke in the final.
City, long Manchester's minnow, now harbors dynastic pretensions, courtesy of a strategic Abu Dhabi cash infusion. Its season has been hampered by a terminal case of caveat emptor in the transfer market, which left the team flat-footed in defending the title and woefully outclassed in Europe. Its wound was salted by archrival United's canter to league glory, and subsequent domination of world football's oxygen, courtesy of the "you'll never forget where you were when Sir Alex Ferguson retired" media storm. For City, the FA Cup should feel like a consolation trinket toward which a blase "too cool for school" approach would be expected, like a movie director craving a career-changing Oscar nod, only to be shut out and forced to pick up a People's Choice Award.

Yet the paint on Sheikh Mansour's extreme makeover has barely dried and cannot mask the truth that the Etihad trophy cabinet could benefit from carrying a tin pot or two of any variety. Victory on Saturday will give Roberto Mancini's team the veneer of celebration in an otherwise skunked season. Perhaps more importantly, the photo op of silverware, confetti cannons, and footballers doing their peculiar jumping-up-and-down victory dance may be commercial gold in football's vast growth territories, where many bandwagon jumpers may not yet know better.

From a Wigan Athletic perspective, City's challenges seem like "rich world problems." Under Roberto Martinez, the Northern team from an industrial pie and rugby town has emphasized optimistic, bold, occasionally naive football. Yet it has perpetually languished in the relegation zone, managing to conjure last-second escapes with the flourish of cleat-clad Houdinis. This year, the FA Cup has been its finest showcase, with a 3-0 evisceration of Everton a formidable high point.

However, with two league games to go, Premier League status -- core to its economic well-being -- is on feeble footing. To mangle a footballing cliche, this Cup final is not its Cup final, paling in comparison to upcoming league must-wins against Arsenal and Aston Villa.

Wigan battled into the Premier League in 2005, propelled by a cash infusion of its own from one-time professional footballer turned outspoken sports mogul Dave Whelan. Though his team features the coveted talent of James McArthur and James McCarthy behind the underrated threat presented by Shaun Maloney and Arouna Kone, they remain among the Premier League's least glamorous.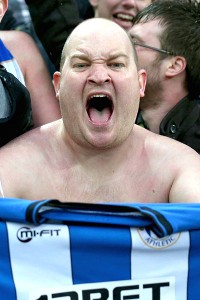 Alex Livesey/Getty ImagesRelegation is a huge worry, but a win over City at Wembley would mean the world to Wigan supporters.
Proximity to Manchester has always made local support tepid, a fact that was underlined as I struggled to find a prominent Wigan fan I could interview to capture their mood ahead of the big game. Of the three most famous, I discovered both Mikhail Gorbachev and Hosni Mubarak are urban myths, and upon contacting local-born Verve lead singer Richard Ashcroft, learned he is in reality a Manchester United fan.

Victory for Wigan would earn the team entry into the Europa League group stage next season, even if it is left to slog out of the competitive bog that is Championship Football. Lose on Saturday, and the team may disappear below the surface without so much of a ripple, an experience that could drive fans to borrow Manchester City's legendary terrace chant, "We're Not Really Here."

It is an excruciating prospect that can be best captured by a line from George Orwell's social inquiry "The Road to Wigan Pier":

"In Wigan various people gave me their opinion that it is best to get shut of your teeth as early in life as possible. 'Teeth is just a misery,' one woman said to me."