Tenacious Moyes will step into sky-high expectations at Old Trafford


A die-hard Evertonian friend of mine had the good fortune to be seated by David Moyes at an end-of-season awards a couple of years ago. Resplendent in black tie and relaxed by the open-bar environs, the two spent the evening bonding over Goodison Park tales. As the coffee was served, my emboldened pal tapped Moyes on the shoulder and asked:

"The one thing I don't understand is what keeps you at Everton Football Club."

- Video: Moyes appointed Man United manager
- Payne: Moyes must allay Rooney fears
- O'Farrell: Moyes - The manager and the myths
- Stats: How suited to Man United is Moyes?

The way my friend retells it, his hero's face went white as his eyes bulged, and his chin jutted out while he leaned in and spat out a menace-soaked response:

"Are you calling me a quitter?"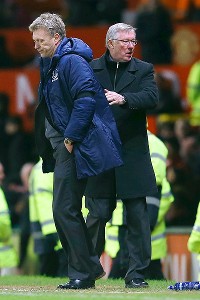 John Peters/Man Utd/Getty ImagesFellow Scots David Moyes and Alex Ferguson share a never-ending quest for control, but top success eluded the former while manager at Everton.
The Glaswegian accent combined with the way the coach jabbed his index finger into my friend's arm to reinforce the rhetorical nature of that question. The manager turned his back on the table and iced his dining companion for the rest of the evening.

On Thursday, Moyes quit Everton for Manchester United -- a six-year deal, starting July 1 -- a move which could be explained with the use of the same pull quote the Scot offered upon arriving at Goodison Park from Preston North End in March 2002:

"It is a fantastic opportunity, something you dream about. I said 'yes' right away as it is such a big club."

Moyes arrived at Everton when the tradition-rich, cash-poor club was mired in the doldrums of relegation. The fiery 38-year-old redhead quickly set about resuscitating the squad with tenacity and alchemy. Simply put, few managers have done more with less. Like a Scottish MacGyver, Moyes found a way to challenge the Premier League elite by duct-taping a team together out of the everyday materials he found at hand. Fallen young stars like Mikel Arteta and Steven Pienaar who had lost their way excelled alongside a blend of bargain-bin finds, long-in-the tooth veterans and perhaps, most tellingly, a steady stream of Manchester United rejects.

Scrounged together, Moyes' Everton sides were always greater than the sum of their parts. Though perpetually undermined by a lack of depth, his teams never stopped running, and while they were beatable, their opponents always knew they had been in a dogfight. The sight of Moyes on the sideline, haranguing and commanding his players over the course of the 90 minutes, is one of the Premier League's most reliable.

We will now discover if that degree of in-game micromanagement will work at Old Trafford. The difference between Moyes and Sir Alex amounts to more than just an addiction to gum chewing. For Moyes' Everton, success was reliably finishing between fifth and seventh place. A remarkable achievement, but one that gave Everton fans even less to celebrate than Arsene Wenger's derided claim that fourth place was "as good as a trophy."

The expectations at United could not be more different. Any position other than first will be decried as a failure.

The closest Everton came to glory was in 2009's FA Cup final, a 2-1 defeat to Chelsea. Yet, Moyes' unfamiliarity with silverware will not be tested so much as his lack of experience in European competition. Next season, United will be expected to close the gap with their Spanish and German rivals, and Moyes will enter the Champions League aware his only previous campaign was a humiliating disaster. After valiantly finishing fourth in 2004-05, Everton were cruelly bounced in Champions League qualifying by an impressive Villarreal, a controversial defeat which led to the shell shock of a 5-1 mauling by Dinamo Bucharest in the UEFA Cup consolation.

Moyes called that loss his "lowest moment ever as a manager," and Everton's inability to crack the top four again prevented him from truly shaking a reputation as a "big-game bottler." The Scot has also been dogged by the accusation he is a "striker killer." Forwards such as James Beattie, Andy Johnson and Yakubu have foundered at Goodison, unable to replicate the headless dedication of journeyman Marcus Bent, who would run across the field like a manic labradoodle let off the leash in a park.

For his part, Moyes has admitted he has learned his lessons and calmed with age and experience. He recently admitted to the English media, "I've become more mellow and my man-management has improved. I come across as serious sometimes but I'm actually quite light-hearted. My face makes me look serious at times. I still shout at people but you can't go as far with the players anymore."

Whether he can change again and adapt to the culture of the global brand that is Manchester United is another matter entirely.

His legacy at Everton will be that of a loyal, dedicated leader who, not unlike Moses, was able to lead Everton through the wilderness without ever being able to access the Promised Land. Indeed, a growing faction of Evertonians had become frustrated by Moyes' risk-averse tactics and, perhaps romanticizing Everton's 1980s pomp, believed he had taken the club as far as he could. They will now find out whether Moyes' tenacity was the only special sauce separating Everton from the likes of Fulham, Sunderland, or even worse, Bolton.

The one certainty for United is they have replaced one uncompromising, success-hungry Scot with another. Time will tell if Moyes can fulfill his undoubted potential while shopping at the luxury end of the transfer market for the first time in his career and can lead in times of feast as well as famine.

Even those who doubt Moyes have to admit the two men often sound alike. Back in 2011, the then Everton coach scotched rumors of his imminent departure to Aston Villa by explaining his Goodison Park allegiance.

"I can control the club to an extent and, though I don't like quoting him all the time, it is one of Sir Alex's comments that a manager has to be allowed to control a club and in the main I do."

His comments echoed those made by Sir Alex in the recently released Harvard Business School case study that provided an unexpected yet revealing articulation of his management philosophy: "You can't ever lose control -- not when you are dealing with 30 top professionals who are all millionaires. And if anyone steps out of my control, that's them dead."