Chelsea-Man Utd. a lesson in compare, contrast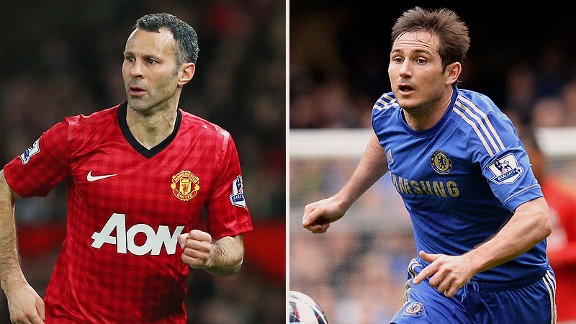 Getty ImagesRyan Giggs and Frank Lampard have defined their clubs this season, albeit in dramatically different ways.
When NBC's "The Golden Girls" arrived on British television in the late 1980s, the sexagenarian sitcom instantly became a cultural phenomenon. Not just for its "only in America" qualities that tended to attach themselves to any U.S. export, be it the bouncing bounty of "Baywatch" or the mechanical miracles routinely engineered by Mr. T and the rest of the "The A-Team."

Rather, the show's power lay in its core message -- the notion that older people could thrive in their twilight years, an anathema for an English society that had largely cast its elderly aside. Many English pensioners lived out their days in a decaying quagmire of dilapidated apartments and shabby care homes, lonely, isolated and deprived of social interaction.

Prem Spotlight: Magpies' malaise
Keegan: QPR can avoid a Leeds, Pompey fate

I was overcome by this surging wave of Betty White-laden nostalgia while contemplating the weekend's marquee clash in which Champions League-chasing Chelsea visits title-winning Manchester United.

The two teams have experienced contrasting Premier League campaigns. United's has been empowered by resilience, determination and consistency; Chelsea's pockmarked by simmering turmoil, whispers, and irrationality. It's also a clash of styles that is perhaps best captured by the way both clubs have handled their own Bea Arthur equivalents --veteran players. United have lauded and bubble-wrapped Ryan Giggs (39 years old), Rio Ferdinand (34) and Paul Scholes (38), while Chelsea's treatment of fallen icons Frank Lampard (34) and John Terry (32) has bordered on a season-long humiliation.

The value a club places on its veterans can offer the perfect prism through which to detect divergent approaches to team-building, club chemistry and cultivating a winning DNA. ESPN analyst Steve McManaman summed up the difference between Sunday's opponents as "apples and pears."

"One club uses its experienced players as the manager's lieutenants, shouting at the young players, keeping everyone in check and acting as ringleaders," he said. "The other has had an ever-changing cast of managers that has given its older players nothing to connect to, affording them too much power and creating a really bad aura around the team."

Despite this clash of ideologies, the two teams have a lot in common. They meet at the end of a season of transition in which both have relied upon young cores. United has been propelled by the fresh-faced David de Gea, Rafael, Phil Jones and Tom Cleverley, who look as though they have stumbled out of the oldest bunk at summer camp. Chelsea's stand-outs -- Juan Mata, Eden Hazard and Cesar Azpilicueta -- resemble teen guests at Oscar's Chelsea-themed bar mitzvah.

The rivals also will experience similar emotions while pondering the competitive landscape of European football. Both know they must rebuild over the summer to play catch-up with Bayern Munich's potency and pace, a reality that will cause transfer rumors to boom at klaxon-like levels. Neymar! Radamel Falcao! Ronaldo!

But during a month in which Sir Alex Ferguson handed Ryan Giggs a new one-year contract -- he also declared that the fast-graying Welshman who has won 13 league titles could "play for two more years" -- and Michael Carrick admitted that "the standard [Giggs] has set is unbelievable," Chelsea's ongoing silence surrounding Lampard's future has been one of the most numbing subplots in the club's pantomime of a season.

Lampard's marginalization has been heralded by some as a clinical yet rational response to the onset of Financial Fair Play regulations. Others believe the veteran is being punished for his loyalty to Chelsea regimes past, pointing to the recent FA Cup semifinal loss against Manchester City when the goal-scoring midfielder was left on the bench, deprived of one more chance to play the hero.

Although relegated to the role of squad player, Lampard has single-mindedly retained his on-field focus, rattling in goals at every opportunity to inch ever closer toward Bobby Tambling's 202-goal club record. Tambling was at Stamford Bridge last weekend to watch Lampard drive home an emphatic penalty sealing a 2-0 victory against Swansea. Now 71 years old and a wheelchair user, the aging striker declared that Chelsea was like a "family." In the light of Lampard's recent treatment, that claim conjured images of Rodrigo Borgia's parenting style or, perhaps even worse, Hulk Hogan's.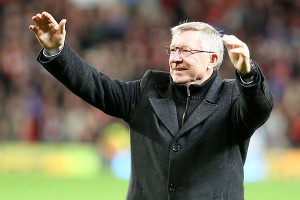 Tom Purslow/Man Utd via Getty ImagesSir Alex Ferguson has rotated his Man United squad to perfection this season and will be unwilling to help his old nemesis Rafa Benitez this weekend.

Chelsea's lack of veteran leadership has been exacerbated by Didier Drogba's departure and John Terry's physical disintegration. McManaman, who broke into the Premier League as a teen and returned to end his career in his 30s, described the role that experience plays on any team. "Young players can be so raw they are often just focused on getting their own games, and indeed their own heads right," he explained. "Older players feel more of a responsibility to the team and can help young players with their decision making, passing and movement, teaching them to conserve energy rather than just run around all the time in search of the ball."

When asked for the dominant attributes veterans offer a squad in the course of a season, McManaman was quick with his answer: "An ability to smooth out the roller-coaster of emotion in football and provide an unwavering sense you will win the game before you leave the dressing room." That sense of belief and assurance has been a crucial difference between United and Chelsea this season. It is also something Lampard has admitted he once received from the last manager who made Chelsea appear invincible, Jose Mourinho. Invoking a comic image, he recalled in 2009, "I had never had a manager who, while I'm standing in the shower ... tells me I'm the best player in the world. He did that. I'll never forget it."

The prospect of Mourinho's second coming now looms so heavily over Stamford Bridge that rumors of Lampard's return on a one-year contract have suddenly seeped out. As recently as January, the polarizing Portuguese manager sang the midfielder's praises by telling the English media, "You should measure players by performance, not age."

It's a line that could have been ripped straight out of "The Golden Girls," like the time when the tough-love Dorothy declared that "Age is just a state of mind" only for the Southern belle, Blanche, to reply: "Tell that to my thighs."