Can you call yourself a U.S. soccer fan if you don't support MLS?

Alexi Lalas' Twitter feed is a curious place. It's less a social stream and more a Star Wars cantina of ideas where the emotional and the rational, the laid-back and the provocative coexist. Mingling among apologies for deteriorating personal hygiene -- "Fair warning: I run among you but I haven't showered. Make way or suffer the horror of my wake." -- are the occasional moments of clarity, like when he tweeted the following a few weeks ago:

Last night this was discussed: If you live in the U.S., can you call yourself a "soccer fan" even if you don't support @MLS?

According to Lalas, the tweet was the result of a late-night bar conversation. "That's where most of my tweets and ideas come from," he said. "I was talking about soccer in America with the ESPN production crew, about ratings and soccer snobs and Euro snobs and internal types of perception and reality problems. With a theatrical flourish, producer Chris Alexopoulos threw it out there that you can't call yourself an American soccer fan if you don't follow MLS."

By now, Lalas is familiar with the signs that he has hit a nerve on Twitter. "People yell all kinds of names at me," he said. "Some I understand, some I don't."

WHAT DO MLS PLAYERS THINK?

• Portland's Darlington Nagbe: U.S. fans should expand horizons
• RSL's Kyle Beckerman: If you're a soccer fan, you're a soccer fan
• Philly's Michael Farfan: MLS getting better
• D.C. United's Chris Pontius: Don't overlook MLS
• SKC's Graham Zusi: Fans need to do their homework

But once he posted the above statement the following morning, he was instantly exposed to an avalanche of heartfelt arguments from "Euro snobs" obsessed with the Premier League, La Liga and Bundesliga, as well as MLS stalwarts.

"Some people were insulted that I could possibly doubt their standing as soccer fans just because they did not follow MLS," Lalas said. "Others heartfeltly agreed there is a patriotic responsibility to be an ambassador because MLS needs you."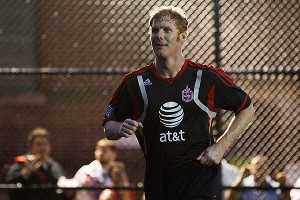 Mike Stobe/Getty ImagesAmong lighter fodder such as jokes about hygiene, Alexi Lalas' Twitter feed touches an occasional nerve when it calls out those who support American soccer but not MLS.
Both the deluge of responses and their emotional depth may be attributed to the fact that this debate occurred at a transitional time in modern supporter culture. Traditionally, fandom was all about rooting for the local team but this simple reality has been obliterated in football's hyper-commercial modern era. As the likes of Barcelona, Real Madrid and Manchester United battle to become global brands, that sense of place has been consciously uprooted, something I glimpsed last year while meeting with Liverpool's marketing strategists. They talked about plans to erase the stigma surrounding so-called "plastic fans" by enabling supporters in Jakarta to feel as close to the club as Liverpudlians, developing "subscriber content" in every language that could be paid for in any currency.

Pitched against that backdrop, Lalas' question bears revisiting, all the more during a week in which MLS has kicked off its 18th season. The North American league has become a robust presence. Yet even as its quality progresses -- evidenced by the small symbols of Sporting Kansas City loanee Kei Kamara's game-changing cameo against Everton, or Brek Shea's ability to find his feet at Stoke -- commissioner Don Garber remained defensive in his season-opening "state of the league" address, as he rued that "Respect for Major League Soccer is greater abroad than it is among the soccer community in the United States."

I asked Lalas if his position on the issue is really about the mechanics of fandom or if it's more to do with American patriotism, and he momentarily sounded like a "Think Globally-Act Locally" bumper sticker.

"Hypocrisy is a constant thread through many American soccer fans' attitudes," he said. "I can't make people follow MLS but I can point out their hypocrisy. If they do want to call themselves American soccer fans and support the national team, I hope that part of them wants the sport to succeed in the United States, and for that to happen, they have to be part of solution by supporting local soccer."

Lalas is all too aware of what he refers to as "the allure of the shiny."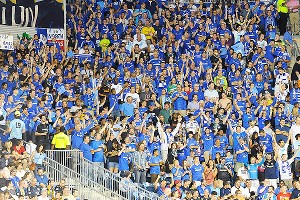 AP Photo/Rich Barnes/CSMChelsea fans at last season's MLS All-Star Game serve to support commissioner Don Garber's claim that the league has more respect abroad than it does in the States.
"MLS's biggest challenge right now is the compare and contrast with European soccer and what people feel when watching an MLS game," he admitted. "I hope they can appreciate that what is offered in the U.S. is as good and in certain cases better than what we define as elite around the world."

For Lalas, the league's unique selling proposition is clear.

"MLS is the most competitive league in the world -- not the biggest or always the best quality -- but Chelsea know they will win 70 percent of their games because they have the best players. That kind of superclub dominance does not live in MLS, which makes it a purer form of the game over here."

BeIN sports commentator Phil Schoen, best known as the calming Danny Glover to Ray Hudson's "Lethal Weapon"-era Mel Gibson when Barcelona play, is well attuned to the Euro snob perspective from broadcasting Spanish La Liga, Italian Serie A and French Ligue 1. "Many American fans take a holier-than-thou approach and believe if they are not watching Manchester United, Real Madrid, Boca Juniors or Guadalajara, then they are lowering themselves," he said.

Schoen grew up around South Florida in what he refers to as "Dolphins and Hurricanes territory," yet when the Fort Lauderdale Strikers came to the area in the 1970s, he fell in love with soccer.

"The experience was hard to describe," he said. "The bond between the fans and the team, and our hatred of the Tampa Bay Rowdies and the Cosmos felt so real, all of which teaches me soccer can thrive across America because I saw it happen."

In Schoen's mind, MLS has made real progress over the course of its 18 seasons, though the broadcaster expresses concern that the league lacks narrative, heroes and personality. "When it started out, there was more room for the players to express themselves, but the league has adopted a conservative approach in which individualism appears to have been suppressed. Where are the Carlos Valderramas and Marco Etcheverrys of today?" he asked. "Any league needs characters -- villains as well as good guys."

In addition to personality, Schoen believes that entertaining football requires passion and style. "MLS seems to be standing still in terms of quality," he said. "A lack of depth means there has been a homogenization of style that favors grit and determination. Real success requires the artistic over the artisan."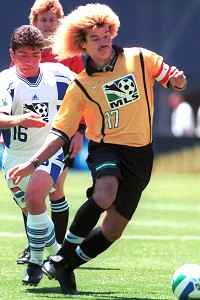 T. Quinn/MLS/Getty ImagesExpressive characters such as Carlos Valderrama have been missing from MLS since its early days.
The glut of broadcasters beaming every major global league directly into American homes also gives Schoen reason to fret about the fiercely competitive nature of the landscape. "Our nation is awash in football," he said. "If you fold in the ethnic outlets and Spanish-language coverage, there are over 80 channels broadcasting soccer on a regular basis. No country in the world carries more soccer."

That concern is exacerbated by the size of MLS's 19-team footprint. "The Premier League is a marketing machine," Schoen said. "Americans will tune in just to watch Wigan play Stoke. EPL fans are crossing over to La Liga with its star power, and now the German Bundesliga is crescendoing for sophisticates, while more will watch once Pep Guardiola joins the league. MLS only has 19 teams. Is that sufficient to carry a nation? You have to ask, does it give people in Detroit enough of a reason to care?"

Despite this, Schoen believes that the number of American Euro snobs will shrink in the medium term. "If MLS can pull in some big names to replace Beckham -- the Frank Lampards and Ronaldinhos that can gain media attention, Barnum and Bailey-style -- and follow the Bundesliga strategy of investing heavily in serious youth development where the players study algebra in the morning, then free kicks in the afternoon, I believe the league can foster the creativity it needs to become accepted as a true element on the soccer map."

He paused for a beat, then joked, "I hope so, if only to ensure we are not still having this debate 100 years from now."

Sounding less optimistic, Lalas doubts the issue will disappear, no matter how fast MLS progresses. "I have called out American soccer fans in the past because I believe we face many obstacles on the outside before we can truly grow the game, but there are also things we need to fix on the inside. So I refuse to back down."

He does, however, appreciate the size of the task that lies ahead of him. "This issue always reminds me that Bonnie Raitt spoke the truth when she sang 'I can't make your heart feel something it won't.'"