Can Sturridge, Liverpool lift each other up?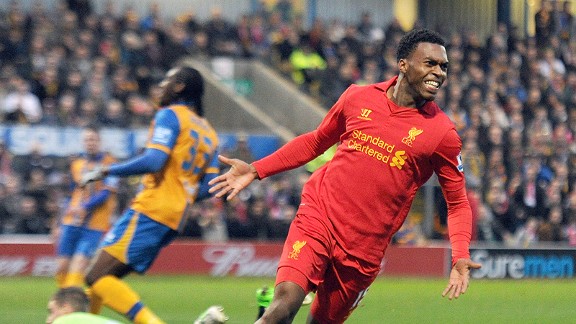 Andrew Powell/Getty ImagesDaniel Sturridge's goal seven minutes into his Liverpool debut in the FA Cup was another flash of the talent he's been unable to show consistently.
For football fans, there is always hope. But that is often what kills you. Liverpool may have lost last weekend's marquee clash against Manchester United 2-1, and found themselves trailing the league leaders by 24 points, yet manager Brendan Rodgers remained optimistic. "We're not 24 points behind in terms of quality," the Liverpool manager claimed, hinting the second-half addition of Daniel Sturridge almost earned his team a point.

Daniel Sturridge. That Daniel Sturridge. The raw talent unable to earn Manchester City's trust, and then Chelsea's. The youngster who quickly earned a reputation as one of the most arrogant men in a Premier League soaked in narcissism. The striker who felt confident enough to give a round of spring interviews outlining his hopes for Euro 2012, a tournament he ultimately was not called up for, then ended his summer by missing the penalty that doomed the Great Britain team to an Olympic quarterfinal exit.

Maybe Sturridge simply suits red. After donning a Liverpool jersey following his $19.3 million move, the new boy took just seven minutes to get off the mark during his club debut against Mansfield Town. Even those who resisted the urge to read too much into a performance against non-league opposition had to be impressed with the impact he made against the Premier League leaders. His poacher's goal capped a performance in which he stretched United's midfield, and could have even leveled the scores, had he not dispatched an 85th-minute chance over the bar.

Before Sturridge took the field, Liverpool had been insipid, failing to muster a shot on target, or register a statistical chance, and enjoying just 37 percent of its touches in the attacking half. Sturridge's arrival at center forward enabled Liverpool to discover a hidden potency. Rodgers' side changed its shape and mustered 12 shots and 10 chances created (four shots and three chances that fell to Sturridge.) Forty-five percent of its touches were experienced in the opponent's half.

Two games is not much of a control group in which to ground predictions, but Rodgers was bullish in his praise. "I just think this is a boy who can be a real top striker in this country and I think he will be scoring many goals for Liverpool," he declared. A bold statement made on the evidence of just 100 minutes about a player who had already burned through the patience of both Manchester City and Chelsea.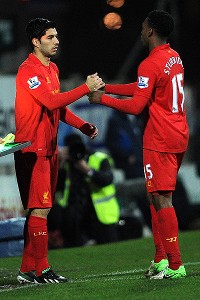 John Powell/Getty ImagesDaniel Sturridge's arrival at Liverpool should help shoulder the scoring burden with Luis Suarez.
Sturridge has never been short of promise. Whether he can fulfill it is another question entirely. The nephew of former Derby County striker Dean Sturridge joined Manchester City's academy in 2003, and within a year had demonstrated sufficient pace and movement to train with the first team at age 15. His first goal offered a seductive glimpse of his finishing skills. In the FA Cup against Sheffield United, the youngster anticipated the flight of a corner kick, and was perfectly positioned for the ball to drop to him at the edge of the box. Once it did, he calmly flicked it up in the air and proceeded to lash it into the roof of the net with his left foot.

A mix of injuries and limited opportunity restricted the striker to just 32 games for City, in which he netted six goals. Reports from the time suggested the sharpness Sturridge displayed in the box was not reinforced by a similar work ethic on the training ground.

The cocksure youngster remained unperturbed. Despite earning just five starts, he rejected a new contract, and was lured by Chelsea's offer of $96,000 a week in wages, claiming the move was not driven by money but by a "huge ambition to play for the best club in the world."

After Sturridge fluffed two simple chances on his debut, Chelsea quickly realized it had ensnared a young player who came alive in the box yet lacked the motivation to work hard in other areas of the field. It is almost impossible to locate a profile written about the striker at the time that does not utilize the adjectives "selfish" and "arrogant."

Outranked by Didier Drogba, Nicolas Anelka and Fernando Torres, Sturridge let his frustration known after he found it hard to even make the bench. " 'When you're coming off the bench it's difficult to get into the pace of the game and do well,' " he vented to the Daily Mail. "I don't want to be branded a super-sub. I'd rather be branded a super-starter."

Chelsea icon-turned-broadcaster Pat Nevin, who himself burst through as a tricky 20-year-old in a Chelsea jersey, took to the club website to lambast Sturridge, suggesting: "Nothing should spur him on more than the knowledge that if you do have the right attitude, the belief and the work ethic, success awaits. In simple terms it is up to him."

Sturridge soon found himself dispatched to Bolton for a six-month loan and responded by producing some of the most consistent football of his career. He returned to Chelsea after knocking home eight goals in a dozen games, forcing then-manager Andre Villas Boas to gush: "He creates unpredictability... He is an extremely quick player, and he has technique at pace. You get plenty of pace-y players, but what is important is that he arrives with the ball, he can control it and do something with it."

The "unpredictability" Sturridge proceeded to display at Stamford Bridge was rarely of the positive variety. A corollary victim of the Torres experiment, the Englishman was forced to play on the flank. Out of position and overeager to prove himself, his astonishing turn of pace was undermined by decision-making bordering on the negligent.

A highlight reel of Sturridge's bursts down the wing would make for grim viewing. As he storms into the box, it always seems possible to pinpoint the exact second the player computes whether to shoot or pass. Gripped by indecision, he often attempted to do both, conjuring a hybrid "Shass," his patented move that typically ended with the ball dispatched in the side netting.

Sturridge's arrival in Liverpool was accompanied by his now standard new-club quote. "It is the biggest club I have ever played for," he declared. "In the Premier League, there is no bigger club than Liverpool."

Sir Alex Ferguson was among those who expressed surprise at the move, archly suggesting "his track record moving between a number of clubs suggests Brendan Rodgers is taking a bit of a gamble."

On face value, the acquisition may appear speculative . . . A player who prefers to shoot first arriving at a team built around a passing/possession mentality. A man with a reputation for arrogance slotting into a squad with a team-first ethic. If it proves successful, Sturridge's arrival will reveal a lot about the desperate needs and perfect storm of self-interests experienced by both player and club.

Rodgers welcomed him to Liverpool with a note of tough love, putting his new striker on notice, that he considered this Sturridge's "last chance" with a major club. Yet ultimately, Sturridge's success may rely on Rodgers himself. The manager has a reputation for working with young talent, and much will depend on his ability to rewire Sturridge's decision-making and manipulate his muscle memory. After all, the move marks the first time in his career the striker's services have truly been needed at a permanent club.

The rest will revolve around confidence, something that Sturridge has never lacked. As he revealed after breaking through in 2007, the most important piece of advice he ever received came from his Uncle Dean: "He said don't let anyone ever put you off your game or knock your confidence."

Roger Bennett is a columnist for ESPN FC and, with Michael Davies, is one of Grantland's Men In Blazers. Follow him on Twitter @rogbennett.