Can Liverpool close the gap with Manchester United?
When I grew up in Liverpool in the 1980s, the journey to Manchester was 50 minutes by train. It was easy to sense when the halfway point had been reached. The crude graffiti spray painted along the railroad tracks suddenly flipped from menacing Mancunians to threatening the safety of trespassing "Scouse Wankers."

Liverpool and Manchester are a mere 36 miles apart, yet they have been at each other's throats since the Industrial Revolution. The two North West giants have vied for dominance through commerce as a cotton town battling a historic port city, pop music's "Mersey Paradise" competing against "Madchester" and even rival soap operas, as Coronation Street crushed Brookside.

The poisonous footballing rivalry which resumes on Sunday as Liverpool visit Old Trafford is all about that conflict. Yet it is also a product of a shocking transfer of power. Liverpool dominated European football between 1973 and 1990, barnstorming the continent with their patented pass-and-move technique to win 11 league championships and four European cups. United languished in this period, even suffering the ignominy of relegation in 1973-4.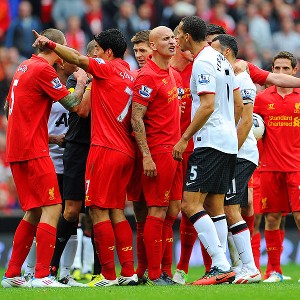 Michael Regan/Getty ImagesTempers flaired at Anfield in September after Jonjo Shelvey's reckless tackle on Jonny Evans, which saw the Liverpool player sent off.
The pendulum tilted after the advent of the Premier League in 1992. Liverpool were slow to adjust to the onset of modernity and the torrent of television cash which accompanied it, savoring their last title in 1990. Manchester United capitalized tactically on the field and commercially off it. They won the league a dozen times and grabbed two Champions League titles for good measure, morphing into a revenue-generating machine and omnipresent global brand.

The rivalry became incandescent throughout this transition. In 1988, in his first spell as manager, Kenny Dalglish taunted Alex Ferguson, warning a reporter his 6-month-old daughter could talk more sense than his counterpart. In 2002, Ferguson revealed "My greatest challenge was knocking Liverpool right off their f---ing perch," adding for emphasis "and you can print that."

United eventually eclipsed Liverpool's 18 titles by winning their 19th in 2011. While Liverpool was rendered as impotent as a racing cutty outdated by the onset of steam, their powerless fans howled, "We're not racist, we only hate Mancs." United players such as Gary Neville (now a respected Sky Sports pundit) lorded over them, proclaiming "I can't stand Liverpool, I can't stand the people, I can't stand anything to do with them."

Last season, a protracted racist incident and the drama of a handshake snub between Luis Suarez and Patrice Evra reignited the animosity between the two teams, masking the fact that, in the past 10 years, Liverpool had won just five games compared with United's 14. On the field, the fixture was in danger of becoming as one-sided as Washington, D.C.'s sense of inferiority to New York City. This week, when Paul Scholes declared Liverpool remained United's "greatest rivals," his comments were instantly perceived to be a swipe at their true competition, Manchester City.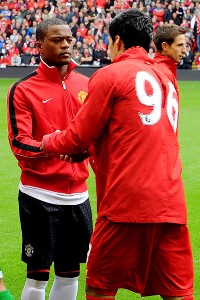 Andrew Powell/Liverpool FC/Getty ImagesThe Patrice Evra-Luis Suarez handshake controversy finally ended when the two teams met in September.
It remains to be seen whether Liverpool can do anything to arrest their decline under American owners, FSG. Controversy-soaked Suarez might be the one Premier League player able to single-handedly turn a game in the same way as United's goal-scoring alchemist, Robin van Persie. Yet while van Persie is surrounded by a phalanx of threats, including Shinji Kagawa and Chicharito, Suarez has had to create and finish his own chances. Liverpool's acquisition of Daniel Sturridge might change that, but it remains to be seen whether the instant chemistry he evidenced in front of Jonjo Shelvey in the FA Cup against Mansfield will carry over to the unforgiving pace of the Premier League.

Ultimately, the gap between the two teams must first be closed off the field. FSG still need to prove they have shed their learner's permit as they struggle to adapt to the anarchical culture of British football. New manager Brendan Rodgers has yet to understand how to manipulate the spotlight rather than simply bask in it. Managing director Ian Ayre, who is also learning on the job, completes a remarkably green leadership team who are struggling to decode the complexities of stadium redevelopment. A critical step if the team are to catch up with the complex web of global partnerships United have crafted with official airlines, banks and beers in every region.

Many Liverpool fans have given up on long-range optimism. In an interview with Men In Blazers this week, Daily Show comedian and lifelong Liverpool supporter John Oliver revealed his vision of success. "I just want them to pass the ball well," he said. "I don't even need spectacular goals. I just want each game to have sequence of 15 passes where you go, 'that was lovely.'

"The achievable goal that Liverpool has for my happiness has gotten so much smaller over the years," Oliver added. "I don't need trophies, I don't need top four finishes, I just need some nice passing sequences."

The Englishman concluded with words as succinct as they were harrowing. "It's not about winning. It's about emotionally surviving."

Roger Bennett is a columnist for ESPN FC and, with Michael Davies, is one of Grantland's Men In Blazers. Follow him on Twitter @rogbennett.