Will Frank Lampard ever get the respect he deserves?
There is only one thing Frank Lampard has failed to win in his 12 seasons at Chelsea Football Club: the respect that is due to him. The 156 Premier League goals he has blasted home are the fifth-most all time -- an immense achievement for a midfielder. The 534 appearances he has ground out rank fourth all time. No one has matched the nine consecutive seasons he has netted at least 10 goals. Yet as his Chelsea career winds down, he seems doomed to leave Stamford Bridge as the Premier League's Vincent van Gogh -- a man whose inimitable contributions will be truly appreciated only when he is no longer with us.

"Lampard has paid a price for being blessed with technique rather than skill," said Michael Davies, my Men In Blazers podcast co-host and a lifetime Chelsea fan whose passion is matched by a sense of perspective. "Neither fast nor creative, his strengths are technical ability, work rate, persistence and consistency, none of which stir the imagination of the neutral. As a result, he has always suffered from a sense of detachment."

In truth, Lampard has always stood apart. Born into money as a member of London footballing royalty, he is the son of long-serving West Ham legend Frank Lampard Sr. and the nephew by marriage of fleshy-jowled QPR manager Harry Redknapp. Footballers are rarely known for their cerebral ability, yet after attending a prestigious private school in Essex where Lampard infamously excelled at Latin, he honed a Mensa-level IQ.

Breaking through as a 17-year-old at West Ham alongside Joe Cole and Michael Carrick, the midfielder failed to gain the respect of the Hammer faithful who considered his rise a direct result of nepotism. Uncle Harry was then the club's manager, and Frank Sr. his coach.

A remarkable video documents a 1996 fan meet-and-greet. As a rambunctious Redknapp is forced to defend his nephew from fan's allegations that he was "not good enough," the sheepish young teen swallows hard and attempts to affect a grin.



Later that season, Lampard was badly hurt at Villa Park. While he was stretchered off, West Ham supporters in the away section jeered their own player. In his autobiography, Lampard later confessed, "There wasn't a single time that I left Upton Park after being slagged off or jeered by some of the supporters that I didn't take their anger home with me."

When Redknapp and Lampard Sr. were fired in 2001, Frank Jr. fled. After agitating for a $17.7 million move to Chelsea, he immediately gloated to the media about the relief he experienced upon joining a "big club." Once Jose Mourinho arrived, Lampard's play thrived. While Chelsea won back-to-back league titles, the England midfielder came second to Ronaldinho in the 2005 Ballon d'Or vote.

As Lampard's profile grew, he became a prime target for the tabloid press. In 2000, the News of the World reveled in images from a sex video featuring Lampard and Rio Ferdinand and a bevy of girls in a Cyprus resort. The day after 9/11, the midfielder was thrown out of a Heathrow airport hotel with John Terry and other Chelsea players were accused of drunkenly taunted grieving American tourists.

Like a porcupine priming its spines, Lampard's demeanor hardened. "I am a harsh critic of myself," he told the press in 2006, "but when criticism comes from outside and I feel it is a bit unjust, it gets my back up. After all I've done in the last two years, I think I deserve a little bit of respect, and when people come along who want to knock me down I do feel a little bit peeved." The player cultivated a negative charisma, affecting aloofness as a defensive shield to mask his sensitivity.

This cocktail of petulance and insecurity cloaked the player's true qualities: sufficient stamina, drive, ambition and commitment to lead Chelsea to 10 trophies and a controlling presence in the locker room powerful enough to scupper Andre Villas-Boas' short-lived Chelsea project.

"Two things have undermined Lampard's reputation," said Davies. "His England career, in which he and Steven Gerrard constantly collide, making it feel like you had to pick sides as an England fan. The North obviously picked Gerrard and most southerners hate Chelsea, so only a minority backed Lamps."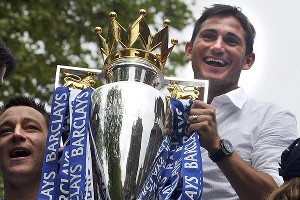 Dean Mouhtaropoulos/Getty ImagesFrank Lampard has led Chelsea to 10 trophies, leadership that won't easily be replaced when he leaves Stamford Bridge.
Lampard became a national scapegoat after his goalless 2006 World Cup campaign was capped by a missed penalty kick that opened a quarterfinal shootout loss against Portugal. "His 2010 blast against Germany would have changed that narrative about him," Davies suggested, "but the potential equalizer crossed the line without being given. It is almost tragic.

"Second, there is the Chelsea factor," Davies continued. "Most Premier League fans hate them because they are perceived to be a manufactured arriviste football club, bereft of the 'proper histories' of Manchester United or Liverpool. Surrounded by John Terry and Ashley Cole, Lampard has had his reputation lumped in with theirs."

How will the midfielder be remembered at Chelsea? Davies believes Lampard's legend will grow with time. "Any fan who watched Chelsea week in and week out -- not those who just fast-forward to the goals -- knows exactly what he provided playing on both sides of the ball," he said. "The love Lampard receives may never reach Gianfranco Zola territory as [Lampard] lacks the sublime skill and ability to change a game single-handedly, but the number of goals he scored will etch him into the club's pantheon.

"In an era in which we are all too quick to crown Jack Wilshere or Tom Cleverley as 'world-class,'" Davies added, "what Lampard has done to fight off injury and be so consistent for so long will be valued once he is done. It will take some midfielder to score that number of goals again."

Davies admits Lampard is a complicated figure, but points to two snapshots from the player's long Chelsea career as moments that truly define him. "You saw how much he savored the penalty he struck last weekend in the FA Cup. The game was already won, but he celebrated like a man intent on letting Chelsea fans know just how much it meant to him. Kissing the badge is the ultimate cliché, but Lampard's love of the shirt and the fans is very, very real."

The second moment Davies hails occurred during a Justin Bieber visit to Stamford Bridge in 2011. "This is an odd one, but watching Lamps and Torres kick around the ball with Bieber -- all three of them giddily playing like kids -- I have never seen him happier. I like to think that was the real Frank."

Roger Bennett is a columnist for ESPN FC and, with Michael Davies, is one of Grantland's Men In Blazers. Follow him on Twitter @rogbennett.