Rafa's raucous return to Goodison Park
When Chelsea supporters travel to Goodison Park for Sunday afternoon's top five clash against Everton, they will encounter a phenomenon they may previously have considered unimaginable: a fan base that dislikes their manager even more than they do.

While a dedicated core of Blues fans continue to ignore results and reject Rafael Benitez's appointment like a host body jettisoning a transplanted organ, Everton fans will welcome him with a seething fury forged in the crucible of the Merseyside Derby. Those Chelsea die-hards who seize every opportunity to serenade Benitez with his signature hate song -- "You're just a Fat Spanish Waiter" -- should prepare to join opposing fans and sing themselves hoarse.

Benitez may be struggling to win over West London supporters whose fandom he once deemed as plastic as the flags they were handed to wave, yet compared to his past treatment of Everton, the comments aimed at Chelsea appear positively diplomatic.

After a 0-0 Derby stalemate in February 2007, the then-Liverpool manager appeared live on television and elected to accuse his crosstown rivals of being a "small club." The classless comments, perceived by Everton manager David Moyes as a personal swipe at his proud, history-conscious team, kindled a media firestorm that Benitez opted to reignite in 2009, repeating the claim after a subsequent draw.

On the first occasion, Benitez seemed arrogant and smug. The second time around, he merely appeared bitter and deluded. Moyes was able to highlight his opposite number's boorishness by neatly sidestepping the debate and declaring, "Everton do things with dignity and style," momentarily turning a blind eye to his own fans' nickname for the Spaniard: Rafael "Beneath Us."

Yet on the field during his six years at Liverpool, Benitez's league record against Everton remains impressive: 12 games played with eight wins, two draws and two defeats, a testament to the tactical acumen that the impolitic coach has begun to instill at Chelsea. Furthermore, the West London side will arrive at Goodison Park after slapping home 26 goals in its past seven games and stringing together three league wins on the trot.

The catharsis provided by an 8-0 battering of a feeble Aston Villa side was reinforced on Boxing Day by a hardworking 1-0 victory away at Norwich. The number of goals scored and points won claimed the headlines yet it all masked the real news -- the fact Chelsea has managed two consecutive clean sheets having leaked a reckless 21 goals in the 10 games prior to Benitez's unpopular arrival.

This newfound defensive solidity has largely been achieved by the conversion of David Luiz from kamikaze defender to hard-running midfielder, with Branislav Ivanovic sliding over to lock up the backline alongside Gary Cahill. Benitez has eschewed praise for these tactical adjustments, preferring to repeat the mantra that his side is a work in progress.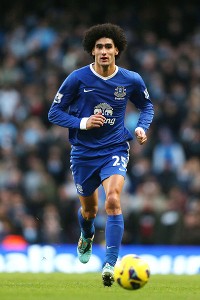 Clive Brunskill/Getty ImagesRegardless of Chelsea's new-found attacking power, Everton's ability to get a result on Sunday might hinge on the absence of Marouane Fellaini.
The team is indeed a world away from the state it was in when it last visited Goodison Park in February 2012. Humiliated 2-0, Chelsea turned in one of their worst performances under the ill-fated Andre Villas-Boas as travelling fans spent long periods of the game informing their own manager "you don't know what you are doing."

Chelsea has lost its past three visits to Goodison Park, but Benitez's team will rarely have a better chance to gain revenge on the aspirational Merseysiders. U.S. national team goalkeeper Tim Howard hasn't kept a clean sheet since September while the understanding demonstrated by forwards Nikica Jelavic and Victor Anichebe could only be worse if the Nigerian was forced to communicate with his strike partner solely in Croatian.

David Moyes' starting eleven will be further weakened by the absence of Kevin Mirallas, Seamus Coleman (and possibly Darron Gibson) due to injury while Marouane Fellaini continues his suspension. Without the mighty Belgian, Everton may seem as vulnerable as the USS Enterprise with its shields down.

To round up the holiday season, Chelsea hosts bottom-feeding QPR meaning that Benitez will sense the possibility of starting 2013 within touching distance of the Mancunian pace-setters. Though the clown-car antics surrounding Roberto Di Matteo's disposal led many to write-off Chelsea's title challenge, Benitez appears convinced that his team remains in position to pounce should United or City falter. The club is currently 11 points behind the leaders with a game in hand.

The Chelsea manager promised this week that "if we can improve our team and keep winning games, we will have our chance."

It was the declaration of a man who has already demonstrated both a thick skin and a tactical nous, yet is aware that victory is the best kind of charm offensive. It's also the only way he can possibly hope to persuade his own team's fans to change their tune to "Rafa In."

Roger Bennett is a columnist for ESPN FC and, with Michael Davies, is one of Grantland's "Men In Blazers." Follow him on Twitter @rogbennett.