The ultimate Premier League wish list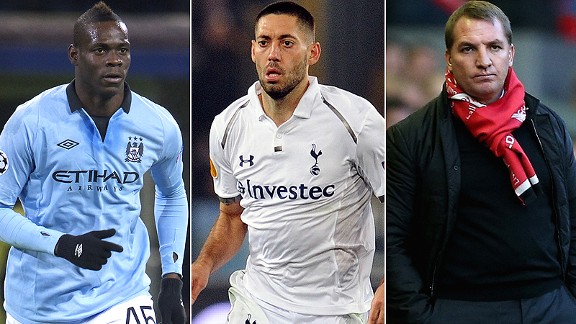 Getty ImagesTopping our wish list: help for Balotelli, a great second half for Dempsey and finding out the names in Rodgers' three envelopes.
Few periods are more sacred than Christmas, for both the theologically inclined and those who believe in football as their religion. Games come thick and fast as teams charge through the schedule like they are playing blitz chess. Prepare for Sir Ian Darke to become as dominant a presence in your life as the Ghost of Christmas Present.

Many of us have reached the age at which we weigh too much to place ourselves on Santa's lap with a gift wishlist. But if you could ask for anything to occur in the second half of the 2012-13 Premier League season, what would it be? Here's my list of 10, any one of which would be worth their weight in gold, frankincense or myrrh.

1. Please can someone give Kolo Toure a book deal to write his autobiography?
What has been the story of the season so far? Cases can be made for Wayne Rooney's resurgence, Roberto Di Matteo's professional defenestration, or Manchester City's curious impotence, summed up by their Champions League humiliation. I would argue the preposterous tabloid tale in which the lolloping Manchester City defender posed as a used car salesman named Francois to conduct an affair is the best symbol of the footballing zeitgeist during a campaign in which narrative storylines have trumped quality football.

As a footnote, the question that really haunted me about Toure was why he chose to be a used car salesman. I received my answer this week when meeting a member of the U.S/ Army's intelligence battalion, who informed me that undercover officers are trained to pass themselves off as having the most vanilla professions. Most pretend to be dental hygienists. Many within the profession are reported to have marveled at Toure's natural clandestine sophistication.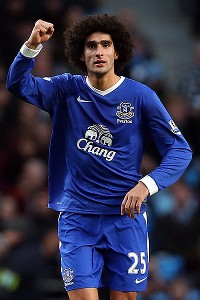 Ian MacNicol/AFP/Getty ImagesEverton's hopes of a top-four finish depend in no small measure on the club being able to retain Marouane Fellaini in the January transfer window.
2. Can Marouane Fellaini stay with Everton until the end of the season?
The top of the Premier League could benefit from a surprise candidate breaking through its ranks. Before you say it, Arsenal coming fourth does not count. With West Bromwich's gusto wilting, Everton appear best equipped to make an outsider run. Fellaini, who has been one of the most dominant players of the season, is crucial to their chances. The big Belgian was last seen burying his head into Ryan Shawcross' cheekbone. If that proves to be one of his last acts in an Everton jersey, the league will be the poorer.

While transfer-window rumors and a $49 million number continue to swirl, the Everton board will have to weigh that revenue against the uptick in fortunes, prize money and ticket sales the club could potentially gain from Champions League football -- which Fellaini could help deliver. Everton faces a gut-check decision about the level of optimism and ambition alive in today's Premier League.

3. Can we all learn to affect life-changing transformations with the grace of Robin van Persie?
When Robin van Persie kicked off the season in Manchester United's plaid, he seemed as out of place as a Seal-less Heidi Klum. Each one of the 12 goals and five assists he has crafted since then have given viewers' eyes ample time to adjust. Few believed the Dutchman in August when he claimed the move to Manchester was motivated by the "little boy inside of him." By the time he sang "Glory, Glory Man United" at the club's Christmas party, it seemed as if his blood had always flowed United red.

4. Will Brendan Rodgers reveal which names he put in those envelopes?
The reality show "Being: Liverpool" was a great piece of business by Fox Soccer. Less so for Liverpool Football Club, which came across like a real-life Christopher Guest movie. As his team lurched off on its worst start to the season in 101 years, Rodgers cut an ever-more comical character, whether strolling 'round a palatial home that appeared to have shared an interior decorator with Tony Montana, or thrusting his tiny thumbs toward the camera in such menacing fashion that viewers were relieved the series was not shot in 3-D.

But there was one moment that stood out as a scene that could someday potentially rival the cult status of Spinal Tap's amplifiers: Rodgers attempts to motivate his team by showing them three sealed envelopes in which he has written the names of players who will "let us down this year." His team proceeded to lose 3-0 to West Brom. The scene remains the best entertainment Liverpool have provided this season, causing some fans to agonize over which players were in the envelopes, and others to wonder why just three names?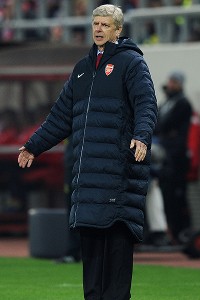 Stuart MacFarlane/Getty ImagesNo man is an island, eh? A seemingly bubble-wrapped Arsene Wenger may disagree with you.
5. Can someone give Arsene Wenger an extreme makeover?
Few teams creep into fifth place with as much of a bang as Arsenal. Outpaced by the modern fiscal realities of the English game, their season has bought most pleasure to doomsayers, rubberneckers and alarmists. Wenger built his early success by sourcing young foreign talent. He is now banking on a formula of British youth supported by imported foreign experience.

Time will tell whether this gambit can pay off. But while we wait, can someone get a fashion designer to jump in and help him ditch that coat? Hugo Boss, Brioni, or JoS A. Bank, it matters not. The act would be a humanitarian one. Watching Wenger shrink further into the sanctuary of his sleeping bag-snuggy as Gervinho blasts another shot out for a throw-in only serves to reinforce his air of pathos and isolation. A "Men In Blazers" caller asked whether the Arsenal manager's parka adds an extra ring every year the team fails to win a trophy, like a giant oak tree.

6. Will someone coin a catchy nickname for Cesar Azpilicueta?
How huge are the odds that the Chelsea defender progressed through football's youth system all the way to the English Premier League without receiving a nickname? As long as a husband buying his wife a John Terry replica jersey for Christmas, perhaps? Can someone make up a suitable nickname?

The Asp.
Cutey.
The Un-Ashley.

English commentators pronouncing Azpilicueta are the only things to trip over more often than Gareth Bale in the penalty area.

7. Why not a retroactive ban for simulation?
While we are on that subject: Watching Santi Cazorla fling himself http://www.youtube.com/watch?v=VwO1djinl0A to the earth like Felix Baumgartner when confronted by West Brom's Steven Reid earlier this month was one of the more unsavory sights of the season. Not just the dive, which seems to be an every-week occurrence, more the vision of a grown man clutching and rubbing an ankle that had not been touched. Here's a phrase I hope to be able to type more and more in years to come: English Premier League, look and learn from MLS.

8. Can someone please help Mario Balotelli before it is too late?
Few narratives in English football are more frustrating. It is hard to escape the feeling that this is going to end very badly.

9. Please let Clint Dempsey find a consistent groove
Like his new team, Nacogdoches' finest has impressed in patches. A new squad, a new position and a new set of expectations have forced Clint to adjust. Spurs fans should remain optimistic. The American has never lacked for self-confidence, and U.S. national team supporters will hope he is hitting peak form when World Cup qualifying resumes in February.

10. Can more managers start to talk as candidly as Sir Alex Ferguson did at Harvard?
The fact that Sir Alex has long held the media at arm's length made the interviews he gave to the authors of this Harvard case study all the more remarkable. The insight he provides into the lessons learned throughout his career and how they have shaped his philosophy makes the study the best footballing read of the year. Most ominous quote for United's rivals? "I always tell the players, every season, that if we are within three points from the top come New Year's Day, we've got a great chance at the title."

And Santa, one lump of coal for ... Hugo Lloris
I'm not sure how one says "respect your elders" in French, but watching the Spurs goalkeeper displace Brad Friedel has been like witnessing someone beat up on Grandpa.

Roger Bennett is a columnist for ESPN FC and, with Michael Davies, is one of Grantland's "Men In Blazers." Follow him on Twitter @rogbennett.