Is Liverpool on the ups or on the outs?
When Steve Nicol watched Liverpool manager Brendan Rodgers declare just last week that second place was within his team's grasp, Nicol couldn't believe what he was hearing. "I saw it on television and assumed he had made a mistake," the former Liverpool and Scotland star recounted. "I honestly thought he had meant to say 'top ten.'"

In the Reds' next EPL game, on Saturday, Rodgers' team proceeded to tap the ball around for half an hour before rolling over in a 3-1 loss to a raw Aston Villa side, forcing Rodgers to grasp for a positive spin postgame. In claiming that his side "could easily have been 3-0 up," he resembled less the tradition of modest yet successful Liverpool legends like Bill Shankly and Bob Paisley and more a footballing David Brent, Ricky Gervais' character in the English version of "The Office," who spewed such platitudes as, "Know your limitations and be content with them. Too much ambition results in promotion to a job you can't do."

Liverpool's form has been enigmatic this season; this club is able to go into the bubble-spewing bear pit of West Ham and grit out a come-from-behind victory one week, only to leak three goals to a previously impotent Aston Villa the next. The loss to Villa was Liverpool's ninth at home this calendar year, marking the most since 1937. With such unpredictable performances, they raise the question as we approach the January transfer window as to which direction the club is heading.

Liverpool is a proud Northern club that spent the 1970s and '80s storming the globe throttling all comers before failing to adapt to the creation of the English Premier League and ceding its place as football's gold standard to Manchester United, both on the field and commercially. Are the Reds making progress or holding still as a mediocre footballing force for whom glory is merely a fading memory?

Much has been written about the club's overreliance on Luis Suarez and lack of viable striking options, but in the loss against Aston Villa, Liverpool's midfield was overrun. Lucas has yet to recover his fitness, and Steven Gerrard, Joe Allen and Raheem Sterling toiled against Aston Villa's hard-running youth. At the back, goalkeeper Pepe Reina's once-a-year mistakes have become a monthly occurrence.

All in all, Liverpool has mustered 22 points in Rodgers' first 17 games in charge -- exactly the same number managed by the much-derided Roy Hodgson in his first 17 games. Yet before last weekend's embarrassment, Liverpool had lost only one game in its past 11, while the 20 points it garnered while doing so ranked third behind only Manchester United and City in that 11-game span. Is Rodgers a flavor-of-the-month manager, a purveyor of an identical possession-based strategy irrespective of the players he has in his squad? Or is he a tactically flexible genius whose philosophy needs time to bed?

Similarly, Liverpool owners John Henry and Tom Werner of Fenway Sports Group were heroes when they arrived in October 2010 to rescue the club from blundering fellow North Americans Tom Hicks and George Gillett. Since then, Henry and Werner have: splurged $135.4 million on the gruesome quartet of Andy Carroll, Jordan Henderson, Stewart Downing and Charlie Adam; exposed the club to the "Waiting for Guffman"-esque reality television series, "Being: Liverpool"; promoted jersey manufacturer Warrior's oddly phrased logo "We Come Not To Play"; and hired a communications director who allegedly threatened a fan with dog turds in the mail.

Is FSG comprised of finely tuned sports strategists who can replicate the revenue-generating mindset that has been the signature of their U.S. operations? Or are they merely American enthusiasts who are blind to the subtleties of England's anarchical sports culture?

ESPN's Steve McManaman, who played for Liverpool from 1990 to '99, admits that the club is struggling. "It has been a very frustrating season," he said. "The club is having a really hard time. It's great saying they have abundance of young talent coming through the squad, but the team desperately needs more experience."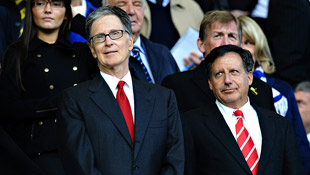 Paul Ellis/Getty ImagesIf Liverpool is to keep moving back towards the top four, owners John Henry and Tom Werner must invest adequately in Rodgers and his threadbare squad.
Yet the broadcaster does believe Rodgers is a good fit for the club. "His philosophy matches Liverpool's," McManaman explained. "There is nothing new about it. We have been passing and moving for 50 years since Bill Shankly, but Rodgers tries to be positive all the time and he has got to be careful. Saying we are fantastic when we lose a game does not wash with the fans."

The January transfer window will be key for the Reds. Rodgers has already begun to manage fans' expectations, announcing, "There is a bigger picture for sure, and it goes back to affordability."

McManaman believes that the extent to which FSG supports Rodgers will be illuminating. "They have spent money in the past but never with Brendan. If you are an owner and you see $100 million turned into $30 million within a year, it naturally makes you want to pull back. But they need to give Rodgers money, and he must be cute with it to find the right mix of talent and experience."

Nicol, now a pundit with ESPN's Press Pass, believes the problem is simple. "Liverpool is sitting in the middle of the table because it can't score goals," he explains. "The team passes the ball wonderfully, but they will struggle unless they bring in someone other than Suarez who can put the ball into the net."

For all of Rodgers' attempts to be upbeat, Nicol believes the manager will soon be judged on his results. "The decision to leave yourself so dependent on Suarez was a bad one, and to leave yourself in that position, it is a huge mistake."

The Scot also suggests that the club will rise or fall depending on the owners' willingness to cede control. "As educated as the Americans are, if I am Brendan Rodgers, I'm thinking, 'I have to put a team together so I need to be picking the players.' It is Rodgers who will be sacked if things don't work out, so he should be allowed to work on his terms."

Ultimately, both men find it hard to watch the club in its current plight. "To see them nearly win the league in 2009 and know they are currently 12th makes you sad," McManaman admits. "But when the league is so weak, anyone can put a run together and end the season judged a success."

Nicol reveals he can no longer view Liverpool games in public: "I have to watch alone because the language that comes out of my mouth means I can't be responsible for my actions if someone suggests 'It's only a game' or 'There's always next week.'" Nicol won the league five times with Liverpool but admits that he carries a "fan's mentality" when it comes to the club.

"Because of Liverpool's history and tradition, I always trust it will come good," he notes. "I always believe they just need to make the right decisions at the right time, even in situations when that does not appear rational."