The Premier League's drama problem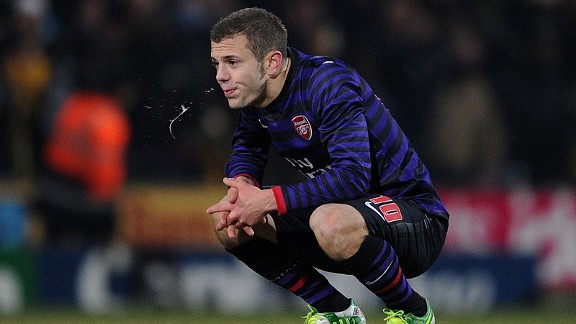 David Price/Getty ImagesArsenal's struggles -- and our collective schadenfreude -- have defined this season more than any memorable or good play.
The coins, handshake snubs, monkey chants, last-minute goal gluts and slapstick defending that are dominating English football's headlines this season have masked a hidden truth: this Premier League campaign has been tactically poor but storyline-rich.

"This is not a vintage edition of the Premier League," admitted iconic ESPN commentator Ian Darke, who has covered the league every season since its creation in 1992. "Even United and City have glaring weaknesses defensively," he said. "Reading 3 Manchester United 4 was like watching a basketball game."

The football may not have been good but the drama can't be beaten. So far, this has been a season stuffed full of conflict, subplots and narrative in which the theatrical themes of vengeance, ambition, redemption and humiliation have trumped tactics, organization and team play.

With Premier League television rights poised to break the $8 billion barrier this year and a reported global audience of 700 million people watching last weekend's Manchester derby, does it matter if those tuning in wish to analyze the midfield interplay or watch Arsene Wenger stumble around impotently like a Sony Walkman aficionado in an iPod world? If they admire a team's defensive coordination or take perverse pleasure in the tortured, lost-soul misery of Fernando Torres? If they savor a striker's hold-up play or relish the cup-half-empty suffering of Roberto Mancini?

If you throw in such diverse subplots as Gervinho's "surrealer than Salvador Dali" attacking displays, the "Cool Runnings" style of Everton's underdog charge or Luis Suarez's ability to score goals while simultaneously projecting the dastardly persona of a monocle-wearing silent-movie villain, it is amazing we can tear our eyes away from Twitter to look at the live action, even for a minute.

To paraphrase Shakespeare in "As You Like It," "All the world's a stage / And all the men and women merely football players." But the question is, does good drama now equal good football?

"This season has been good for blood-and-thunder thrills and spills but if you speak to most retired professionals, they just shake their heads at the quality of the football," Darke said. "Part of the problem is there is no outstanding team right now," he said, referring to a league table in which almost all the teams are perched between glory and crisis.

Only two teams have 30-plus points after 16 games, the fewest in a Premier League season in 10 years. Four points separate fourth and 12th positions, while the same gap protects Newcastle in 14th from the damnation of the relegation zone. "United and City are out in front but even their own fans would admit they have not played well thus far," Darke said. "You only need to look at the Champions League, where City, the champions of England, were exposed and finished bottom of the group. United and Arsenal may have emerged out of soft groups but Chelsea crashed out as holders."

As such, the games are far from dull. "The upside of all this is that everyone is playing for something all the time. No one is marooned in a position where games are meaningless," Darke said. "If I am to be honest with you, a commentator wants storylines and talking points but underneath it all we understand that while television money keeps the game afloat, it is not a television show," the broadcaster said. "As a global television product to sell around the world, the Premier League remains a one-of-a-kind in terms of entertainment value. The Bundesliga may be good but it lacks the cosmopolitan star wattage. However, while the Premier League teams have made a lot of money it has not translated through to quality on the pitch."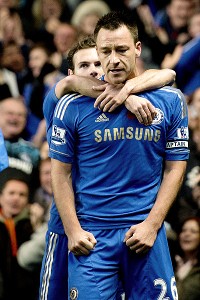 Adrian Dennis/AFP/Getty ImagesJohn Terry's a lightning rod for controversy and dramatic storylines -- all of which distracts from the on-field entertainment.
When asked to pinpoint reasons for decline in quality, Darke looks to the changes in club culture. "Right now few teams appear to be able to defend properly," he said. "In this high-tech era, it seems like more time is spent conditioning the players at the expense of the kind of defensive coordinating work that used to happen. When George Graham was manager of Arsenal in the '80s and '90s, he tied his defenders together with bits of string until they were drilled within a square inch. Now you have Manchester City's Joleon Lescott telling the media after a loss to Ajax that his team had not done much work on the three-man backline, which is a real condemnation of coaching."

"It is harder for Premier League managers to motivate players now," Darke said. "The days when managers like Brian Clough or Don Revie ruled through fear are over. Sir Alex Ferguson is the last of that breed. Now the managers are dealing with young millionaires and their agents, they find it hard to create the togetherness a squad needs so you see teams like Manchester City which are loaded with expensive players who seem like mercenaries because they lack a collective spirit and are unaware of the history of the club."

Writer James Frey, a long-suffering Arsenal fan, recognizes the power of English football's narratives. "The Premier League is like reality television with a ball," he said. "If you watch any of the 'Real Housewives' shows you can glimpse exactly the same storylines: Crap people wishing others misery and hoping they will succeed while those around them fail as the rich get richer and the poor get crushed." The bestselling author continued: "English soccer is 21st-century entertainment. Everything is about the story in our society, be it sports, politics or entertainment."

Frey highlighted the recent North London derby as a case in point. "Tottenham dominated the game early until Emmanuel Adebayor's tackle -- the dumbest play ever -- earned him a red card," he remembered. "Adebayor's behavior dominated the postgame conversation. The human dimension of his actions overshadowed any of the goals that were scored."

John Terry and his Instagram account are another prime example for Frey. "How many column inches are dedicated to Terry's behavior relative to the number that analyze his actual play?" he asked. "These rivalries, heroes and villains always existed in English football but now with the 24-hour news cycles and social media we need to know everything about everybody all the time so we can make a big deal out of it."

Frey refers to the phenomenon as the "WWE-ification" of the Premier League. "WWE figured out that sports is all about stories," he said. "We all want to see who wins the game, but whereas that used to be the entire story, today it is just a detail."

"The Premier League is all narrative now," Frey concluded. "What you used to get in a book you can get everywhere. Why read when you can get it watching soccer?"

Roger Bennett is a columnist for ESPN FC and, with Michael Davies, is one of Grantland's "Men In Blazers." Follow him on Twitter @rogbennett.