Success threatens Everton's love affair with Fellaini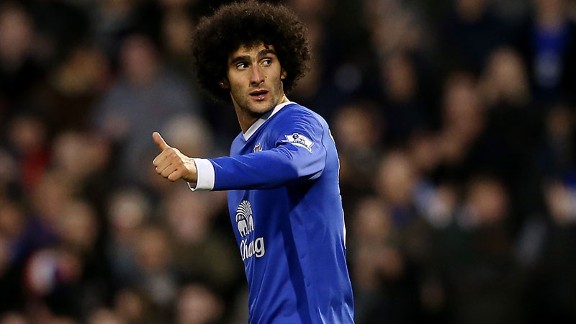 GettyImagesMarouane Fellaini is in fine goal-scoring form in his advanced role for Everton.
There are few men I have loved more than Marouane Fellaini. At different times in my life, Philip Larkin, Winston Churchill, and Tattoo from Fantasy Island have all made bold claims on my affections, but I adore the giant Belgian, and I am not alone. One need only listen to the terraces ring out at Goodison Park on match days for proof, as this verse resounds to the tune of Frankie Valli's "Can't Take My Eyes Off You":


"Marouane Fellaini, you are the love of my life,
Marouane I'll let you shag my wife,
trust in me when I say." (Video)


It was not always this way. Everton paid a club record $24 million to bring the unheralded 20-year-old midfielder from Standard Liege with minutes to spare of the 2008 transfer window. The 6-foot-4 Belgian, born in Brussels to Moroccan parents, arrived like a freshly shorn sheep, a rough-hewn prospect with pretensions of being a "box to box" midfielder.

- Fellaini expects to stay at Everton

Fellaini's early performances offered few indications he would morph into a world-class talent. The Belgian was derided by fans as he floundered, often out of position in a more advanced role. With elbows flailing, he became a yellow-card magnet, drawing 10 cautions in his first 17 games. Confused both by the language barrier and the rough and tumble of the English Premier League, he often cut a sad figure. He was like a lanky high school kid who is perpetually goaded into fistfights on account of his size, only to be quickly felled by a swift blow to the midriff.

In his second season, a rash of injuries within the squad provided the chance for Fellaini to line up in his preferred defensive midfield slot. Thriving in the role of anchorman, he blossomed into an angry sunflower, loping around to smother the opponent's progress. His play may have lacked consistency, but his signature luxuriant plumage turned the midfielder into a cult figure, providing a visual identity for a squad whose defining traits were determination and collective endeavor. Fellaini wigs began to outnumber even beer bellies among the Goodison faithful.

With his confidence surging, Fellaini began to demonstrate an intelligence and creativity in possession. A pirouetting drag-back executed during a 2-0 win over Manchester City was so delicate it impressed even its victim, the traditionally bellicose Craig Bellamy, who could only pat Fellaini on the head in admiration.

In prior seasons, Fellaini, like his club, had been prone to start campaigns slowly. But this year, Tim Cahill's departure to MLS has given the midfielder license to roam forward, and he has responded, employing foot, head, and chest to become one of the Premier League's most potent offensive forces. With bouncing mane and overpowering limbs, he wanders the field like a wild-eyed biblical prophet, bent on smiting the godless.

The tone was set in the season opener, in which he tore apart Manchester United's soft center, bullying Michael Carrick, and headed home the only goal of the game. The sight of one of the most coordinated players in the league giddily unleashing the most uncoordinated of goal celebrations has become a regular occurrence. In moments of delight, the midfielder exhibits the limb control of a seventh-grade boy, yet six of the eight goals he has netted have either tied the game or given Everton the lead.

Fellaini just received the league's player of the month award for November, and his dominant displays have made him an early contender for player of the season. Aided by the fluent threat on the flank from Leighton Baines, Fellaini's power has propelled his team. Manager David Moyes has hailed the squad as the best he has assembled in his 10 years at Everton. After last weekend's heart-stirring stoppage-time victory against Spurs, the club lies in Champions League contention in fourth place.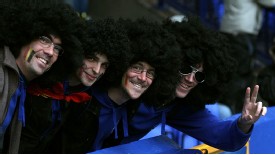 PA PhotosEverton fans show support for Fellaini
There is a grating counter-narrative to Fellaini's (and Everton's) success. As the January transfer window approaches, rumors abound, many of them fostered by the player's own representatives, that he is eager for a lucrative move to an elite club, Chelsea and Zenit St. Petersburg among them. The joy Everton fans experience every time their hero scores has become tinged by a sudden realization he may not be around much longer.

Whether Fellaini will stay with Everton is a $48 million question that has come to pervade my waking life. I recently dreamed of meeting Everton's No. 25 for dinner but was awakened by the cries of my baby son as I was poised to ask the Belgian if he planned to see out the season. Everton's CEO, Robert Elstone, has gone on the record stating the thin-walleted club do not need to sell in January, but Moyes has a canny reputation for cashing in on his talent at the height of the market -- see Joleon Lescott, Mikel Arteta and Jack Rodwell.

Fellaini may have modest needs -- a recent interview charmingly revealed his humorously humble taste in automobiles -- but even if Everton qualify for next year's Champions League, the club lacks the financial muscle to break their wage structure and double the Belgian's pay cheque.

Whether the giant and his shadow depart in January or at the end of the season, Evertonians should know all is not lost. In 2004-05, the Merseyside club were similarly overperforming, defying all expectations by making an unexpected European charge. Their inspiration then was the lusty Dane, Thomas "Mad Dog" Gravesen, a combative midfielder whom Moyes hailed as one of "most compelling" in the Premier League. When Real Madrid lured him away in the January transfer window with the promise of Champions League football, Everton's top four challenge was expected to wither. Instead the crafty Moyes plunged into the nether regions of the transfer market and pulled out Arteta on loan from Real Sociedad. The determined, gritty club clung onto fourth spot, holding off Liverpool with two games still to play in the season.

Evertonians pride themselves on their knowledge of history. Thanks to Gravesen, Arteta, and Fellaini, they can attest it is better to have loved and lost than never to have loved at all.

Roger Bennett is a columnist for ESPN FC and, with Michael Davies, is one of Grantland's "Men In Blazers." Follow him on Twitter @rogbennett.