Inside the mind of City fans before the Manchester derby
Ahead of this weekend's derby, I asked a Manchester City-supporting friend of mine to articulate the essence of his fandom.

"To follow City is to be constantly asked what it is like to be a City fan" was his enigmatic reply.

Admittedly, my interest was that of a rubbernecker. I wanted to know what it felt like to have suffered years of humiliation in which joy was but a fleeting emotion, to have clung onto desperate dreams and experience them come true. And now, to face up to the crosstown rival that have routinely caused you pain as Premier League champions for the first time.

Thankfully, other City fans I spoke to were not as cryptic.

"We are God's club, the Chosen People," said Salford-born comedian and writer Jason Manford. "We have suffered for so long, and now this is our time. After years of being laughable idiots, it is nice to be the ones doing the laughing."

-Michael Cox: Mediocre Manchesters?
-Brewin: Derby spoils can soothe bad week

Actor and former James Bond Timothy Dalton was more measured in his explanation. "We have had some very tough times," he said. "The mark of a man -- indeed the mark of a fan -- is how you react when things are going badly in life. I believe you don't run away. Adversity is something that strengthens you, and City fans have learned to become very strong. We have taken responsibility, stood together and overcome."

These emotions will be experienced most intensely over this derby weekend -- a local scuffle 131 years in the making that now reverberates around the world. A reported 600 million people tuned into see their last clash, the biggest global television audience in English Premier League history.

The game has not always been as glamorous. As recently as 2002, City languished in football's second tier, impotently looking on as their rival became the world's biggest sporting brand. Andy Rourke, bass player for iconic Manchester band The Smiths and a lifelong United fan, summed it up for me.

"City were a laughing stock when we grew up," he said. "Their fans were kind of viewed as geeks. We honestly could not understand how they could support City because the team were so bad. They had to endure years of ridicule. We almost pitied them."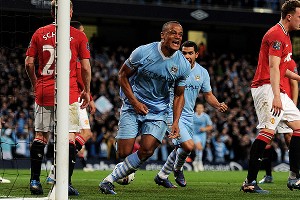 Michael Regan/Getty ImagesVincent Kompany scored the only goal of the game in last season's corresponding fixture between City and United.
The four miles that separated the teams' stadiums represented a gulf in class, success and experience, and City's board was forced to derive pleasure from small gestures -- stocking its corporate suites with a specially concocted light blue ketchup or banning its staff from driving red cars.

"I was the only Manchester United supporter in The Smiths," Rourke said. "Morrissey did not really care about football, but both Johnny Marr and Mikey Joyce were Blues, so I was like an outcast in the band. But come derby day, United would always win. It felt like a foregone conclusion."

The $1.6 billion poured into the club by Sheikh Mansour has changed that, banishing the slapstick days and catalyzing a makeover of Melanie Griffith proportions. Last year, City won both derbies courtesy of a thunderous 6-1 win at Old Trafford and hard fought 1-0 victory at home. In a breathtaking season finale, they scored twice in injury time to defeat QPR and pip a stunned United for the title on goal difference.

Yet again, the two teams are first and second in the table, but you will rarely find two more unconvincing sides filling those positions. United are leaking goals. City have had a hard time scoring them. Roberto Mancini's team have just limped out of the Champions League like a wounded dog having amassed the lowest number of points by an English team in tournament history.

Dalton is well accustomed to City's ups and downs. "There can be great excitement in uncertainty, and City have always been uncertain," he calmly explained. The actor's relationship with City was forged in the 1950s when he began to sneak onto the Maine Road terraces as an 8-year-old, yet his moment of clarity about the true nature of the Manchester rivalry did not come until 2004 while witnessing a 4-1 City victory. "I was in London and went to watch the game at my local pub. It was packed full of people, but they were all QPR, Fulham, Spurs fans. The moment City scored, the place just erupted with joy. That is when it dawned upon me nobody likes United apart from United fans."

In the days before Sheik Mansour, Dalton admits his team's derby record was "patchy."

"Back then, we would face United with a sense of hope, but if we were being honest with ourselves, that hope was a desperate one -- the kind that only exists in a comic book universe where an unheralded hero can come onto the field and score a hat trick in the last minute," he said. "Now we are more successful, and we can maturely say the opposition are very good but we know we are capable of winning the game. I will be overjoyed when we do."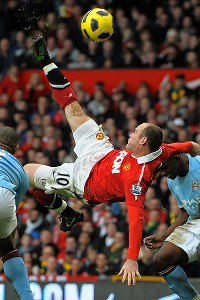 Andrew Yates/AFP/Getty ImagesIn 2011, Wayne Rooney's 78th-minute overhead kick gave United the 2-1 win at Old Trafford.
Dalton is at pains to underline he did not gloat after last season's results: "The 6-1 was wonderful, but City fans know better than anyone, pride comes before a fall."

Manford does not share this sense of caution. "We did not just beat the champions at their place," he said. "We thrashed them. That game was our moment of arrival. Before that, our goal was not to lose. The nightmare scenario was always to get a battering."

He is a City fan born and bred. "I had no option. My dad and granddad were City fans," Manford said. "My great-granddad was on record as being arrested for the first act of football hooliganism in the early 1900s after he fought with a United fan."

The comedian is proud of this fact, but he sounds even more delighted when he reveals his 3-year-old twin daughters can already sit through 90 minutes of a televised City game. "Every time the ball goes out for a throw-in, I give them a chocolate," he said. "That's how you bring up a City fan -- like Pavlov's dog."

Having grown up in a house in which his father would not permit red candies and once discarded the family's television when its manufacturer, Sharp, became United's jersey sponsor, Manford refers to himself as "one of City's more placid fans."

"Unlike some of the others, I love City more than I hate United," he said, "but I really don't like United because their fans have a certain arrogance, which I actually really hope we get."

Manford confesses derby weekend was a ritualized time for suffering during his youth. "United were such a dominant force you would travel the world and tell people where you were from and they would say, 'I support Manchester,' as if there was only one team, which is the worst thing ever for a City fan to hear. We've always been in their shadow. There were moments when we were the better team, but in the last 25 years, Manchester United have become a huge company who have taken over the world."

I check to ensure I had heard his words correctly. "Yes," he said. "They are a company -- a PLC. I know we are too, but they started it. When United fans complain about our glorious billionaire owners, I tell them it would never have happened if United had not been so greedy in the 1990s."

This weekend's derby is extra special in Manford's mind. "We have never gone into a Premier League derby as favorites, even at home," he said. "All year, United and City fans argue over whose team is better on a weekly basis. The derby is the only day that is definitive proof. Until the final table is determined at the end of the season, it gives you bragging rights. I will sit there in the stadium sick to my stomach knowing that on Monday I will be subjected to a barrage of abuse or can be cocky."

Manford assesses the relationship between the teams as one of "absolute hatred." "Now we have money and everything is evened up. United fans realize they sold their soul to the devil to make their fortune, and now the devil has come to collect through us."

When asked to sum up United fans in three words, the comedian effortlessly spits out the adjectives "Spoiled, arrogant, worried."

Dalton cannot help but summon a respect for Sunday's opponents. "You cannot pretend they are not a great team," he said. "It is an objective fact. You have to admire Sir Alex Ferguson. The way the game has evolved in the course of his career yet he has been able to keep his team one of the best in Europe. Our goal is to make City perform like that on a consistent basis -- to be as good as United or even better."

Four derby moments seared into every Manchester City fan's temporal lobes

1. 1970: The legendary George Best breaks Glyn Pardoe's leg with a horrific tackle that almost causes the City player to lose his limb. The English media analyze the incident with an odd sense of decency.
2. 1974: United need a win to avoid relegation. Prolific City striker Dennis Law, once of United, scores a goal with an inventive flick but refuses to celebrate. The now-overused gesture still meant something back then, and even the commentator cannot help but be impressed by the empathy he displays for his former club.
3. 2001: United's enforcer Roy Keane kneecaps Alf-Inge Haaland, then taunts the Norwegian, ending his career with a foul that had a chilling history.
4. 2011: Why Always Me?
Roger Bennett is a columnist for ESPN FC and, with Michael Davies, is one of Grantland's "Men In Blazers." Follow him on Twitter @rogbennett.