Owning in MLS, owning the future
On the eve of its 17th Cup final, MLS is a league in transition, standing like a mythological centaur that is half-horse, half-man. Old-school franchises like D.C. United and the New England Revolution remain, harking back to the league's founding days in which clusters of die-hard fans were lost amid the eerie silence of atmosphere-less NFL stadiums.

But in towns like Portland and Kansas City, soccer has become a cacophonous totem of local pride. Young fans attracted by an intoxicating supporter culture and intimate soccer-specific stadiums have themselves become symbols of the self-confidence and momentum surging behind the game in the United States.

Whereas pioneering owners Lamar Hunt and Anschutz Entertainment gamely propped up a gaggle of teams in the league's early days, the new energy in MLS has been catalyzed by the arrival of a new breed of young entrepreneurial investors -- hands-on leaders who fuse strategy and vision with a passion that reflects their teams' rabid supporter cultures.

I recently had the opportunity to speak to two members of the new guard. Merritt Paulson, the 39-year-old owner and president of the Portland Timbers, and Robb Heineman, 38, CEO and co-owner of Sporting Club, Sporting Kansas City's parent company. Conversations with both men were unguarded and passionate. The kinetic Paulson is vivacious, while Heineman carefully measures every word, even over a beer. Yet both owners believe deeply in the future of the league and their teams. Their motivations and aspirations are a prism through which the future of MLS and America's soccer culture can be glimpsed.

Life existed before football

Both men benefited from privileged upbringings. Paulson grew up in Barrington Hills, Ill., the son of Henry Paulson, former secretary of the treasury and CEO of Goldman Sachs. Heineman was born in Sioux Falls, S.D., a town in which his father, Greg Heineman, had built an insurance and real estate fortune. Soccer was a dominant force in neither man's life: Heineman was a state championship-winning quarterback in high school and skilled enough to go to Notre Dame, while Paulson favored baseball, referring to himself as "a good stereotype of the American soccer fan who tuned into the sport every four years to watch the World Cup."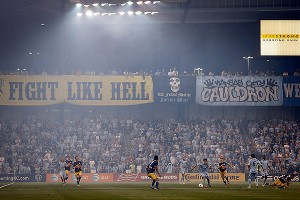 Jamie Squire/Getty ImagesUnderstanding that Kansas City was a parochial and passionate town, Robb Heineman's Sporting Kansas City is now home to one of the best atmospheres in MLS.
Heineman grew up around the pro sports business. His father bought the Sioux Falls Skyforce, a minor league basketball team that is now part of the NBA Development League, and the experience opened Robb's eyes to the thrill of ownership. "I loved how every time you play, it is right there on display if you were doing a good job based on the number of wins and the number of butts in seats. I knew from a young age I wanted to get into that."

Merritt Paulson had a harder time persuading his father that sports was a wise investment. "It was a long process," he admitted. "He had seen sports as a vanity thing, the last place you would look if your desire was to maximize return on investment."

For three years, father and son searched for the right opportunity. "We were looking for options outside the more mature sports properties in the NBA and MLB. Ones in which the bulk of growth still lay ahead," he said.

"We probably took a deep dive into about 10 opportunities, including MLS, minor league baseball and development league basketball, but I kept coming back to soccer," Paulson recounted. "Examining the possibilities, it became clear to me -- and I believe it to this day -- that there is not a sport properly anywhere in the world that has the upside MLS soccer does when you balance it against the risk."

Robb Heineman led an ownership group that bought the Kansas City Wizards from the legendary Lamar Hunt in 2006. "The team were the redheaded stepchild of the Kansas City Chiefs," he admitted, "but I had been attracted to soccer because I saw it as a business in which I could maintain a lot of control around."

The new owner took his father to one of his first games at an empty Arrowhead Stadium. "There were about 200 people watching, and as we walked to the parking lot to leave, he just said, 'What the hell are you thinking? Why would you want to be involved in that?'" Heineman laughs as he retells the story. "In the minds of our ownership group, what we envisaged had nothing to do with the past," he said. "We knew we had to change the mindset and build a major league property in a major league city to create an authentic American soccer experience in Kansas City."

Paulson also harbored an ambitious vision once he honed in on the right opportunity in Portland. In May 2007 he laid out $16 million to acquire the Beavers, a Triple-A baseball team, and the Timbers, then a USL soccer side, with an immediate aim for the big leagues.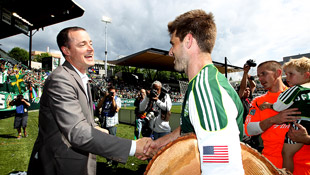 Tom Hauck/Getty ImagesMerritt Paulson is a vanguard of the modern wave of MLS owners, custodians who are leading the league into an engaged new era.
"I called [MLS commissioner] Don Garber the day after we bought the team to find out exactly what we needed to do to turn it into an expansion franchise." The journey proved more difficult than he had imagined. An attempt to ensnare public funding for a new stadium became mired in political wrangling, forcing Paulson to sell the baseball team for a loss and concentrate on soccer.

His decision was quickly validated once the Timbers kicked off 2011 in MLS. "Tickets sold out before the season began," Paulson says, still retaining a giddy sense of astonishment. "Our reserve-team games pull an average attendance of 10,000. Think of that from a soccer perspective -- we are living in a time in this country when your main product can't meet its demand."

Early (mis)adventures in soccer ownership

Both men experienced steep learning curves during early encounters with their teams' fan bases. Heineman posted a now-infamous message on the Big Soccer chat boards entitled "Help Me! I don't know what I am doing."

"I got a lot of crap for that," he remembers with a wince, "but I just wanted to reach out to fans and ask them what they wish could be different about the club. I had a hunch that Kansas City is a bit of a parochial town that loves its own, and that had not been the way the Wizards had been run historically. They had been very much just another team playing on another day in another stadium."

Heineman saw an opportunity to define an open operating style in contrast to the more secretive cultures of the NFL and NBA. "They don't talk publically about anything, so we decided to talk about everything and be transparent with our small bunch of passionate supporters, discussing what we thought was going well and what was going badly."

In Portland, Paulson sat through a debriefing with his new team's previous owners. "They were baseball guys who told me about the Timbers Army and simply said, 'Be careful of those guys. It is an us-and-them situation. Whatever you do, stay out of their section.' It took going to one game for me to realize they were one of the best things we had going. They were organized, authentic and had the makings of a real historic supporters movement. We opened up lines of communication with an approach that made it clear: We may not always agree with you, but we will always respect you."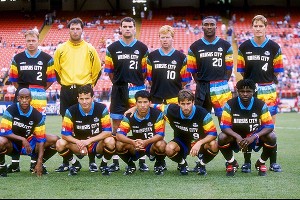 Brian Bahr/Getty ImagesThe KC Wizards routinely played to empty stadia and had little connection to the local culture. Heineman's group changed all that dramatically.
"I quickly learned that soccer is not like other sports where the fans just care about winning," Paulson concludes. "Here they care about everything. Once I tried to change the logo without any input and practically had a mutiny."

Heineman knew he was flirting with danger when he dumped the Wizards moniker. "It was a corny name," he explained. "The MLS logo was selling more jerseys than we were. We hired a consultant who recommended all kinds of regionally relevant names like fountains, bears and bees, but they were all nonsense. Sporting Kansas City seemed like a reflection of what we wanted to build -- a vertically integrated sporting experience which allowed fans to say, 'That's my team, that's my town.' But people warned me I should start wearing a Kevlar vest when I spoke in public, but I knew we had no choice. We had to symbolize that people could be part of something that meant high performance in Kansas City."

The Future's So Bright…

Both men admit they are hungry for creative ways to grow their revenue. Ticket revenue remains the biggest part of the pie, and neither club intends to raise prices. "If the business model was about revenue maximization, we would not run it like this. But we will not raise ticket prices. It isn't right," Paulson explains. Instead, he envisions an increase in television-rights money. "People are beginning to consume a lot more of the league than you might think."

Heineman confides that Sporting is "a year or two" away from being a positive cash-flow business. "Sponsorship and our commercial rights are still not where they need to be," he declares. "Our supporters are like family and they support our sponsors because they believe we are all in this together. If Sporting is connected to Bud Light, that is what they will drink."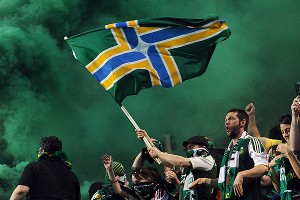 Steve Dykes/Getty ImagesWhen one thinks of the Portland Timbers, one thinks of the Timbers Army. Said Paulson, "It took going to one game for me to realize they were one of the best things we had going."
Yet the resourceful Heineman has also established a technology business within the club named Sporting Innovations. "MLS is a really good platform for trying new things," he says. "The NFL is a behemoth within which everything has been developed, but the fan cultures in MLS are great incubators to develop new technologies to enhance the viewing experience with social media."

Heineman estimates his ownership group has invested "close to a hundred million dollars in soccer in Kansas City." Equally, Paulson admits that his investment has been focused "on the long term."

"I am competitive," Paulson explains, "and putting a product on the pitch that matches the quality we have in the stands is very much a priority. So we spent money on players, though you would not guess it by our performance. Historically, MLS has been smart in building a foundation before blowing money on talent, but getting the talent up to being the best league in the Western Hemisphere is a near-term priority."

Even as the two men dream about the future, they retain a realistic sense of the challenges ahead. "MLS's goals are lofty," Paulson admits. "They have targeted reaching the upper echelon of leagues worldwide and still have a long way to go. If we can do it, the Timbers will become an iconic brand not just within MLS but in all of sports -- a team that gets it done on and off the field."

Heineman also believes the goal is possible. "Our business plan will allow us to be one of the world's four or five best leagues within the course of the next eight years. Our play is physical and not as beautiful as a lot of other places, but it is unique."

The beauty of football is something that obsesses Paulson. When asked about his goals for the future, the owner comes across a little like Roman Abramovich. "I don't just want to win the Cup, I want to perennially rank among highest-scoring teams in the league," he says. "Let me put it in ugly American terms, because I hate watching ground-and-pound NFL football. I want the hitters' ballpark. I want us to have wins and losses in the right way and show this country how beautiful this game can be. That burns inside of me more than anything."

Heineman becomes most animated when discussing the 70,000 kids in the Sporting youth system playing across Kansas, Nebraska, Missouri and Iowa. "I think how truly transformational it would be to win the MLS Cup in 2016 with a team that has six players who grew up in Kansas City. Our mission is not about figuring out how to buy [Lionel] Messi. It's about how we win championships with players who grew up in our youth system since the age of 6."

"That's a truly different sporting phenomenon. One you simply can't ignore."

Roger Bennett is a columnist for ESPN FC and, with Michael Davies, is one of Grantland's "Men In Blazers." Follow him on Twitter @rogbennett.