Study reveals secrets to Sir Alex Ferguson's success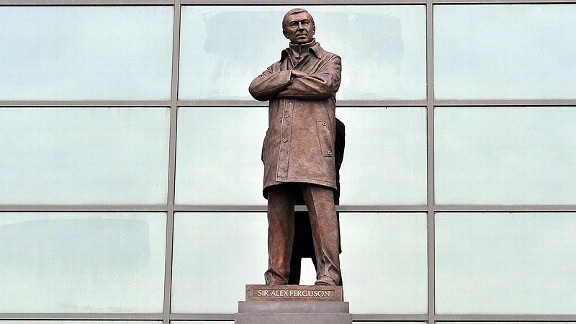 Paul Ellis/AFP/Getty ImagesManchester United has erected a nine-foot statue of Sir Alex Ferguson, who's the subject of a revealing Harvard Business School case study.
Before Manchester United's 3-1 victory against QPR, the club unveiled a nine-foot statue of Sir Alex Ferguson in the forecourt of the "Sir Alex Ferguson Stand." The iconic Scot appeared to revel in the ceremony, his pleasure no doubt heightened by the tribute's timing. The defiant bronze was dedicated at a time when so many of his Premier League rivals appeared unsettled. Manchester City's Roberto Mancini and Arsenal's Arsene Wenger have both been bruised, and Chelsea's Roberto Di Matteo had just given way to "interim first-team manager" Rafael Benitez.

The United manager is celebrating his 26th year on the job while those around him appear as secure as a kindergartner's milk teeth. Thirty percent of Premier League managers last less than a year. Since Ferguson was appointed in 1986, Manchester City have had 19 men fill the role. Liverpool have had 10. As he approaches his 71st birthday, Sir Alex has defied countless predictions of his demise and, in Liverpool, Arsenal, Chelsea and Manchester City, battled enough rivals to fill out a comic-book movie franchise.

The Scot has not only retained his grip on the world's highest-grossing soccer club, but he has also become football's most decorated manager while doing so. QPR's recently departed Mark Hughes and teetering Sunderland coach Martin O'Neill should be first among those curious to learn the secrets of Ferguson's survival.

Deciphering the answer to that question has been complicated by the fact that the media-wary Ferguson has often cut an opaque figure. So a recently published Harvard Business School case study, "Managing Manchester United," is an unexpectedly detailed mine of information on the topic. Tracing Ferguson's journey from moderately able footballer to leader of one of the world's most successful clubs, the riveting 25-page document, written with the United manager's heartfelt cooperation, examines his management philosophy and identifies the skills necessary to survive and thrive under the conditions of hysterical stress known as the English Premier League.

Anita Elberse, a professor of business administration at Harvard Business School, developed the document after receiving unprecedented access to Ferguson and his staff in the course of two trips last summer. The Dutch-born academic has pioneered the use of global soccer as an American teaching tool, having previously written case studies on Boca Juniors and Real Madrid.

"I am not really teaching soccer. I lecture on the business of entertainment," Elberse said. "But American sports has features like revenue sharing and luxury taxes, and the worst performers get access to the best talent, which is unlike anywhere else in the world of entertainment. I turn to soccer because it is a real avenue to teach about talent management. Plus, I am a fan."

Ferguson is portrayed in the case study as a coherent, self-aware and honest man whose drive to win is matched only by his hunger for control. United's chief executive, David Gill, compares the Scot's role at the club to that played by the late Steve Jobs at Apple. Equal parts tactical genius, psychologist, moral guide, sports scientist, negotiator, motivator and charismatic figurehead, the Glaswegian, who left high school at age 16, understands the management task far surpasses that of winning games with an able first team. It is about building a strong, sustainable organization.

"The first thought for 99 percent of newly appointed managers is to make sure they win -- to survive," Ferguson is quoted in the report. "They bring experienced players in, often from their previous clubs. But I think it is important to build a structure for a football club -- not just a football team. You need a foundation. And there is nothing better than seeing a young player make it to the first team."

A confidentiality agreement prohibits Elberse from directly discussing the report, but she has gone on the record as identifying Ferguson's ability to consistently evolve as time and technologies change as a key to his continued success. The case study charmingly refers to his deployment of Vitamin D in an attempt to counteract the lack of sunlight available in between the rain that plagues Manchester.

Above all, the case study underlines Ferguson's unparalleled skills as a talent evaluator and manager. The coach admits he inculcates a winning culture by sourcing industrious, committed players who share his abhorrence of defeat, without ever losing sight of the basic thought pattern that fills their minds.

"Football management ... in the end is all about the players," Ferguson said in the report. "You think you are a better player than they are, they think they are a better manager than you are."

Shell-shocked QPR fans still crushed by the underwhelming performance of their overpaid stars under Hughes will particularly appreciate Ferguson's bottom line: "You can't ever lose control -- not when you are dealing with 30 top professionals who are all millionaires. And if anyone steps out of my control, that's them dead."

The artist who crafted Ferguson's bronze statue, Philip Jackson, attempted to define Ferguson's essence when describing his approach to the artistic task.

"I've tried to portray him as a man of great determination and as a thinking man, but also with humor which he has in abundance, so there's just a slight smile in the corner of his mouth. That's really what I wanted to portray," Jackson said.

The case study is littered with evidence of Ferguson's humor. It is worth purchasing simply to savor his creative description of "Fergie Time," but to read the report is to marvel anew at the nature of Ferguson's achievement -- how a man who never attended university, let alone Harvard Business School, discovered the natural ability to lead such an inherently complex operational system as Manchester United.

Roger Bennett is a columnist for ESPN FC and, with Michael Davies, is one of Grantland's "Men In Blazers." Follow him on Twitter @rogbennett.