Can anyone crack the Fernando Torres code?
Rafael Benitez, Chelsea's new coach, may have a title that is a mouthful -- interim first-team manager until the end of the season -- but his mandate boils down to something quite simple: "Torres Whisperer." Ahead of Sunday's pressure-cooker clash with Manchester City, the chunky Spaniard must begin to crack a series of conundrums, with the riddle of Fernando Torres' state of mind chief among them.

Torres' West London experience has been pockmarked by a 25-hour goal drought, humiliating misfires, and the inability to fill the Didier Drogba-sized hole in Chelsea's front line. The $80 million Spanish striker has often appeared as forlorn as a seal about to be clubbed, suffering through a career deterioration that has weighed down almost as many managers as it has caused goal-scoring celebrations.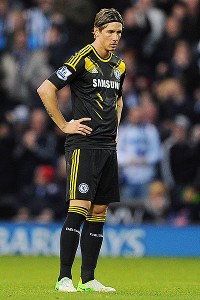 Michael Regan/Getty ImagesFernando Torres continues to struggle in front of goal. Will Rafael Benitez be able to save the striker's sinking career?
The one goal he conjured in 14 league games under Carlo Ancelotti precipitated the Italian's exit. The single goal he notched in 22 games under Andre Villas-Boas scuppered the AVB project. Roberto di Matteo elected to enter the fray of this week's must-win game against Juventus without a recognized striker rather than risk depending on his despondent Spaniard, and was unceremoniously dumped in the wake.

Both Di Matteo and Benitez have publicly diagnosed the striker's problems as mental. Back in March, the Italian declared that Torres "has a psychological problem, and only Fernando can unlock it." This week, Benitez told the media in Dubai, "I think you can see in his face that he is almost trying too hard. But I think the potential is still there." The "potential" he referred to was last glimpsed at Benitez's Liverpool, where the fluid striker tallied 56 goals in his first three seasons.

To turn Chelsea around, and restore his own mud-splattered reputation, Benitez has to fathom how an elite striker's world-class finishing skills can decay so rapidly. In yesterday's introductory news conference, he was elusive when pressed on the topic, vaguely promising, "I will try to improve him." The former Liverpool manager has only a short-term contract. If he is to play action-movie hero and approach Torres like a bomb with a timer that is ticking down, how will he work out in which order to cut the wires and diffuse it?

I asked London-based sports psychologist Dan Abrahams, a man with a client base which has included Premier League footballers Scott Parker, Anton Ferdinand and Lee Cattermole, how he would tackle the challenge. "You can tell when a footballer loses his confidence," Abrahams said. "He stops showing for the ball, favors short, indecisive passes, and appears slower and lethargic."

Strikers, along with goalkeepers, are especially susceptible to losing their confidence. "Forwards are completely obsessed with scoring, which may sound like a good thing, but this obsession can often lead to too much pressure being placed on their shoulders, especially if they come up against an amazing goalkeeper or their teammates are not playing well," Abrahams said. "I want them to obsess about the things that are more controllable by focusing on the actions that lead to them scoring -- what we call 'the perception of control.' I want movement, I want hold-up play, I want them to roll their defender out wide. If they focus on these 'processes of performance,' ultimately scoring takes care of itself."

From watching Torres perform, Abrahams has developed a theory. "Guessing from the outside in, I wonder if he is suffering from focal dystonia," he said. "A player who once had a natural instinct for scoring still appears quite lively, but is prone to question himself in front of goal, is often injecting a thought process in front of his natural striker mentality. In golf it is known as the yips, a feeling that can happen in the milliseconds between bringing the putter head back and then being unable to swing the club through."

Torres has been described by his own agent, Antonio Sanz, as "an intelligent, cerebral man," attributes which may only serve to reinforce his turmoil. Abrahams believes that an athlete can be too analytical. "If a striker pokes his nose into too much psychology, they can undo themselves by overthinking," Abrahams said. "You want the player to be a gladiator, and leave the complex aspects to the coach."

In Torres' case, Abrahams fears the player is at "threat state." "A striker can reach a point where he starts to rehearse failure," the psychologist said. "Instead of thinking about the goals he is going to score, the focus tends to be on what happens when I miss, if I am physically outmuscled by the defense, when I am substituted?"

-Delaney: How Benitez will win over Chelsea fans
-Video: Rafa keeping the seat warm for Pep?
-Macintosh: Hiring Benitez a shrewd move?
-Marcotti: Benitez must adapt at Stamford Bridge

A change of manager can help heal the problem. "A new arrival can be a powerful thing even for a player of Torres' stature," Abrahams said. "If the player is willing to engage and has a manger willing to support the process, the player's self-perception and confidence can be changed."

For this to occur, Abrahams recommends a strategy he refers to as "memory tapping." "I would sit Torres down and spend time with him recalling two of his last great games, probing what he did that day that worked so well," he said. "When you do that with a player, you can really see their physiology change along with their mental picture. Once you have established a sense of what they do best, that becomes a blueprint for training and matchday -- be it becoming stronger in their challenges or keeping their head up on their passes -- I want to develop a structured goal-centric plan to approach the game."

The sting of being dropped can also be eradicated. "Football is far more of an individual sport than people think it is," Abrahams said. "The players are not all 'in it together.' It is very much a dog-eat-dog culture. Everyone wants to play every game. Not doing so creates incredible anxiety, but I want my players to build a bubble around themselves so they avoid negative energy. I encourage my players to focus on delivering the optimal mindset every day in training or on the field so the right outcomes ultimately deliver themselves."

May a change of scenery and a January transfer to another club ultimately be the striker's best solution? "Torres had stopped performing toward the end of his time at Liverpool and a change of scenery has not helped him recover that scoring ability," Abrahams said. "A change of club can lead to a change of style, weather and culture, so if he moved to Italy or Spain, it could benefit his mood and performance, but I am a passionate optimist and even though I am a Spurs fan, I believe with the right approach he can improve without leaving Chelsea."

Benitez will draw strength from the memories of Torres charging down through balls with success at Liverpool, before the club's politics distracted him. The manager's career then fell apart during a dismal spell at Inter. If he is to succeed at Chelsea and substantially shorten his job title, he must simply summon the ability to channel Cesar Millan rather than Inter Milan.

Roger Bennett is a columnist for ESPN and, with Michael Davies, is one of Grantland's "Men In Blazers." Follow him on Twitter: @rogbennett.